March 26, 2020
The Sidney Hillman Foundation announces 2020 Canadian Hillman Prize winners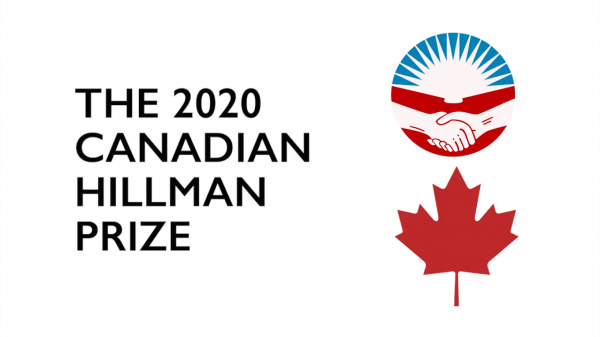 The Sidney Hillman Foundation announced today that Crackdown's "Change Intolerance" (Parts 1 and 2), has won the 2020 Canadian Hillman Prize for its coverage of "the Switch," a catastrophically abrupt bid by British Columbia to push 15,000 methadone patients onto a new formulation of the drug that wore off too fast and threw them into agonizing withdrawal. When the provincial government refused to heed warnings from users, Crackdown revealed, the Switch forced patients to return to the black market on the eve of the fentanyl crisis, costing some their lives.
Crackdown is a groundbreaking radio show and podcast produced by a coalition of leading drug activists from Vancouver, including executive producer Garth Mullins, a longtime community organizer, former injection heroin user, and current methadone patient. Watch video.
The Hillman judges also recognized ONFR+/TFO's Les Accents (Accents) with an honourable mention. Les Accents is a beautifully-produced and impactful web series that exposes linguistic discrimination against Franco-Ontarians and other francophones whose accents don't sound like those of Québec–Canada's largest French-speaking province–disadvantaging them in post-secondary education and costing them job opportunities. Watch video.
The Sidney Hillman Foundation also proudly announced that the British Columbia Civil Liberties Association (BCCLA) has received the Hillman Canada Prize for Democracy and Social Justice – a special award given by the foundation's officers to mark the 10th anniversary of the Hillman Prize in Canada. Established in 1962, the BCCLA has repeatedly proven its commitment to just causes and, through its efforts, has instigated substantive change in the areas of human rights, privacy, police accountability, national security, free expression and workers' rights – each of which is central to the Sidney Hillman Foundation. Watch video.
Please click here for our press release in English and in French. We thank our distinguished judges, Bonnie Brown, Tony Burman and Garvia Bailey. Due to the COVID-19 pandemic, we have been forced to postpone the 2020 Canadian Hillman Prize Ceremony in Toronto. So, we are acknowledging our honourees online today, March 26, and we invite all of our readers to join us in sharing congratulations on social media. Please follow us on twitter @SidneyHillman to join our virtual celebration of outstanding Canadian journalism.