June 30, 2010
Tom Wallace is Bullish on the Magazine Business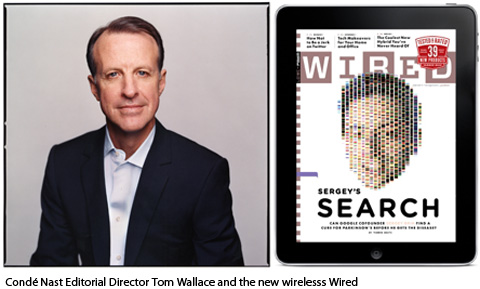 Above the Fold
"The next twenty-four months could be the most exciting time in the history of the magazine business."
                                          –Tom Wallace, Editorial Director, Condé Nast Publications
    FCP sat down for lunch with Tom Wallace this week in the Frank Gehry-designed cafeteria at 4 Times Square, and found himself across from the most upbeat media executive FCP has met in several years.
    The immediate cause for Wallace's fervor is the new version of Wired magazine. Introduced last month for the iPad, the June issue sold a remarkable 90,000 copies through iTunes, for $4.99 a copy.  With a 70/30 revenue split with Itunes, that meant an immediate jump in circulation revenue for Condé Nast of $314,370.
    And because Condé Nast convinced the Audit Bureau of Circulation to certify its new electronic sales to count the same as its newsstand sales, the new version has more than doubled its newsstand sales overnight–if that electronic sales number holds up.  (Perhaps to help the momentum, the July issue–pictured above–has just gone on sale  for only $3.99.  A CN spokeswoman said "the pricing will continue to evolve and change.")
    Wallace is hopeful that electronic sales will continue to rise, partly because, while there were two million iPad owners in June, Apple is forecasting there will be ten million by January 1–and some analysts are expecting a total of 60 million tablets from all manufacturers in consumers' hands by 2015.
    Since there was no discernible decline in Wired's traditional newsstand sales of roughly 80,000 last month, Wallace believes that virtually all of the iTunes sales were to new customers.  "The cannibalization–if there is any–is not evident," he said.
    The new version was made possible by a collaboration between Condé Nast and Adobe.  Wired was chosen as the first to use an Adobe platform, partly because its headquarters is two blocks from Adobe's in California.  "The Adobe people are nice guys, and they're sensitive to how we work," said Wallace.  "A couple of their engineers moved into the Wired editorial offices and studied how we make magazines."
    The Adobe engineers assumed that their main contact would be with the editorial side of the magazine, but Wallace "made it clear from the outset that we wanted this medium to be as friendly and as productive for our advertizing partners as it was for us editorially"–because 80 percent of CN's revenues are from ads.
    In the new Wired, clicking on an ad leads you to the advertiser's website–and can also yield the same kind of video or slideshow available on the editorial pages.  Equally exciting for the advertiser: very early data suggests users spend 140 minutes with Wired on an iPad–versus 90 minutes for the printed versions.
    The Adobe platform makes 360-degree imagery possible, so you can take 60 pictures of a single object and view all of them.  And it's a big step up from the Apple application Condé Nast is using to sell Vanity Fair and GQ on iTunes–both of which have done absolutely nothing to capture the consumer's imagination.
    Typical iTunes reviews:
    "I love Vanity Fair but this interface is flawed, unintuitive and poorly thought out."
    "I bought GQ thinking was like the Wired appl, which is great, and this is nothing close.  The layout is just like the paper magazine but in a pdf-like form.  It's slow!"
    Next up on the Adobe platform: The New Yorker, sometime this fall.
    "We're feeling good about the future of publishing," said Wallace, who dealt with the impact of the recession last year by folding Portfolio in April and Gourmet in October.  "The September 2010 issue of Glamour is the largest in twenty-five years, Vogue is up a hundred pages in September from last year, and Vanity Fair is up almost a hundred pages."
    "The question in everyone's mind with the economic downturn is how much of this is cyclical, and how much of it is some kind of long-term shift in the media business.  I can't pretend to know the answer; but in this year so far a fair portion is already showing itself to be merely cyclical.  But we're not back to the height of 2007."
    Meanwhile, last week Sports Illustrated released its own highly-hyped iPad app.
Its first issue (also at $4.99) includes a slideshow of photos from the Los Angeles Lakers championship celebration, as well as an eight-minute documentary about a high school baseball team from Macon, Ill.  A single click in many places opens up all of a player's stats–but only when you have an Internet connection.  Unlike Wired, SI can only be read with wi-fi–partly to reduce the amount of space it takes up on your iPad.
    But while all the big news for the future is digital, last week Rolling Stone proved you can still make big money in the magazine business the old-fashioned way–with a single, blockbuster story.  Michael Hastings' profile of runaway General Stanley McChrystal  instantly made the venerable magazine the hottest thing on newsstands everywhere.  Even though Rolling Stone almost immediately made the story available online–after Time magazine and Politico had briefly stolen it for their websites–an RS spokesperson told WWD that the new issue had already sold "at least five times the number we normally sell on newsstand, and that's a conservative estimate."
    And with average single-copy sales of 104,855, that would mean a whopping 400,000 copy bonus for Jann Wenner from the current double issue–which will be on newsstands for a full month.
                                                               -30-