September 24, 2010
Winners & Sinners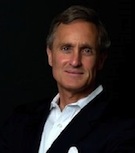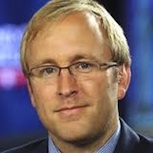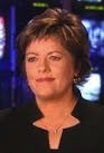 Left to right: Derek Leebaert, Jonathan Karl, Lisa Meyers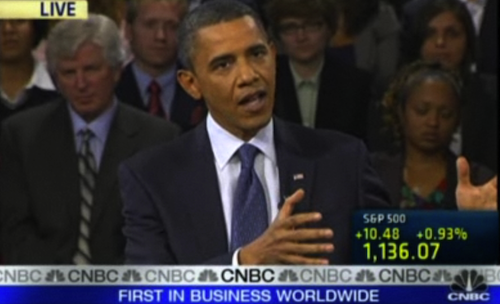 Winner, Derek Leebaert, author of Magic And Mayhem: The Delusions of American Foreign Policy from Korea to Afghanistan.
        Forget about Bob Woodward's new book, Obama's Wars, full of pettiness (and petty scooplets) and devoid, as always, of any meaningful analysis whatsoever.  By far the most interesting book this month from Alice Mayhew (and Simon and Schuster) is Magic and Mayhem, a superb account of the "magical thinking" responsible for America's capacity to repeat the same foreign policy disaster over and over again since the end of World War II.
        Written by Derek Leebaert, a management consultant who has taught foreign policy at Georgetown since 1996, the book describes America's interventions in Korea, Vietnam, Afghanistan and Iraq as "surrounded by a host of dangerous self-deceptions" that he sums up as "magical thinking."
        I call it 'magical' because shrewd, levelheaded people are so frequently bewitched into substituting passion, sloganeering and haste for reflect on, homework, and reasonable objectives…When we think magically, we expect to  astounding outcomes of our own design…Magical thinking entails seductive, familiarizing rituals.  In the excitements of global policy, we court some truly grim entities as imginary friends, such as venal client states that eventually implode and splatter us in their collapse…We resort to bad analogies and inferior quanitative techniques while stilling our doubts with mantras of 'stabiility' and 'democratcy' accompanied by the usual creepy euphemisms like 'collateral damage," "enhanced interrorogation,' or percentage of 'DOE," meaning 'Death on Earth.  When the outcomes do not match expectations, as has been to often the case, it is magically assumed that it was the particulars that were gotten wrong, not that the overall objective was misconceived."
        Barack Obama should make this book required reading for everyone participating in the Afghanistan review due to be completed this December.
Sinner: ABC's Jonathan Karl, for a World News piece about Christine O'Donnell which was devoted exclusively to the irrelevance of attacks on the Delaware Republican Senate nominee for her admitted dalliance with Satanism.    By focusing exclusively on that charge, Karl's piece made O'Donnell look like a victim of elitists–instead of the dangerous fool who promised  George Stephanpoulos   that when elected, she would fight "to defend the homeland of our security."  Among O'Donnell's other greatest hits, none of which is getting the attention it deserves from the MSM:
* O'Donnell excused gay bashing as 'kids being kids'; asked if she could "understand why gays might be upset?" by someone calling homosexuality a "deviant sexual orientation," O'Donnell replied, "Absolutely not. I cannot understand."
* She believes the proper role of a woman is to "submit" to her husband. "This is not about merely a Baptist doctrine. This is a biblical doctrine."
* She thinks that spouses who have been cheated on possess compromised 'purity.'
* She once told Joe Scarborough that she wants to stop "the whole country from having sex."
 * She thinks that distributing condoms to teenagers 'reduc[es]them to the level of a dog.' and that condom distribution is "'just going to further the spread of AIDS."
* She warned that allowing women to attend military academies "cripples the readiness of our defense."
And finally, FCP's personal favorite (Satanism, anyone?):
*  O'Donnell thinks The Sopranos are a model family. "The thing that attracts people to The Sopranos is the family element. It shows that America still has a longing for that traditional upbringing."
For the complete list, see this excellent compilation from ThinkProgress.
Sinners:  Ariana Eunjung Cha and Nia-Malika Henderson of The Washington Post  and the always-ordinary Sheryl Gay Stolberg of The New York Times for two woefully inadequate accounts of the president's interview by John Harwood of CNBC. (The account on NBC's Nightly News was just as bad.)  All three focused almost exclusively on the unhappiness of some of the president's questioners, while ignoring the real lead of the story, which was only available from
Michael A. Memoli in The Los Angeles Times: "President Obama sought to challenge critics who say his administration has been hostile to businesses, arguing in a televised forum Monday that measures he has taken to stabilize the economy have boosted the private sector….While some have accused him of being hostile to Wall Street, Obama said a "big chunk" of the nation "feels like I've been too soft on Wall Street."
Another quote from the president you didn't see in The New York Times or Washington Post stories:
A big source of frustration – this quote that you just said, this was me acting like Hitler going into Poland, had to do with a proposal to change a rule called "carried interest," which basically allows hedge fund managers to get taxed at 15 percent on their income. Now, everybody else is getting taxed at a lot more. (Laughter.) The secretary of the hedge fund is probably being taxed at 25, 28 – right? And these folks are making – getting taxed at 15….The notion that somehow me saying maybe you should be taxed more like your secretary, when you're pulling home a billion dollars or a hundred million dollars a year, I don't think is me being extremist or being anti-business. (Applause.) And that's the confusion we get into.
Sinners: Anne Thompson and Lisa Myers, both of whom took turns on NBC's Nightly News this week, attacking Ken Feinberg for making payouts too slowly to victims of the Gulf Spill from the BP relief fund.  Thompson said Feinberg's record was no better than BP's, and Myers followed up a couple of days later with multiple complaints against Feinberg's performance.   What neither of them reported: according to a Reuters story earlier this week, from Aug. 23 to Sept. 3 Feinberg was paying out roughly $3.5 million a day, about the same daily amount as BP had been paying when it operated the fund. But since September 3, Feinberg has been paying out an average of $12.5 million–an increase of much more than 300 percent.
Reached by FCP, Myers said: "I have no doubt that the numbers reflect that more checks are going out," and she acknowledged that her main sources for the story were lawyers for people seeking payouts.  She added.  "I would be surprised if Mr. Feinberg thought that we were unfair."
Anne Thompson acknowledged receipt of FCP's inquiry, but did not respond to it.
                                                                                    -30-