July 10, 2010
Winners & Sinners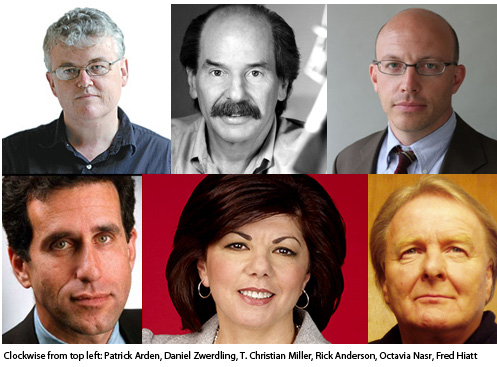 Winners:   Neal Desai, Andre Pineda, Majken Runquist, Mark Fusunyan, Katy Glenn, Gabrielle Gould, Michelle Katz, Henry Lichtblau, Maggie Morgan, Sophia Wen and Sandy Wong, for authoring the most important journalistic study of the decade  for Harvard's Joan Shorenstein Center on the Press, Politics and Public Policy.  These Harvard students demonstrated that from 1930 to 2004, the leading American newspapers which had written about waterboarding "almost uniformly called the practice torture or implied that it was torture…By contrast, from 2002-2008, the studied newspapers almost never referred to waterbaording as torture.  The New York Times called waterboarding torture or implied that it was torture in just 2 of 143 [news] articles.  The Los Angeles Times did so in 4.8 percent of articles…The Wall Street Journal characterized the practice as torture in just 1 of 63 articles…USA Today never called waterboarding torture or implied it was torture."
    What was the only significant difference between the period before 2004 and after 2004?   In the earlier period, none of the countries torturing people this way was the United States.
    Responding to the study's criticism,
Sinner Bill Keller clearly implied  that the failure of the Times to call torture by its proper name was a result of the assertions of  "senior officials of the Bush administration," that waterboarding did not constitute torture. 
    Then the executive editor of the Times displayed a complete misunderstanding of what his newspaper had actually done:  "When using a word amounts to taking sides in a political dispute, our general practice is to supply the readers with the information to decide for themselves," Mr. Keller wrote. "Thus we describe the practice vividly, and we point out that it is denounced by international covenants and human rights advocates as a form of torture. Nobody reading the Times's coverage could be ignorant of the extent of the practice (much of that from information we broke) or mistake it for something benign (we usually use the word 'brutal.')"
    What Keller neglected to point out is, not "using a word" also "amounts to taking sides in a political dispute"–and the only reason the Times changed a seventy-year old practice of accurately describing waterboarding as the torture which it is, was the stream of lies coming from George Bush and his aides on this subject.
   The Times standards editor, Phil Corbett, wrote, "In general, when writing about disputed, contentious and politically loaded topics, we try to be precise, accurate and as neutral as possible; factual descriptions are often better than shorthand labels"–and that, of course,  is exactly what the newspaper failed to do.  The only precise and accurate term for waterboarding is torture.   The only reason the Bush administration perpetuated the lie that it wasn't was its eagerness to avoid prosecution for engaging in a practice which is a war crime.   And by fulsomely accomodating the administration's lie, the Times made a significant contribution to the success of that strategy.
   In a particularly pathetic column last year,  former Times public editor Clark Hoyt endorsed the decision of the news department to parrot the Bush administration's lies.
   The only part of the Times which retained its honor on this subject was the editorial page, which routinely calls waterboarding torture–without ever putting the word inside quotation marks.
    As the great Scott Horton pointed out a couple of years ago,
As I discovered in studying the paper's reporting over a period of year, when a neighbor plays his stereo too loudly in the apartment next door, that is "torture." But when a man is stripped of his clothing, chained to the floor in a short-shackle position, subjected to sleep deprivation and alternating cold and heat, and left to writhe in his own feces and urine—that, in the world of the Times, is just an "enhanced interrogation technique."
Winner: Rick Anderson, for a brilliant 4,000 word investigative piece
 in the Seattle Weekly about the multiple (and often illegal) efforts of a wide variety of government agencies to place spies among protesters all across America.
Sinner: Washington Post editorial page editor Fred Hiatt, for printing yet another fact-free op-ed piece, this one by Mitt Romney, explaining the "reasons" why President Obama's new START Treaty with Russia "could be his worst foreign policy mistake yet."   The column was so full of misleading statements and outright falsehoods that
Winner  Dick Lugar, the ranking Republican on the Senate Foreign Relations Committee, took the highly unusual step of issuing a point-by-point rebuttal of Romney's drivel.  Excerpts:
*   Governor Mitt Romney's hyperbolic attack on the New START Treaty in the July 6 edition of The Washington Post repeats discredited objections and appears unaware of arms control history and context.

* He cites non-binding preambular language that requires no restriction on missile defense and cannot be used to enforce an obligation under the Treaty. He also complains about a prohibition on converting ICBM silos to missile defense purposes, but fails to acknowledge that such a conversion is not part of our plans. Lt. General Patrick O'Reilly, Director of the Missile Defense Agency, testified that converting silos would be "a major setback to the development of our missile defenses" given the high cost of redesigning existing interceptors and associated systems.

* Governor Romney offers additional treaty misreadings and myths that have been refuted explicitly in Congressional hearings. The Bilateral Consultative Commission has no power to "amend the treaty with specific reference to missile defense," as he contends. In fact, the Commission cannot change anything in the treaty text or make changes that "affect substantive rights or obligations under this Treaty."
* Rejecting the Treaty would guarantee that no agreement on tactical nukes would occur. It also would mean giving up our human verification presence in Russia that has contributed greatly to strategic stability under the expired START I Treaty. Having inspectors on the ground in Russia has meant that we have not had to wonder about the make-up of Russian strategic forces. New START would strengthen our non-proliferation diplomacy worldwide, limit potential arms competition, and help us focus our defense resources effectively.
Winners: T. Christian Miller and Daniel Zwerdling  for an in-depth investigation on NPR of the difficulties soldiers have encountered in obtaining proper treatment for traumatic brain injuries.  The story, a joint effort with ProPublica, may have contributed to the decision by Veterans Secretary Eric K. Shinseki
reported by the Times this week, "that will make it substantially easier for veterans who have been found to have post-traumatic stress disorder to receive disability benefits, a change that could affect hundreds of thousands of veterans from the wars in Iraq, Afghanistan and Vietnam."
Sinner: Diane Sawyer, for suggesting the most offensive survey on any non-Fox television network in memory:
We want to know what you think: "Should Moslems be allowed to build their mosques in neighborhoods of their chosing?"
Which naturally prompted
Winner Jon Stewart to add
And coming up next, should Puerto Ricans be allowed to lower your property values?
Should the Irish be allowed to vote?  I'm Diane Sawyer, ABC News, we'll be right back.
Winner: Patrck Arden, for a superb investigation in Next American City magazine of the growing disparities between publicly- and privately financed parks in New York City.
Arden's bottom line:
Public-private partnerships are widely touted as the new model for cities to build and maintain parkland, but they're old news in New York. The Central Park Conservancy, founded in 1980, has inspired similar groups in cities from Atlanta to San Francisco. Yet even in a time of leaner government budgets, a cautionary tale can be found in New York's 36-year experience of putting public parks into private hands. The city says private investment allows it to target limited taxpayer resources to the parks most in need, creating what parks commissioner Adrian Benepe has repeatedly hailed as a "Golden Age for Parks." But others see a Gilded Age instead, an echo of Conkling's era in the reign of Mayor Michael Bloomberg, with wide — and growing — disparities between lavish, showplace parks for the haves and cast-off parcels for the have-nots. For every Madison Square, Bryant Park or High Line, there are hundreds of parks that depend solely on the city, and many suffer from scandalous neglect.
Sinner: CNN, for bowing to another outrageous right-wing campaign to fire its Middle East editor, Octavia Nasr, after she posted a note on Twitter expressing admiration for Lebanon's Grand Ayatollah Mohammed Hussein Fadlalla.  As Nasr subsequently explained on her own blog,
It was an error of judgment for me to write such a simplistic comment and I'm sorry because it conveyed that I supported Fadlallah's life's work. That's not the case at all.
Here's what I should have conveyed more fully:
I used the words "respect" and "sad" because to me as a Middle Eastern woman, Fadlallah took a contrarian and pioneering stand among Shia clerics on woman's rights. He called for the abolition of the tribal system of "honor killing." He called the practice primitive and non-productive. He warned Muslim men that abuse of women was against Islam…
The far greater error in judgement:  CNN's decision to fire her.
                                                                           -30-