August 7, 2010
A Voice of Sanity from the Federal Bench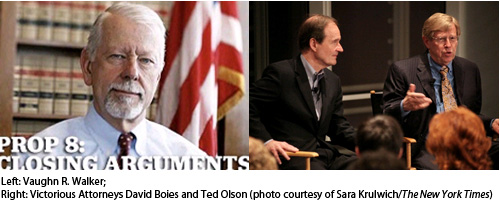 Above the Fold  
    Chief District Court Judge Vaughn Walker's opinion declaring that marriage equality is a fundamental right under the constitution is the third most important Federal Court decision for gay people since the modern gay rights movement was born forty-one years ago.
    Whether or not Judge Walker's decision becomes the law of the land will almost certainly depend on Associate Justice Anthony Kennedy of the United States Supreme Court–the swing voter in virtually every 5 to 4 decision of the Court, who just happens to be the author of the other two most important federal decisions in this area: Romer v. Evans, which threw out a Colorado state constitutional amendment prohibiting laws protecting gay people from discrimination, and Lawrence v. Texas, which invalidated all the remaining state laws which made non-heterosexual sex illegal.  (Interestingly, in his violent dissent to Lawrence, Justice Antonin Scalia argued that Kennedy's majority opinion would open the way to gay marriage.)
    Much of Judge Walker's decision echoes echos both Romer and Lawrence, especially this passage from the Lawrence decision: "The fact that the governing majority in a state has traditionally viewed a particular practice as immoral is not a sufficient reason for upholding a law prohibiting the practice; neither history nor tradition could save a law prohibiting miscegenation from constitutional attack."
    What was most heartening about Judge Walker's decision was the way it explicitly validated the view of all of the sane people who followed this trial closely: the defenders of Proposition 8, the California initiative which forbade marriage equality, failed to provide a shred of serious evidence that marriage between two members of the same sex would have any deleterious effect on anyone, for any reason.
    The star witness for the Prop 8 supporters was David Blankenhorn, president of the
American Institute for American Values, which paid him and his wife $317,500 in salary in 2008, the latest year for which records are available.   Blankenhorn was also paid for his testimony in the Proposition 8 trial, although he has refused to tell FCP how much he received. 
    Whatever the sum was, Judge Walker made it clear that the Prop 8 supporters did not get their money's worth.
    Judge Walker's opinion devoted an extraordinary amount of space to make Blankenhorn sound like a complete charlatan.  Among the judge's pithier observations about Blankenhorn's testimony:
* Blankenhorn lacks the qualifications to offer opinion testimony and, in any event, failed to provide cogent testimony in support of proponents' factual assertions.
* He has no degree in sociology, psychology or anthropology despite the importance of those fields to the subjects of marriage, fatherhood and family structure;
* His study of the effects of same-sex marriage involved "read[ing] articles and
ha[ving] conversations with people, and tr[ying] to be an informed
person about it
* He relied on the quotations of others to define marriage and provided no explanation of the meaning of the passages he cited or their sources.
* Nothing in the record other than the "bald assurance"of Blankenhorn suggests that
Blankenhorn's investigation into marriage has been conducted to the "same level of intellectual rigor" characterizing the practice of anthropologists, sociologists or psychologists.
* Blankenhorn's conclusion that married biological parents provide a better family form than married non-biological parents is not supported by the evidence on which he relied because the evidence does not, and does not claim to, compare biological to non-biological parents.
* Blankenhorn gave absolutely no explanation why manifestations of the deinstitutionalization of marriage would be exacerbated (and not, for example, ameliorated) by the presence of marriage for same-sex couples.
* Much of his testimony was contradicted by his opinions.
* Blankenhorn agreed that children raised by same-sex couples would benefit if their parents were permitted to marry. Blankenhorn also testified he wrote and agrees with the statement "I believe that today the principle of equal human dignity must apply to gay and lesbian persons. In that sense, insofar as we are a nation founded on this principle, we would be more American on the day we permitted same-sex marriage than we were the day before."
* The court now determines that Blankenhorn's testimony constitutes inadmissible opinion testimony that should be given essentially no weight.
    Judge Walker was equally contemptuous of the testimony of Kenneth P. Miller, a professor of government at Claremont McKenna College, whose opinions in the trial, the judge said, "were inconsistent with the opinions he expressed before he was retained as an expert.  Specifically, Miller previously wrote that gays and lesbians, like other minorities, are vulnerable and powerless in the initiative process, contradicting his trial testimony that gays and lesbians are not politically vulnerable with respect to the initiative process."
    Since the judge, as the trier of facts, dismissed all of the testimony of the star witnesses in opposition to marriage quality, it will be  much more difficult for any appeals court to find a basis for over-turning his decision.
    As John Schwartz explained in a fine article in the Times "appeals court judges and the justices at the highest court in the land could find themselves boxed in by the careful logic and structure of Judge Vaughn R. Walker's opinion."
    And as Andrew Koppelman, a professor at Northwestern Law School, explained to Schwartz,  "while appeals courts often overturn lower-court judges on their findings of law — like the proper level of scrutiny to apply to Proposition 8 — findings of fact are traditionally given greater deference.  'They are supposed to take as true facts found by the district court, unless they are clearly erroneous.  This opinion shows why district courts matter, even though the Supreme Court has the last word.'"
    Furthermore, instead or relying on "strict scrutiny," Judge Walker said Proposition 8 does not even meet "a rational basis review"–which also makes it harder for a higher court to over-turn him
    Judge Walker happens to be gay himself–the San Francisco Chronicle called his orientation "an open secret"–so naturally the wackos are already calling for his impeachment, in their never-ending quest to use hatred to raise money for their dubious organizations.  Tim Wildmon, President of the American Family Association, was among the very first to use the judge's opinion to send out a new fund-raising appeal to his members.
    But as Monroe H. Freedman of Hofstra Law School pointed out in the Times   "You could say, 'If a gay judge is disqualified, how about a straight judge?' There isn't anybody about whom somebody might say, 'You're not truly impartial in this case.' " And another legal expert said that if no one had tried to get the judge to recuse himself before the trial, it's too late to call him unqualified after he had rendered his decision.
    Judge Walker's opinion was a huge victory for the odd couple  who argued that Proposition 8 was unconstitutional, David Boies and Ted Olson–who have said all along that the law was so clearly in their favor, the measure's unconstitutionality would be self-evident to anyone who was serious about this subject.
    Judge Walker has written an opinion which has richly confirmed that point of view.  "The Judge obviously intended this to be his monument," said Matt Coles, the eminence grise of gay litigation at the American Civil Liberties Union, "and it is his monument."
    Now all we need is for Anthony Kennedy  to emulate Judge Walker, and genuine marriage equality will finally be the law of the land.
                                                                    -30