2018 George Barrett Award Winner
Mary Joyce Carlson
Counsel to the Fight for Fifteen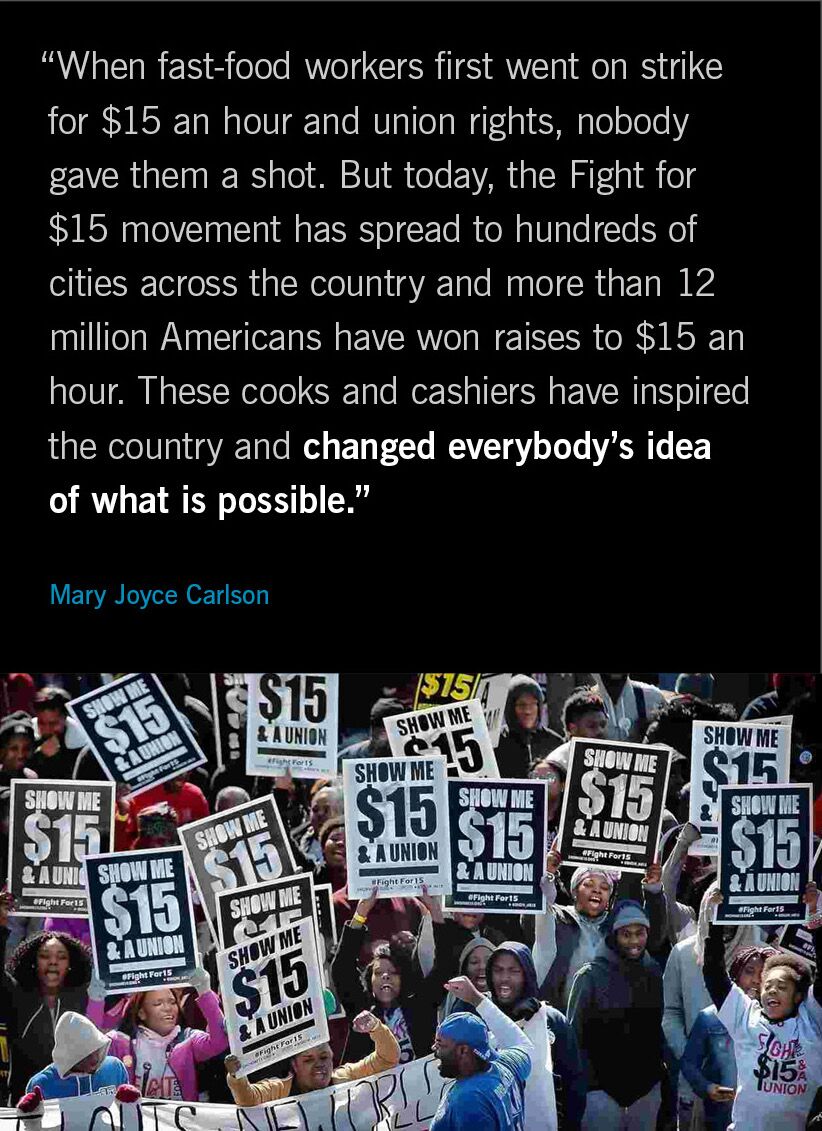 As counsel to the Fight for $15, Mary Joyce Carlson has helped more than 22 million workers win $62 billion in raises and turn a $15/hour minimum wage from "absurdly ambitious to mainstream in the span of a few years," according to The Washington Post.  In her position as the top attorney for a movement that MSNBC's Chris Hayes said has "completely changed the politics of the country," Carlson has spearheaded innovative legal strategies to protect striking fast-food workers, lift up their demands and put the nation's second largest private-sector employer, McDonald's, on the defensive.
Carlson is leading the legal team that brought charges against McDonald's for harassing, intimidating and even firing workers who went on strike calling for $15/hour and union rights. The charges resulted in the general counsel of the National Labor Relations Board under President Obama bringing a landmark case asserting that both McDonald's and its franchisees were jointly responsible for breaking the law.
Carlson developed a global strategy to hold McDonald's accountable to workers, taxpayers and other stakeholders. She put together a team of lawyers and advocates in Europe that raised awareness about McDonald's tax avoidance across the continent, leading to an investigation of the company's tax dodging by the European Commission that is ongoing. In Brazil, her legal work led to an investigation that resulted in the largest-ever fine levied against a single company for labor-law violations. 
When the Memphis Police Department illegally harassed, surveilled and intimidated fast-food workers and organizers in the local Fight for $15 chapter, Carlson filed a federal civil rights suit that quickly forced the city to sign a settlement agreeing to halt its illegal actions. And when white legislators in the state of Alabama blocked Black council members in Birmingham from becoming the first city in the South to raise its minimum wage, Carlson led an all-star team of lawyers that brought suit against the state on behalf of fast-food workers, civil rights groups and black legislators, charging the state's actions were "tinged with racial animus" and violated equal protection and voting rights laws. The case could provide a roadmap for challenging pre-emption laws around the country. 
Her doggedness, creativity and empathy on behalf of workers leading the Fight for $15 builds on a decades-long career fighting for workers' and civil rights that has earned her the reputation as one of the nation's leading public interest lawyers and the patron of seemingly impossible causes. Carlson grew up in rural Tennessee, the oldest of six children. She helped organize protests at the all-white Mississippi State College for Women that pressured administrators to allow Marian Wright Edelman to speak on campus. She knew she wanted to become a lawyer when she heard Edelman speak about organizing tenant farmers and attacking segregation across Mississippi. 
After graduating from Duke University School of Law, Carlson started her career as a lawyer in Atlanta, where she led cases challenging the racial and gender makeup of juries, resulting in more Blacks and women in the pools. She began her career as a labor lawyer in Washington, D.C., where she helped lift caps on wages for nurses and forced an investigation that led hospitals to stop systematically excluding black nurses from specialty units. She brought successful antitrust suits against major hospital networks for colluding to keep nurses' salaries down—cases that are being studied today as advocates look for ways to curb monopoly power in the new economy.
Carlson has worked on several important voting rights cases, including one in Ohio that successfully challenged the Republican National Committee's attempt to remove black voters from the rolls, and one in Indiana that beat back the state's closure of early voting sites in majority-Black areas.
Carlson has worked for many of the nation's leading labor unions, including SEIU, CWA and the UAW, and served a seven-year term as deputy general counsel of the National Labor Relations Board.
Mary Joyce Carlson's indefatigable efforts to confront poverty, discrimination and other injustices exemplifies the public spirit of her fellow Tennessean, George Barrett, and the causes he supported over six decades of advocacy.
---
Mary Joyce Carlson accepts the 2018 George "Citizen" Barrett Award