September, 2019
The 1619 Project wins September Sidney for Sweeping Assessment of Slavery's Legacy
The 1619 Project has won the September Sidney for a sweeping assessment of the legacy of slavery on U.S history, culture, and politics. The project is a special issue of the New York Times Magazine led by journalist Nikole Hannah-Jones, the New York Times Magazine editor Jake Silverstein, features editor Ilena Silverman and NYT Mag Lab's editorial director Caitlin Roper.
The special issue is named for the year the first slave ship arrived in colonial Virginia. Four hundred years later, this trade in human beings still shapes every aspect of life in the United States. The collected essays argue for 1619 as the true year of our nation's founding and place the stories of black Americans at the very center of our national narrative. 
Matthew Desmond recounts how U.S. capitalism was created by the global slave trade and the management of slave labor on cotton plantations. 
Jamelle Bouie traces Republicans' wholesale rejection of President Barack Obama's legitimacy to John C. Calhoun's crusade to weaken democracy to defend slavery. 
Nikole Hannah-Jones argues that our national ideals of liberty and equality were false when they were written, but that black Americans have fought to make them true. 
"The 1619 project forces readers to grapple with slavery's formative impact on our society, and forces readers to confront historical facts that most people were never taught in school," said Sidney judge Lindsay Beyerstein. 
Nikole Hannah-Jones is a staff writer for The New York Times Magazine. She is a 2017 MacArthur Fellow and her reporting has earned her the Peabody, Polk, and National Magazine awards and the Hillman Prize. She is also the co-founder of the Ida B. Wells Society for Investigative Reporting.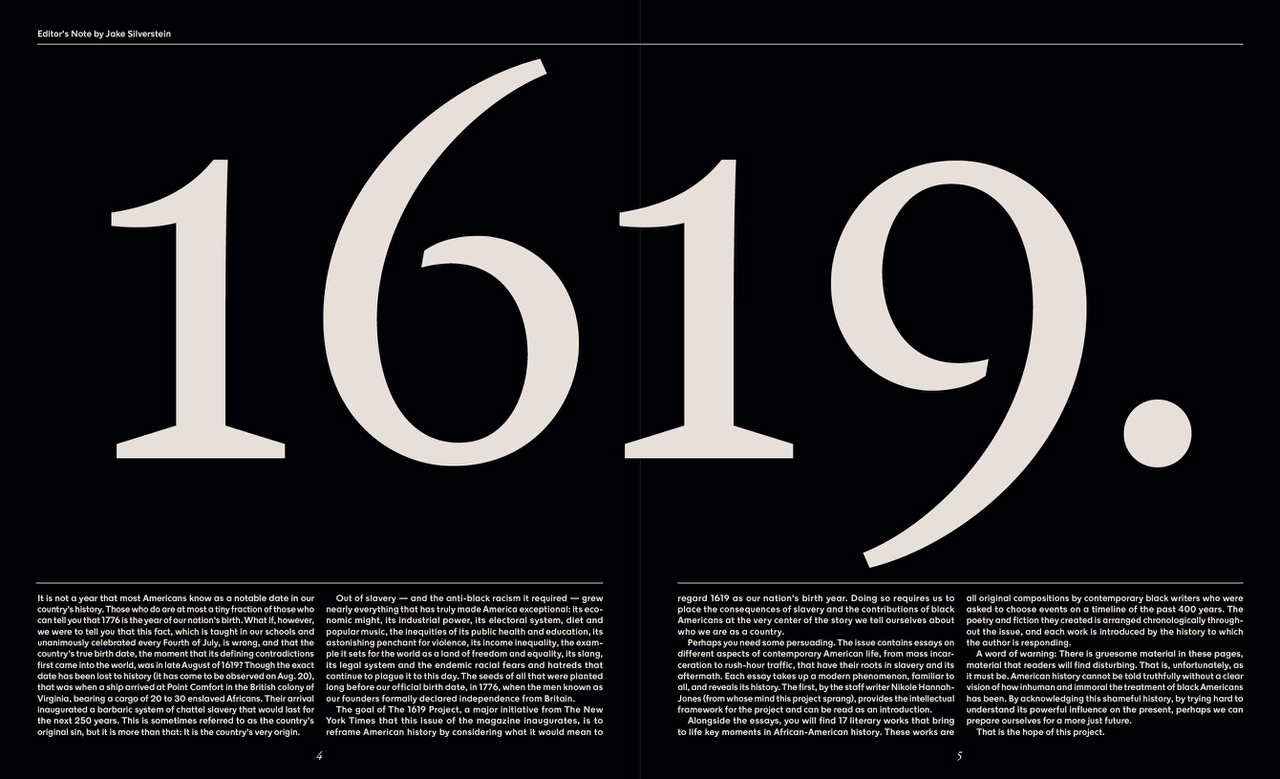 The New York Times
Lindsay Beyerstein interviewed Nikole Hannah-Jones by email:
Q: The 1619 Project examines the impact of slavery on a broad range of topics, from politics to pop music. Did you assign topics to writers, or did you tap writers and ask them to pitch story ideas? 
A: We mostly assigned topics to writers. At the beginning of the project, we held to brainstorming sessions, one with staff and contributors and one with historians and other scholars, in order to come up with the areas we wanted to cover and from that we made assignments.
Q: There has been intense demand for physical copies of the 1619 Project. The Times has given away thousands of copies and many more readers want to buy their own. Were you surprised at how much demand there is for a print edition? 
A: Yes, of course we were surprised by the demand. We knew this project was important and believed we had produced something powerful, but we had no idea it would make the impact that it has. Our people in distribution have said they have not seen this type of demand for the print product since President Obama's historic win in 2008. It is tremendously humbling that people have valued this work so much. 
Q: I understand you've partnered with the Pulitzer Center and perhaps others to produce other ways to read this material, can you tell us about those partnerships? 
A: We have partnered with the Pulitzer Center to produce a K-12 curriculum that educators and anyone interested can download for free. We are particularly proud of this and across the country students are already learning the 1619 Project in school.
Q: The project has already had major cultural impact. What was the feedback that has meant the most to you so far? 
A: The feedback from black readers who feel that the paper of record has told their stories in a way that they have never seen, who believe we have told the story of slavery and its legacy without whitewashing it, but truthfully and with dignity and rigor. But also readers of all stripes who say this project has shifted the way they see their country and the role black people have played here.