June, 2023
Ted Genoways wins June Sidney for Shedding Light on a Police Shooting in a Hog Processing Plant
Ted Genoways and the New Republic win the June Sidney Award for "How a Refugee's American Dream Ended in a Police Killing." The feature, reported in partnership with the Food & Environment Reporting Network, tells the tragic story of a Sudanese refugee shot by the police at an Oklahoma hog plant, and his coworker who was fired for recording the incident. 
On January 10, two police officers were summoned to the massive Seaboard Foods pork processing plant outside of Guymon, Oklahoma. Plant supervisors claimed that 26-year-old Chiewelthap Mariar was being uncooperative, talking to himself, and acting oddly. Mariar was fired after he refused to be reassigned to another job, as was his right under the collective bargaining agreement. A standoff ensued and less than a minute later, Mariar was fatally shot. Mechanic David Alvarez filmed parts of the confrontation. He also recorded the meeting where he was fired for filming. 
The shooting took place in a plant deeply divided by race. After a series of high-profile raids targeting undocumented Latino immigrants, the meatpacking giants turned to a new pool of workers: political refugees. Seaboard has become increasingly segregated with Latino workers occupying many supervisory positions and Black workers from Africa working on the production line. Genoways describes the dynamic as a "Stanford Prison Experiment," a reference to a famous experiment where a psychologist assigned volunteers to roleplay guards or inmates — only to have the experiment devolve into brutality as the guards abused their newfound power. 
"This story makes plain the complex racial dynamics of the meatpacking industry, the burdens of the Trump administration's relentless speedup of production lines during the pandemic, and a family's grief at the loss of their son," said Sidney judge Lindsay Beyerstein. 
Ted Genoways is a contributing editor at the New Republic. His previous reporting on the meatpacking industry has received a James Beard Foundation Award for Investigative Reporting and a National Press Club Award. He is a President's Professor of Media Studies at the University of Tulsa.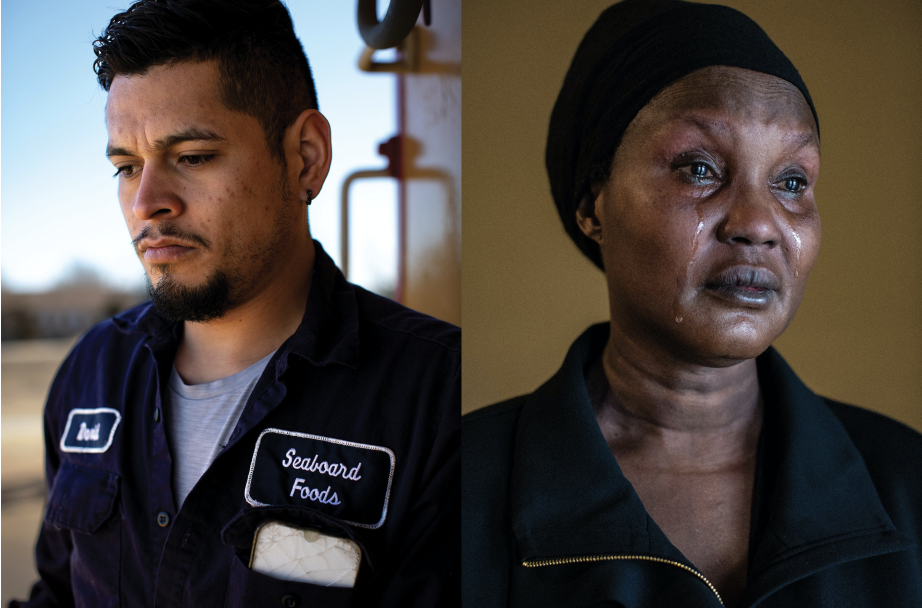 Mary Anne Andrei
Lindsay Beyerstein interviewed Ted Genoways by email:
Q: How did you hear about the police shooting at the Seaboard Foods Plant in Guymon, Oklahoma?
A: I first heard about the shooting on local news in Tulsa, when the Oklahoma State Bureau of Investigation announced that the agency would be investigating the incident. A few days later, I saw further coverage in a meatpacking industry publication. But I hadn't planned on writing a story until I was contacted by Heather Souvaine Horn at The New Republic. I've written about abuses in the meatpacking industry a number of times for TNR, and Heather's email posed a simple question: "Do you think there could be enough here for a story?" I told her that I thought this was an important story—but, by then, there was reporting that another worker in the plant had captured video of the shooting. To me, the question was whether I could find that worker and convince him to speak on the record. Everything went from there.
Q: Describe your overall strategy for reporting this piece. Were there any documents that were particularly helpful?
A: I started by looking through comments on the OSBI Facebook post about the shooting to see if I could find the worker who filmed the incident. There were hundreds of comments from Guymon locals sharing rumors and opinions. Some claimed to have been in the room when the shooting occurred or to have seen video of the shooting. Sending messages via Messenger eventually led me to David Alvarez, the Seaboard maintenance worker who captured the shooting on video. Alvarez had not only recorded the incident but also the meeting where he was fired for recording the incident. When I first met him in Guymon, he played me those recordings and walked me through them. Next, I got the Guymon Police Department reports, which were surprisingly critical of Seaboard. When I informed Seaboard of those reports, the company took the unusual step of sharing security footage with me. Eventually, the Guymon PD released the body cam footage of the officers involved. So I had recordings of the incident from four angles, reports of interviews with company employees and officials, and I had my own interviews with Alvarez.
But, to me, the most important information wasn't in those records but rather in the interviews with Chiewelthap Mariar's mother and sisters. They shared their heartbreak and confusion and unresolved questions. They also explained the long, painful journey that their family had made from war-torn South Sudan to the meatpacking plants of Texas and Oklahoma. The conversation with Gloria Thondok, Mariar's mother, was especially important. At first, she was so overcome with emotion that she could barely speak. Mary Anne Andrei, my longtime collaborator on meatpacking stories (and also my wife), suggested that we take a break to get some portraits for the story. As Mary Anne brought Gloria to one part of her house or another, looking for good natural light, she naturally began to open up about her son and her family. It was a potent reminder of the importance of working with co-reporters you can trust and who understand the story you're telling.
Q: Can you summarize the factors that precipitated the fatal standoff between 26-year-old worker Chiewelthap Mariar and the police?
A: Mariar had been recently rehired at Seaboard Foods after having worked there years before. This time, he had been hired to pack vacuum-sealed products in the packaging room—relatively light work. It appears that a supervisor instructed Mariar to move to a different station where the work was heavier, and it appears he refused, as would be his right under the collective bargaining agreement. An argument broke out between Mariar and his supervisor, and someone at the company called in the local police to remove Mariar from the premises. When the police arrived, they told Mariar that he wasn't in trouble, that they just wanted to talk. On the body cam footage, he can be seen shaking his head and then pulling something, what appears to be a pocketknife, from his smock. When Mariar refused to drop the knife, one of the police officers shot and killed him. It all unfolded in less than a minute.
Q: Plant worker David Alvarez was fired for filming the confrontation and sharing the footage within the plant. Did the union do anything to defend him?
A: The union negotiated on his behalf, but its power is somewhat limited. The union argued that Alvarez had been wrongfully terminated, and the company, according to Alvarez, eventually offered him his old job back. But Alvarez was really traumatized by the shooting and didn't want to go back to Seaboard.
Q: What role did race play in this incident? 
A: It's very complicated. Mariar was a refugee from South Sudan; his supervisor was a Mexican immigrant. There has been mounting tension between those groups as Mexican immigrants have been promoted in the plant and replaced by refugees from Sudan and other countries. The two police officers who responded to the call from Seaboard were Black and Hispanic. The Black officer fired the shot that killed Mariar. On his body cam, he arrives at the plant and is told by a Hispanic worker that Mariar is "tall, dark," and the officer asks, "Is he, like, one of them African or Sudanese people?" As I write in the piece, it's all a giant Stanford Prison Experiment.
Q: Can you bring us up to date on the investigation? Have any conclusions been drawn? Does Mariar's family have any recourse? 
A: On May 5, the attorney representing the Guymon Police Department wrote to inform me that OSBI's investigation "has now concluded." But OSBI has not responded to my requests for comment or publicly released any conclusions of their investigation. Gloria Thondok has retained an attorney, but when I last spoke to her, she had not been offered a settlement by Seaboard and was still working at the plant.
Q: How is Alvarez doing?
A: Honestly, I think Alvarez is struggling. He took a construction job for a while, but he told me that the sound of the nail guns on the jobsite reminded him of the shooting. He hasn't been able to afford counseling, and his sporadic work has ended up becoming an issue in a custody battle. He was only trying to do the right thing, to document a police interaction and then share the video with a supervisor when he was told (incorrectly) that there was no security footage. For that, he has suffered a lot of hardship.