August, 2022
Tony Plohetski wins August Sidney for Exposing the Police Failure to Respond in Uvalde
Tony Plohetski of the Austin American-Statesman and KVUE-TV wins the August Sidney Award for his exclusive report entitled "Watch Uvalde school shooting video obtained by Statesman showing police response." See also KVUE nightly newscast.
On the morning of March 24, a gunman entered a classroom at Robb Elementary in Uvalde, Texas and started shooting. The shooter would ultimately murder 19 students and 2 teachers before a tactical team finally entered the classroom and killed him. 
Authorities would release multiple conflicting accounts in the hours and days to come. 
Drawing on a deep network of sources cultivated over more than 20 years on the beat, Plohetski was the first to obtain surveillance video showing a 77-minute gap between the arrival of the police and the killing of the gunman. 
Three minutes after the shooting started, a small group of officers approached the classroom but almost immediately retreated. Heavily armed reinforcements began to arrive. Officers with long guns, ballistic shields, and other tactical gear milled about in the brightly painted hallway with no clear direction. Even after the gunman fired off at least four additional shots 45 minutes after the police arrived, they failed to take action.
"Plohetski's reporting cut through the self-serving official accounts and changed the national conversation about this tragedy," said Sidney judge Lindsay Beyerstein. "We can only hope that learning the truth will be the first step towards meaningful reforms."
The incident raised urgent questions about police training and culture. Police officers are trained to engage an active shooter immediately. The police were well aware that the shooter had an assault rifle. Some experts worry that the ubiquity of assault weapons is sapping the resolve of officers to confront active shooters, even with ample backup. 
"[T]he video provided extraordinary evidence of what experts have called a complete failure of law enforcement," said Plohetski in our Backstory interview. "In many ways, the video only served to deepen questions that we are still trying to get answers to, but the most important question is why officers failed to act."
Tony Plohetski is an award-winning investigative reporter for the Austin American-Statesman and KVUE-TV, the ABC affiliate in Austin. Much of his work in his more than two-decade career has focused on law enforcement accountability, and his reporting has led to criminal indictments, changed state law in Texas and prompted other government reform. His previous honors include the 2021 Hillman Prize for Broadcast Journalism.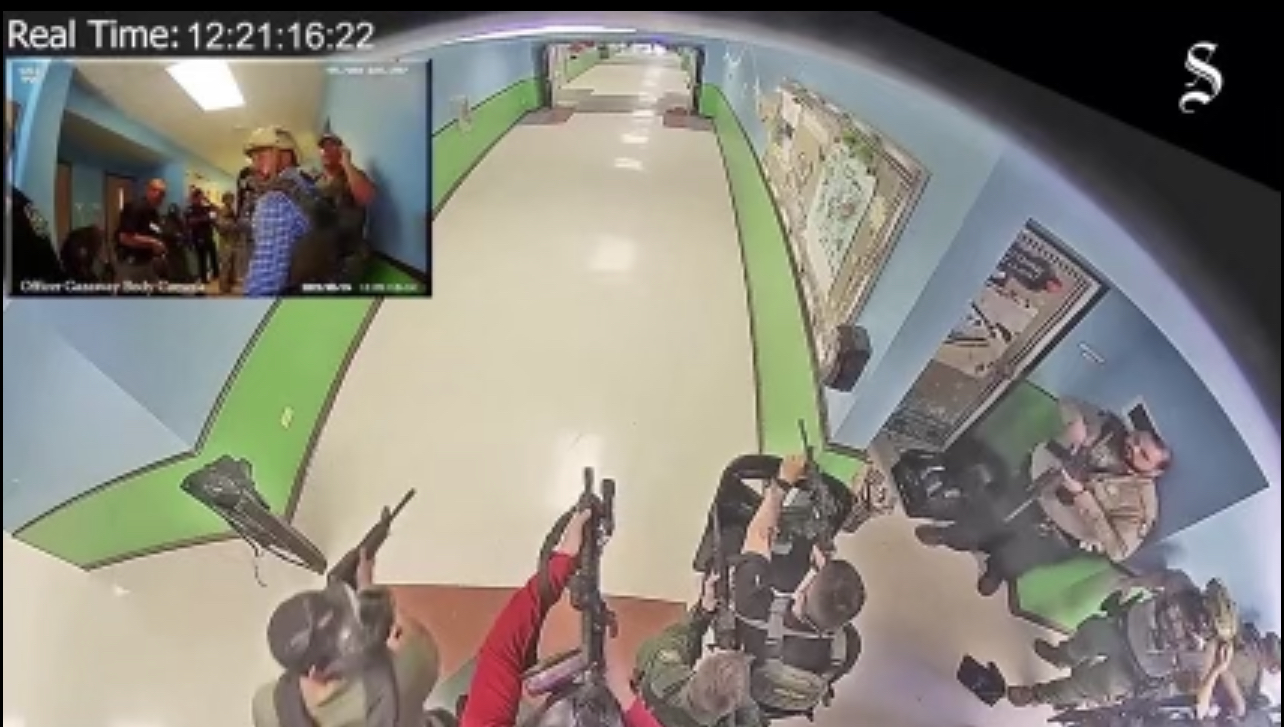 Briana Sanchez and Nate Chute, Austin American-Statesman
Lindsay Beyerstein interviewed Tony Plohetski by email:
Q: Can you summarize the work you've done on the Uvalde shooting up to this point? 
A: On May 24th, the day of the shooting, I began early on contacting state government and law enforcement sources to try to learn as much as I could about the shooting once we received early reports. By mid-afternoon, it had become clear through relying on those sources that at least 14 children were feared dead. Realizing that a national tragedy was unfolding, I got on the road to Uvalde, about three hours from Austin. As the death toll reached 19 students and two teachers, I arrived on the scene that evening and stayed throughout the remainder of the week. Initially, I joined hundreds of other journalists from around the world covering the breaking news aspect of the shooting. I pivoted my attention to the law enforcement response once it became in question. It has remained my primary focus in the weeks since. 
Q: How did you find out about the existence of the surveillance video?
A: As part of my original reporting, I obtained a screengrab from the hallway security footage at the 11:52 a.m. mark in which heavily armed officers are seen in the hallway. We reported on the contents of the video at that time, on June 20th, and the single screenshot underscored the fact that police were on the scene, but did not act to take the gunman down until 12:50 p.m. after he had entered the school at 11:33 a.m.  
Q: Describe your reporting process for getting to view the video and eventually being able to air it on TV.
A: A couple of weeks after reporting on the screengrab, we obtained a copy of the video, which showed the gunman entering the school, opening fire and entering a classroom. It also showed the actions of responding officers, including several who initially tried to enter the classroom before taking fire – and then a lack of action for more than an hour.
I, along with my editors at both the Statesman and KVUE, immediately understood the gravity and newsworthiness of it, but we did not rush it onto air or into print. Clearly, there were highly unusual but extremely important editorial decisions that needed to be considered, including how much and what to air. Ultimately, the Statesman and KVUE newsrooms decided to air the video in its entirety, with a couple of exceptions: We blurred the face of a child seen in the hallway, and we edited out the sound of screams in the hallway. 
Q: What were the most urgent questions that the surveillance footage raised for you when you saw it?
A: Clearly, the video provided extraordinary evidence of what experts have called a complete failure of law enforcement. In many ways, the video only served to deepen questions that we are still trying to get answers to, but the most important question is why officers failed to act. 
Q: Police officers are trained to rush into active shooter situations as quickly as possible, why didn't that happen at Robb Elementary? 
A: As I mentioned, that remains one of the large unanswered questions of that day – and that answer is not provided in the video, unfortunately. Much of that information will have to come from statements from officers, which we have not obtained at this point. They will have to explain what they knew in those minutes about what was unfolding and why they did not act more aggressively to enter the classroom.
Q: Is the ubiquity of AR-15s and other powerful weapons sapping the resolve of officers to intervene in active shooter situations? 
A: That is a question that has been raised by experts and others who have been involved in, or closely following, the coverage. We do know that the chief of the school district police force was calling for additional firepower and protective equipment, knowing that officers were facing a gunman armed with an assault rifle.
Q: What did you learn from this investigation that you will carry forward to your next assignment?
A: This has served as a reminder of a lesson we learn as journalists: Always challenge the official narrative. One reason the video in this case is so important is because it provides a window into the unabridged truth of that day, but that truth had been obscured by false and erroneous statements by authorities. 
Q: Despite the international media maelstrom, you were able to get this critical piece of evidence first because of your deep network of sources cultivated over many years. What does that say about the importance of local news? 
A: I certainly appreciate the work and effort my colleagues from national and international outlets have done in Uvalde and believe that it has helped amplify the issues to a larger audience. I have spent my entire professional career – now in my 23rd year – in local news in Austin, and I hope that has given me an opportunity to gain the trust of the public and potential sources across a broad spectrum of topics and coverage areas. Certainly, that is an important aspect to local news coverage and I believe it helped position me to receive this crucial piece of evidence.