October, 2022
Matt Katz wins October Sidney for Obtaining Never-Before-Seen Images of Rikers
Matt Katz of WNYC/Gothamist wins the October Sidney Award for obtaining never-before-seen images of the squalid and potentially lethal conditions at Rikers Island. 
Through a public records request, Katz obtained a slide deck presentation that was shared during a Zoom meeting with hundreds of assistant district attorneys at the request of their boss, New York District Attorney Alvin Bragg. Bragg wanted his prosecutors to understand what it means to send someone to Rikers and to take that reality into account in the charges they file and the advice they give to courts. Since Rikers is a jail, most people incarcerated there haven't been convicted yet. 
The presentation revealed horrific scenes at the jail including inmates performing chest compressions on fellow detainees because staff were ignoring their medical crises. The assistant DAs also saw a man locked in a cage shower for 24 hours before he injured himself. They saw an incarcerated person bring fresh clothes to another man who had been left to sit in a soiled uniform for almost 12 hours as staff ignored his plight. 
"Sixteen people have already died in New York City jails this year," said Sidney judge Lindsay Beyerstein, "Katz's reporting reveals the terrifying and dangerous conditions in which people are housed at Rikers Island, a facility the city has been promising to close for years." 
These images could also serve as evidence in legal filings by those seeking a federal takeover of Rikers. 
Matt Katz reports on public safety, focusing on decarceration and the equitable enforcement of laws. He has investigated abuse in ICE detention and covered former N.J. Gov. Chris Christie, sharing a Peabody Award for investigating the Bridgegate scandal and publishing a book, "American Governor: Chris Christie's Bridge to Redemption." Once upon a time, he wrote a syndicated dating column.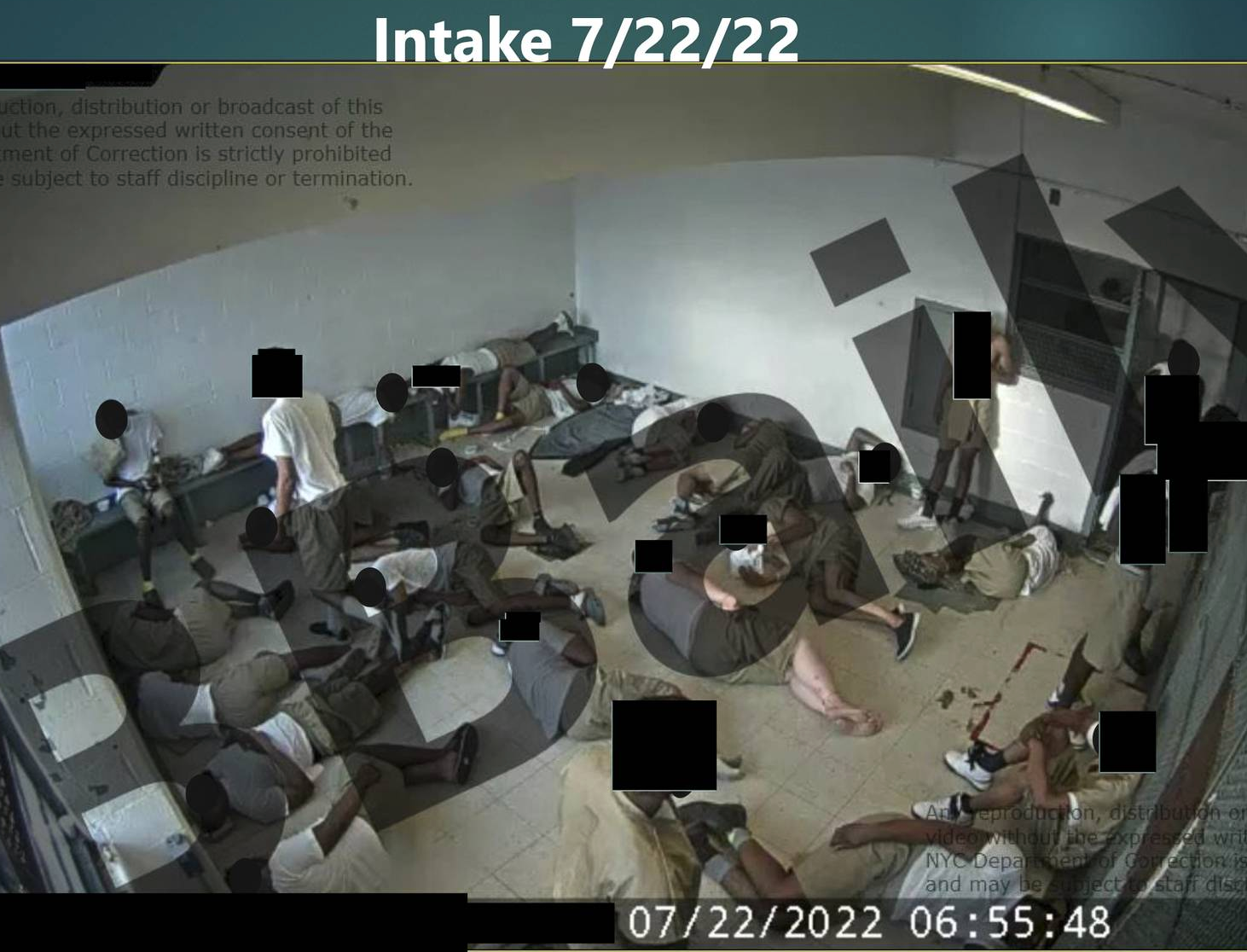 Photo by NYC Board of Correction via FOIL request
Lindsay Beyerstein interviewed Matt Katz by email:
Q: Your story is based on a presentation that was created by the Board of Corrections and shown to hundreds of NYC prosecutors at the invitation of DA Alvin Bragg? How did you become aware that this remarkable presentation existed?
A: The story came about in a very textbook way. I got a tip from a source that this presentation involving videos and photos from Rikers Island had occurred. Since it was a presentation, I knew that meant there must be an actual file, a document, that was used. And if so, that would make it a public record. So I then filed a freedom-of-information request to the New York City Board of Correction, which had produced the document. It took a little more than a month to get the presentation, with some redactions. 
Q: Did Bragg say why he thought it was important for his staff to see this presentation?
A: Through a spokesperson, Bragg said he had invited the Board of Correction to make this presentation so prosecutors understand what life is like at Rikers Island. These attorneys make recommendations to judges about how much monetary bail to set – and decide on the severity of charges to file – which gives them a significant, but often overlooked, impact on who ends up at Rikers. 
Q: What did this presentation reveal about conditions on Rikers Island?
A: It put images to the stories we've already reported, and added new horrific details. It indicated a lack of bathrooms for those crowded into intake pens, and showed how someone who defecates in his pants can be left in soiled clothing for as long as 12 hours. It depicted the caged shower stall that can be used as a form of de facto solitary confinement for more than a day at a time. It revealed the horrifying physical state of the facilities at Rikers. And it laid out how incarcerated people are forced to be first responders for other incarcerated people, because officers and medical staff aren't necessarily present to care for those who fall unconscious, like due to drug overdoses.   
Q: Do we know if the presentation has affected prosecutors' willingness to send people to Rikers? 
A: It's too early to tell if the presentation influenced prosecutors' actions in the courtroom. We don't have the data yet to be able to figure that out. 
Q: In your story you mention that Rikers cracked down dramatically on sick leave abuse, suspending more than 100 staff members this year. Do you have any more details about what prompted the crackdown, or how it is affecting the day-to-day operations of Rikers? 
A: Last year, the number of officers who were out on sick leave skyrocketed, causing a range of problems, not the least of which was security. The current commissioner, who took over earlier this year, has made tackling this problem a priority. He says he is succeeding in getting more people back to work, and the number of officers out sick has decreased. 
Q: We've been hearing for years that New York City intends to close Rikers and replace it with a network of smaller modern jails. Where are we in this process? Is Rikers likely to close any time soon?
A: Rikers is still scheduled to close in 2027 and be replaced by four smaller jails elsewhere in the city. But in order for that to happen, the population of Rikers – and therefore the number of people whom the courts send to Rikers pre-trial – must go down dramatically. The new jails cannot handle the more than 5,000 detainees currently housed there. It is unclear how aggressively the Adams Administration will move to make sure that Rikers can close. 
Q: All good investigations hone our skills or refine our perspective. What did you learn from this investigation that you will carry with you to your next assignment?
A: This reminded me to always ask sources and tipsters for the documents. Do you have a document that can demonstrate what you're telling me? Or: What's the document called, so I can request it myself? Reporters need sources – and they need government officials to follow public information laws and provide documents in a timely manner. I'm grateful to both.