November, 2021
Nashville Public Radio and ProPublica win November Sidney for Shocking Investigation of Black Kids Jailed for Imaginary Crimes in Tennessee
Meribah Knight of Nashville Public Radio and Ken Armstrong of ProPublica win the November Sidney Award for their riveting and deeply reported account of Black children jailed for made-up crimes by a dysfunctional youth justice system in Rutherford County, Tennessee. 
In April 2016, four Black girls, the youngest just eight years old, were arrested at their elementary school. Their so-called crime? Failing to stop a scuffle off school grounds. No one was hurt but the footage ended up on YouTube. One of the girls could be heard urging the kids to stop, but she was arrested anyway, along with her best friend, who wasn't even there. 
Failing to stop a fight isn't actually a crime in Tennessee, but police officers nevertheless received approval from a judicial commissioner to arrest a total of 11 kids for not stopping that fight.
Those arrests revealed an ugly and unsettling culture in Rutherford County, one that spans more than a decade.
Statewide, 5% of kids referred to juvenile court were jailed, according to the county's last publicly available report; in Rutherford County, the figure was 48%. 
Almost none of the adults involved in the illegal jailing of children in Rutherford County has faced serious consequences, even though the county has agreed to pay out up to $11 million in a class-action lawsuit. The judge who oversees the juvenile justice system in Rutherford County is still in power, as is her appointed jailer.
The reporters drew upon interviews with victims and officials, the files from an internal investigation by police, civil rights lawsuits, and over 60 hours of the judge's radio show. 
"The depth and rigor of this investigation is outstanding," said Sidney judge Lindsay Beyerstein, "The reporters and their respective media outlets went above and beyond."  
Meribah Knight is a senior reporter with Nashville Public Radio. She hosts and produces the Peabody award-winning podcast, The Promise, an immersive series about inequality and the people trying to rise above it.  She is currently a fellow in ProPublica's Local Reporting Network.
Ken Armstrong is a reporter at ProPublica. He earlier worked at the Marshall Project, the Seattle Times and the Chicago Tribune, where he wrote an investigative series with Steve Mills that helped prompt the Illinois governor to suspend executions and empty death row. A story he wrote in 2015 with T. Christian Miller became the basis for the Netflix series, "Unbelievable."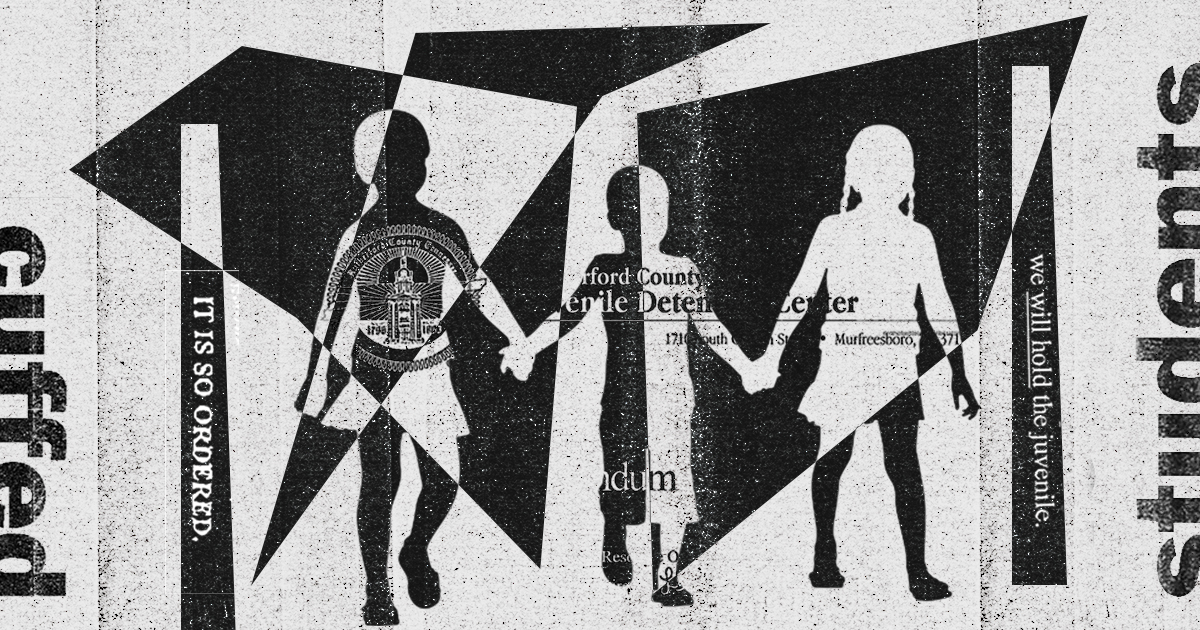 Lindsay Beyerstein interviewed Meribah Knight and Ken Armstrong by email:
Q: Why were the police so interested in a fight between elementary school kids in which nobody got hurt?
Knight: The officer responsible for investigating the incident was Chrystal Templeton. She spearheaded the arrests. Several other officers were steadfast against these arrests, or unsure, but didn't wave her off. What she told investigators at the time, was she wanted the children who looked on to face consequences for their actions — in this case not stepping in to stop the fight. But that is one of the puzzling aspects of this story, why did Templeton lock onto this incident and decide she needed to arrest every child looking on? According to her interviews with investigators she didn't think it would be fair to charge just one, and she wanted to get the children in front of Judge Donna Scott Davenport because, in Templeton's words, "juvenile court is about rehabilitation." 
Q: Why were kids in Rutherford County, TN charged with offenses that aren't even real crimes?
Armstrong: This traces back to a quirk of Tennessee's justice system, where people called judicial commissioners can approve charging decisions. (In most places, prosecutors fulfill this role.) In Rutherford County, the judicial commissioners don't need to have a law degree. In this case, two judicial commissioners helped a police officer arrive at the charge of "criminal responsibility for conduct of another" without realizing there is no such crime in the penal code. (Neither of the commissioners was a lawyer. One previously worked in a post office.) Instead of being a crime, "criminal responsibility" is a prosecution theory upon which someone can be charged with an actual criminal offense, for example, assault or burglary. When two prosecutors were interviewed as part of an internal police investigation in this case's aftermath, they left no doubt that the approval of this charge was a crucial misstep. 
Q: How did you go about reconstructing the scene where the officials are trying to figure out what charges to file against the kids from the playground?
Armstrong: When we got a copy of an internal police investigation of this case, we saw that investigators had recorded all their interviews. So we asked for all those recordings — and got 38 hours' worth, including interviews with all the police officers involved in this case, along with the principal and other school officials. Those interviews allowed us to describe not just what people did, but what they were thinking. We learned about their suspicions. Would this be happening at a school where the students were predominantly white? We learned about their fears. If I push back too hard, will I get arrested myself? Plus, Meribah was able to interview some of the kids and their parents. They helped fill in all of the critical scenes.
Q: You quote a police officer as saying that it's good to jail kids because the juvenile justice system is "therapeutic." Is that a widespread belief among the officials you interviewed for this story?
Armstrong: This is a hard question to answer, because a number of key individuals declined to be interviewed. On her monthly radio show, the county's juvenile court judge certainly expresses this belief. She says juvenile court is there to help kids. "It's all about treatment," she says. What's striking, though, is how two of the three police officers who were tasked with arresting these students at an elementary school had a clear understanding of how damaging this experience could be for young children. Each pictured his own daughter being handcuffed. And both officers were so distraught at what was happening that they ended up in tears.
Q: What role have lawsuits played in peeling back the secrecy that surrounds juvenile justice in Tennessee.
Knight: The lawsuits have been instrumental in this story. We never could have done it without them. There were seven lawsuits in total that surrounded this juvenile court system and were relevant to this story. Because juvenile court is shrouded in privacy, these lawsuits helped crack open the door into this secret place that we never get to see unless we're caught up in it. Through discovery, lawyers got access to juvenile records that they redacted and filed with the court, so we got those. They also got access to lots of internal documents and memos that were filed, so were now public record. And there were depositions, so the key people — the judge, the jailer, employees and others — were answering questions under oath. We filled in the gaps with our own interviews, more than 50 public records requests, and more digging, but those lawsuits were absolutely key. 
Q: What did you learn from reporting this story that you will carry forward to your next assignment?
Knight: I have such an affinity for federal lawsuits now! They hold so much information, valuable information. Not all are as robust as what we came across in this story, but they're a vital part of doing this work. They hold so many kernels and offer a wonderful road map for a reporter. This story has also made me think a lot more about how complex and unequal systems are created and allowed to thrive despite pretty obvious red flags. And how, as a reporter, we can hold those systems accountable in a meaningful way. This story was really complicated, and had so many people involved in it. I used to joke with Ken that it's like a Russian novel with all the people we had to keep track of. Yet, rather than distilling or simplifying it, Ken and I leaned into that complexity and I am so glad we did. Because while the buck stops at the judge, there are so many people around her and below her who are complicit in this troubled system. Those people need to be held accountable as much as the system — they are the system whether they realize it or not. 
Q: Have any policies changed to prevent the wrongful incarceration of kids in Rutherford County?
Armstrong: In 2017, a federal judge ordered the county to stop using an intake policy, called the "filter system," under which children were being illegally jailed. But Rutherford County still jails a lot of children. It's just that most of those children now come from other counties, which pay $175 a day for this service. Other changes may be in the offing. Tennessee's governor and state lawmakers have called for the county's juvenile justice system to be investigated. And 11 members of Congress wrote to Attorney General Merrick Garland, asking for the U.S. Department of Justice to launch a civil rights investigation.