December, 2022
Insider's Investigations Team wins December Sidney for Documenting Trans Homicide Crisis
The Insider investigations team wins the December Sidney Award for "Deaths in the Family" the most comprehensive accounting of the transgender homicide crisis to date. 
Over the course of 18 months, Insider documented 175 transgender homicide victims over a 5-year period. The team filed hundreds of public records requests and traveled across the country to interview the victims' loved ones, prosecutors, and witnesses. 
The results were shocking. Nearly two-thirds of the victims were Black women and 85% of all victims were people of color. The death toll is almost certainly an undercount because neither federal nor local authorities track trans homicides comprehensively. Nationally the murder rate stands at 6.5 murders per hundred thousand people, Insider estimated trans murder rates at over 14 per hundred thousand in Louisiana and Missouri, the two deadliest states. 
Insider exposed a sweeping lack of accountability. Only 16% of these killings resulted in murder convictions, and only one case ended in a successful hate crime prosecution. 92% of unsolved cases involve victims of color. 
Insider's data suggest that the trans homicide rate increased dramatically between 2019 and 2021. They counted 25 victims in 2019, 40 in 2020, and 51 in 2021. This increase coincides with accelerating political attacks against the trans community. State legislatures considered 19 anti-trans bills in 2017, 60 in 2020, and 132 in 2021. 
"Insider has committed to quantifying the trans homicide crisis," said Sidney judge Lindsay Beyerstein, "Their report considers the killings of trans people in the context of escalating political attacks on the community."  
The team has published six pieces delving into key aspects of the crisis, and two more stories are coming, one digging into how transphobia has affected the verdicts in a number of cases, and another on the horrifying terror attack on Club Q.
Esther Kaplan is the investigations editor at Insider. Sophie Kleeman is a senior editor on Insider's investigations team. John Cook is an executive editor at Insider. Diamond Stylz is an editorial consultant for Insider and executive director of Black Trans Women Inc. Rayna Momen is an editorial consultant for Insider and a doctor of sociology. Matt Drange is a senior investigations correspondent at Insider. Nicole Einbinder is a senior investigations reporter at Insider. Cecilia Reyes is a senior investigations reporter at Insider. Bradford Davis is an investigations reporter at Insider. Haven Orecchio-Egresitz is a senior criminal justice reporter at Insider. Michelle Mark is a senior reporter at Insider. Hannah Beckler is research editor at Insider. Narimes Parakul is a junior researcher at Insider. Madison Hall is a data reporter at Insider. Quispe López is a former sex and relationships reporter at Insider and the lifestyle editor for Them. Keenan Trotter is a former deputy editor on Insider's investigations team.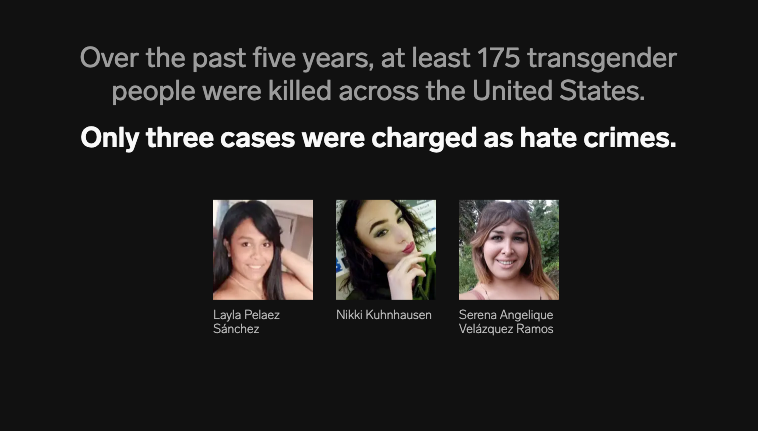 Lindsay Beyerstein interviewed Esther Kaplan by email:
Q: The scope of this story is truly sweeping. Can you describe how you structured the investigation?
A: "Deaths in the Family" sprang from a story that two Insider journalists, Quispe López and Madison Hall, reported last year analyzing one year of homicides targeting transgender people. We knew that government agencies had utterly failed to track a rising tide of violence targeting transgender people, and there was a sense that we could do go deeper and make a comprehensive effort to get our hands around what was going on.
We began by compiling a list of potential homicides of transgender and gender nonconforming people, pulling from nonprofits such as the Human Rights Campaign, scholars including Rayna Momen at the University of West Virginia, and extensive searches of press reports and social media posts. We then assembled a team around Quispe and Madison to send out public records requests to police and prosecutors in every case, and to conduct searches of county court records. It took months of appeals and cajoling, and phone calls to law enforcement agencies and court clerks to pull in original records that allowed us to refine the list. Some cases, we found out, had been ruled suicides or overdoses, and we excluded them from our analysis.
As we read through the documents there were a lot of surprises there. We began to see patterns, and our package of stories emerged from there. We saw so many killings of sex workers, and so many domestic violence fatalities — we knew those deserved attention. We noticed so many unsolved killings, and so many indications of criminal justice failures — those each became stories. The broken trust between police and trans communities emerged as a major theme — we developed a story focused on police killings and another about the history of police harassing and failing to serve transgender communities. And of course, as we've watched elected officials demonize and criminalize trans lives, we knew we wanted to look into killings driven by transphobia. 
Critically, as we began to formulate our data findings and our story plans, we brought on two editorial consultants who have deep expertise on trans lives and anti-trans violence, criminologist Rayna Momen, who did their doctoral research on transgender homicides, and Diamond Stylz, executive director of Black Trans Women, Inc. Their wisdom was critical in shaping our thinking about how to frame and tell these stories.
Q: What kinds of data were most useful to you?
A: We hand-built the database from documents we obtained from police, prosecutors, and courts, supplemented by press reports. The most useful documents we got our hands on were the full investigative files, which we obtained in a good number of cases. They allowed us to uncover things that other reporting hadn't, such as details on the suspects and how misgendering impacted police investigations. But of course law enforcement officials refused to hand these files over for any homicide investigation considered open — more than a third of our cases. And even with closed cases, police often stonewalled our public records requests. We spent many thousands of dollars paying for responsive records and also for trial transcripts.
Q: Are there kinds of data that are not being collected, but that you wish authorities were gathering?
A: We spent a couple of weeks going back and forth with the Department of Justice about whether the FBI's National Incident-Based Reporting System (NIBRS) — our nation's primary source of incident-based crime data — allows local law enforcement agencies to report that a homicide victim was transgender. Ultimately we learned that these local agencies, when reporting victim demographics, are "limited to the categories of male and female." 
Our project illustrates the countless ways that transgender people face very specific risks of violent crime, and then face an uphill battle in receiving justice in the courts. We hope this reporting can start a conversation at the Department of Justice about changing how we report and track crime so that we know far more about violence targeting transgender and gender nonconforming people.
Predictably, we also found a massive amount of misgendering in law enforcement documents. Nearly two-thirds of those killed were misgendered or misnamed, including people who had legally changed their names. This disrupted investigations and, in some cases, dramatically impacted outcomes in court.
Q: Did you find evidence that any of the killings were linked to organized anti-trans groups? 
A: We identified at least 15 killings during the five years we examined that were clearly motivated by transphobia. But in only a handful of those cases did the killers use explicit hate speech about transgender people. In most cases, we discovered that young men, in their teens and twenties, killed transgender women after being intimate with them. They feared discovery. Or they feared what being with a trans woman said about their own sexuality.
Ultimately we came to understand that intense cultural transphobia was at work here. A culture of acceptance would have allowed these young men to experience sexual intimacy without turning to lethal violence.
So while we didn't see connections to organized hate groups, we absolutely saw that these young male killers were driven by a fear of a transphobic backlash landing on them. Elected officials and conservative activists who are stoking that hate should think about how the climate they're cultivating is driving lethal violence.
Q: Why are conviction rates so low for these murders?
A: As other journalists have reported, closure rates in homicide cases are generally low. What was striking to us was how few of the convictions in the five years we examined were for murder — only 28 murder convictions out of 175 killings. Most convictions were for lesser charges. We also dug deep into a few cases where we found evidence that transphobia impacted decisions by police, prosecutors, or grand juries to accept killers' claims of self-defense.
It's difficult to say why any one case wasn't solved or successfully prosecuted, but when police blast out the wrong name to the public, fail to interview members of someone's chosen queer or tran family, or misgender the victim as they interview witnesses, it's hard not to imagine that would affect the outcome of a case.
Q: I hear you've got some follow-up pieces in the works. Can you tell us a little about what's next?
A: So far we published our main data findings and six other stories covering law enforcement killings, hate crimes, intimate partner violence, the vulnerabilities of sex workers, unsolved cases, and the troubled history of police and the transgender community.
Two more stories are coming, one digging into how transphobia has affected the verdicts in a number of cases, and another, unfortunately, that was not part of our initial plans for the package — a story on the horrifying terror attack on Club Q.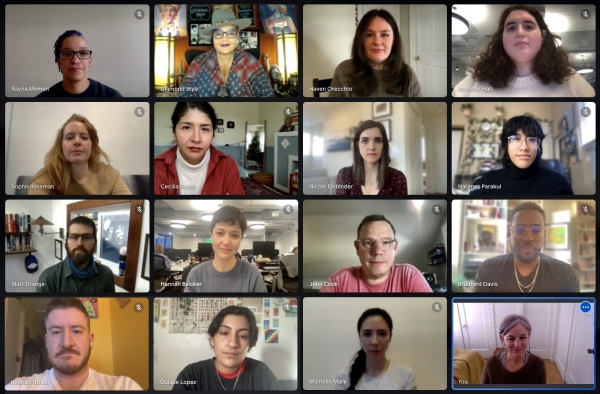 Insider's Investigations team