January, 2023
Reuters wins January Sidney for Exposing Child Labor in Hyundai-Kia's U.S Supply Chain
Joshua Schneyer, Mica Rosenberg, Kristina Cooke of Reuters win the January Sidney Award for exposing widespread child labor in the Hyundai-Kia supply chain within the United States. 
The sweeping investigation kicked off when the journalists noticed an unexpected uptick in unaccompanied minors intercepted on their way to rural Alabama. 
"We were hoping to solve a mystery: Just what was luring these kids to rural areas of Alabama?" Joshua Schneyer said in Hillman's Backstory interview, "It turns out the Hyundai and Kia-affiliated plants were part of the answer." 
The reporters learned that some of these kids were headed for a giant metal stamping plant owned by Hyundai. One adult worker recalled that about fifty of his coworkers didn't look old enough to be there. The youngest known workers were brothers aged 13 and 15. Many hail from Indigenous communities in Guatemala for whom Spanish is a second language. This pattern of recruitment of unaccompanied children crossing the border to work raises major red flags for human trafficking. 
"This investigation shows the power of investigative reporting," said Sidney judge Lindsay Beyerstein, "These journalists uncovered the widespread use of child labor on U.S. soil, in the supply chain of one of the country's best-known automakers, and their coverage sparked a federal investigation into child labor and potential human trafficking." 
Joshua Schneyer is a New York-based Enterprise reporter at Reuters and focuses on investigative projects. He joined Reuters in 2009 as an energy reporter. 
Mica Rosenberg leads the U.S. immigration team at Reuters. She previously worked as foreign correspondent in Guatemala and Mexico, reporting from close to a dozen countries in Latin America, and also covered legal affairs and white collar crime in New York.
Kristina Cooke has been a reporter with Reuters since 2005. Her investigative projects have ranged from immigration to economic inequality, COVID-19 to China's influence in Hollywood.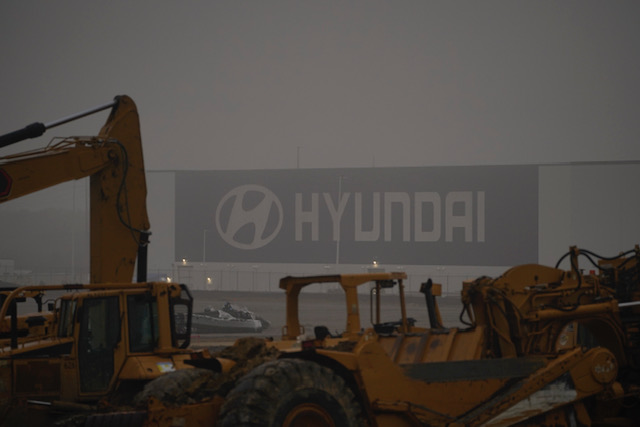 REUTERS/Cheney Orr
Lindsay Beyerstein interviewed Joshua Schneyer, Mica Rosenberg, and Kristina Cooke by email:
Q: How did you find out that there were children working in the Hyundai-Kia supply chain?
JS: Before learning of children at the Hyundai-owned plant, we had been working for many months to make inroads in rural immigrant communities of Alabama factory workers. We began making trips to the state in 2021, after U.S. immigration data showed an unusual influx of unaccompanied minors from Central America. We were hoping to solve a mystery: Just what was luring these kids to rural areas of Alabama? It turns out the Hyundai and Kia-affiliated plants were part of the answer.
Then, last January, we received an inside tip about kids working in a massive Korean-owned metal stamping plant in the southern Alabama town of Luverne. The plant was called SMART Alabama and, at first, we had no idea what it did. After that we found business and property records showing it was owned by Hyundai — Alabama's biggest factory employer – and made parts for some of the most popular vehicles on U.S. roadways. We contacted current and former workers at the plant who reported working alongside kids as young as 12 in a factory full of amputation hazards and other dangers. One said he'd counted 50 children there, some of them working graveyard shifts six nights a week. We met some of the children and interviewed their family. 
Q: How widespread is the problem?   
KC: After we published a first story about child labor at the SMART plant in July, we began receiving tips about multiple other plants in Hyundai's supply chain employing children. By December, when we published our special report, we had found that at least four major suppliers to Hyundai and Kia in Alabama employed child labor in recent years. We also reported that state and federal authorities are investigating at least ten Hyundai and Kia parts plants in Alabama for child labor. Authorities have already imposed penalties on one of the plants. 
Q: Who are these children? 
MR: Many of the children we found working long hours on these Alabama factory floors were from Guatemala, often from indigenous-speaking regions where Spanish is spoken as a second language. Some had traveled to the United States alone, crossing the U.S.-Mexico border as part of the large increase of unaccompanied minors in recent years. Once they arrived, we found that many of these minors were released from U.S. government shelters to sponsor families in Alabama, where industrial plants have become heavily reliant on migrant labor.
Q: Have any of these children been trafficked? 
MR: The scenario raises red flags for trafficking and authorities are investigating just that. Prompted by our earlier reporting on SMART, state and federal labor inspectors entered another Hyundai/Kia supplier in August and found children working there, including two brothers ages 13 and 15. We were able to track down the brothers' family members and co-workers. We learned through local property and business records that they had been living in a ramshackle house owned by the plant's labor contractor, without their parents and with other adult workers. The brothers were taken into federal custody out of state, and we learned they are now part of a labor trafficking case. That means they could be eligible for special visas for victims. A government case file for one of the kids, which we reviewed, says he had been working in "debt bondage" to repay smuggling fees. 
Q; What factors have spurred recruiters to target children? 
JS: Child factory labor is prohibited by U.S. law and by Hyundai and Kia's corporate charters. The reporting showed how it took root within these plants anyway. Beset by pandemic-era worker shortages, the factories faced unrelenting demands to meet "just-in-time" delivery quotas from the Korean automakers, whose U.S. vehicle sales are soaring. Any delay on their assembly lines could result in Hyundai charging them several thousand dollars per minute. By contrast the financial penalties for child labor – assuming authorities ever found out about it – would be tiny. "They were just focused on production," said production engineer Carlos Herrera, describing how Hyundai bosses would visit the SMART plant where he used to work, coming face to face with numerous kids working there but taking no action.  
In the Alabama areas where these plants are located, we found a lucrative cottage industry of staffing firms, fake ID brokers and van drivers who transport Hispanic migrant workers to the plants, often taking a big cut of their paychecks. They all helped big plant operators resort to child labor with impunity. Meanwhile, Alabama's leaders have touted the state's lax regulations and right-to-work law – which makes unionizing difficult – as big draws for automotive plants. "It seems like the stage was set for this to happen," said Terri Gerstein, director of the state and local enforcement project at Harvard Law School's Labor and Worklife Program. 
Q: What did you learn from this investigation that you'll carry forward to your next assignment?
KC: This project reinforced the importance of persistence and shoe-leather reporting. We interviewed more than a hundred people, including current and former factory workers and managers, federal, state and local officials and labor recruiters and spent weeks on the ground over multiple trips. Building trust, especially with a community not used to dealing with reporters, and with sources who were putting their livelihoods on the line to share information, took time and patience.