May, 2022
Reuters wins May Sidney for Exposing pro-Trump Republican Activists Breaking Into Voting Systems to Chase a Conspiracy Theory
Alexandra Ulmer and Nathan Layne of Reuters win the May Sidney Award for "Trump allies breach U.S. voting systems in search of 2020 fraud 'evidence," which reveals an alarming trend of Republican officials and activists breaching the security of voting systems in search of evidence to support the baseless conspiracy theory that the 2020 election was rigged. 
Reuters obtained surveillance video of the top election official in Elbert County, Colorado illicitly cloning two hard drives containing sensitive information. The clerk later testified that a retired Air Force colonel was coaching him over the phone on how to copy the information. The clerk gave the drives to two attorneys, one of whom is linked to conspiracy theory maven Mike Lindell, and the other whom he refuses to identify. 
The story documents eight attempts by Republican officials or activists to gain unauthorized access to voting systems in battleground states. A pattern emerges from these seemingly disparate incidents: When caught, the conspirators often claim to be working with Trump associates including Mike Lindell and Sidney Powell. They frequently cite a shared conspiracy theory about vote tabulators. It's often impossible to pinpoint how much data was stolen or where it went. 
The commonalities are not coincidental. Reuters reveals that Lindell is bankrolling a multi-million-dollar campaign to pressure county clerks to investigate his pet theories. Many of the conspirators are working from his playbook. Another commonality is that, so far, all but one of these conspirators has skirted serious criminal charges. 
"Reuters has exposed a coordinated assault on our democracy," said Sidney judge Lindsay Beyerstein, "This report reveals the intricate details of a well-funded effort to pressure officials into breaching voting systems." 
Alexandra Ulmer is a U.S. National Affairs Correspondent for Reuters focusing on the conservative movement. She was previously a Special Correspondent for Reuters in Mumbai. Between 2014 and 2018, she lived in Caracas and covered Venezuela's dire crisis, with a particular focus on investigating the country's opaque and corrupt state oil company.
Nathan Layne has been a journalist with Reuters for 21 years, with postings in Tokyo, Chicago, and New York. Prior to joining the news agency's National Affairs team two years ago, Layne spent most of his reporting career covering corporate news and white-collar crime. He is a resident of Wilton, Connecticut, and a father to three girls.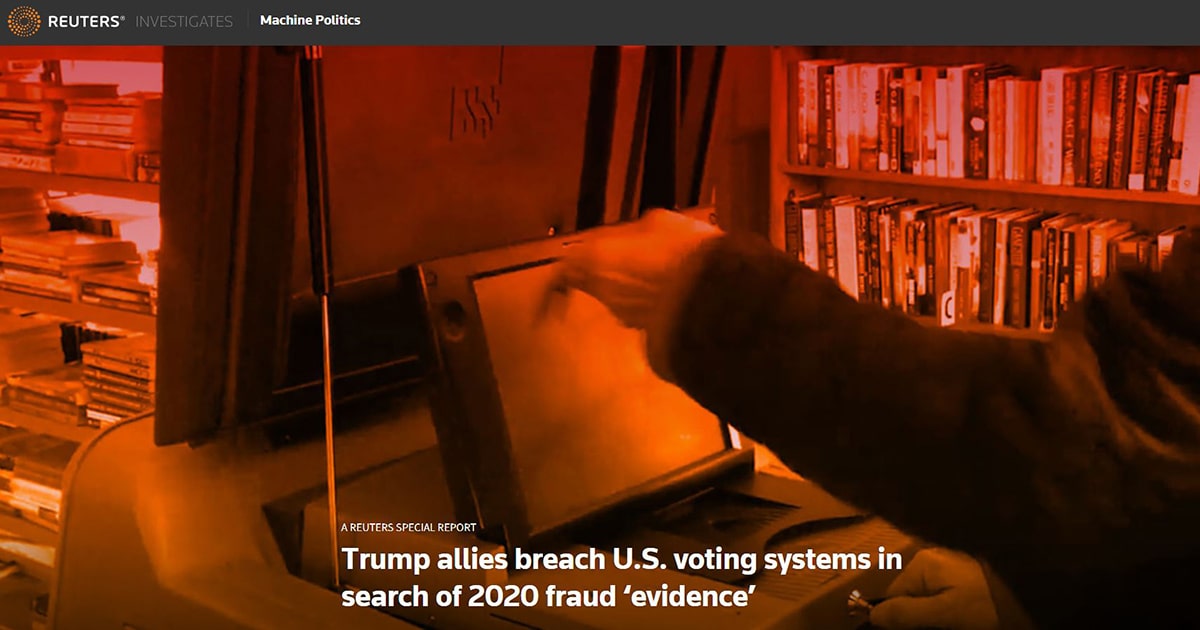 REUTERS illustration
Lindsay Beyerstein interviewed Alexandra Ulmer and Nathan Layne by email:
Q: How did you become interested in these kinds of incursions, and at what point did it become clear it was a widespread problem?
Alexandra: I'd been looking into the role pillow magnate Mike Lindell was playing in conservative politics. International Political Investigations Editor Jason Szep suggested we dig into election breaches specifically. Once we started tabulating them, the so-called "insider threat" became clear. It was incredible to see patterns across states: The same conspiracies, especially that planned system upgrades would wipe clean the results of the 2020 presidential election, kept emerging as a motivation for election officials to leak data. And the same actors, including Lindell, kept popping up as financiers or supporters of these conspiracies. 
Nathan: I had been looking at the potential role "constitutional sheriffs" were playing in the pressure being put on election officials based on false beliefs about widespread fraud. While reporting into one sheriff's campaign in Michigan, we discovered there were several other incidents in Michigan and other states. We learned a lot from local newspapers and dug deeper, utilizing on-the-ground reporting and public records requests. It soon became clear that the problem was more widespread than initially thought and that there were common streams of disinformation and partisan actors behind them.
Q:  Can you talk a bit about the process for getting surveillance video from Kiowa?
Alexandra: It was pretty straightforward. Elbert County's records division was prompt and helpful. There was a lot of recorded material to pore through, though. The video showed the clerk, wearing jeans and sneakers, seemingly going about his business in an innocuous-looking government office. The dichotomy between that and what he was actually doing — imaging election hard drives and preparing to leak them — was striking. 
Q: Of the 8 election incursions that you've documented, what kinds of consequences (legal, professional, political) have the intruders faced?
Alexandra: To date, only one of the incidents has resulted in serious criminal charges over the voting data breaches: the case of Tina Peters, the Mesa County clerk in Colorado. But the leaks have led to some political action. Colorado, for instance, is poised to enact a law tightening security around elections.
Nathan: In Cross Village Township, Michigan, the person who convinced three men to access the town's voting tabulator was initially charged with felonies but later accepted a plea deal under which she will serve no prison time. Other incidents in Michigan are being investigated by the state police as potential crimes but those investigations are still ongoing. 
Q: Did anything funny or unusual happen while you were reporting this story? 
Alexandra: Well, I did almost get stranded in deserted Kiowa, Colorado, during a snowstorm. Otherwise the reporting was mostly filing public record requests, tracking conspiracy chat groups on Telegram, pushing Lindell for details of his financing, and meeting with clerks, commissioners, election officials and experts to get as complete a picture of the breaches as possible. 
Nathan: I attended a public town meeting in Richfield Township, Michigan, where Secretary of State Jocelyn Benson has said a potential breach occurred. When I asked a question about the breach to the township supervisor, he told me the policy was not to answer questions about anything from the public, before proceeding to answer a resident's question about an unrelated topic. Another resident became angry and accused the supervisor of employing a double standard to questions, effectively coming to my defense. When I tried again, however, the supervisor repeated that he would not answer my questions.  
Q: Every major reporting project develops your skills and some even change your perspective. What did you learn from this assignment that you will carry forward to your next project? 
Alexandra: The importance of knowing how elections work on the nitty-gritty local level. That's where the rubber hits the road, and understanding the roles of clerks, election managers and commissioners is crucial to reporting on threats to democracy. 
Nathan: Ditto. Same as Alexandra's answer.
Q: Do you see elections administrators taking steps to make our voting data safer? 
Alexandra: Definitely. Most of the election officials I spoke to were aghast at the leaks and trying hard to fight disinformation in their communities. They face a tough battle though. 
Nathan: Yes. For example, through interviews and public records requests, I was able to see the behind-the-scenes efforts by Hillsdale County Clerk Marney Kast to ensure that elections in Adams Township, Michigan, where the state police are investigating a possible tampering incident, are being run securely going forward. The efforts included Kast's office taking possession of the township's tabulator and communicating with the Secretary of State in responding to the incident.