2012 Hillman Prize for Broadcast Journalism

Yoav Potash
"Crime After Crime"
The Oprah Winfrey Network
Yoav Potash is an award-winning filmmaker, writer, and social justice advocate. His film, CRIME AFTER CRIME, premiered at the Sundance Film Festivaland has earned 20 honors including The National Board of Review's Freedom of Expression Award, six film festival audience awards, and the top two cash prizes for documentaries in the US. CRIME AFTER CRIME and the accompanying outreach campaign Yoav founded have helped spark movements to change legislation on behalf of victims of domestic violence in multiple US states. Yoav's other recent work includes the documentary FOOD STAMPED, winner of the Jury Prize at the San Francisco Independent Film Festival. Yoav is a graduate of UC Berkeley, where he earned the university's top prize in creative writing. He is currently writing a screenplay for a dramatic motion picture based on CRIME AFTER CRIME.
---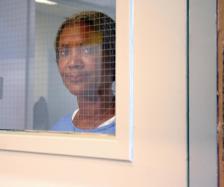 Filmed over the course of six years, "Crime After Crime" follows the dramatic legal battle to free Debbie Peagler, a survivor of domestic violence who spent more than 26 years in prison.
In 1983, Debbie Peagler was sentenced to life in prison for first-degree murder, despite many factors indicating that she should not have been charged with the crime in the first place. But Debbie's case is not one of mistaken identity or a matter of simply being in the wrong place at the wrong time. Instead, Debbie was a victim of domestic violence who had tried to escape her abuser many times, even turning to police (who were of little help). When two men who Debbie had asked to protect her killed her abuser, she was charged with first-degree murder and threatened with the death penalty.
To avoid that sentence, Debbie entered a guilty plea so that she would "only" be sentenced to life in prison, and not the death penalty. With only a slim chance at being released on parole, Debbie never thought she would see her two daughters outside of prison again - until a new law offered a ray of hope. Two decades after her incarceration began, California became the first state to allow domestic violence cases like Debbie's to be reopened.
Her volunteer attorneys soon uncovered a trail of prosecutorial misconduct that began with Debbie's arrest and continue to the present day. Their discoveries sent Debbie's case into the headlines and launched a movement that not only advocated for her own freedom, but also raised a banner for battered women and the wrongfully imprisoned around the globe.
Over 80% of the 120,000 women in U.S. prisons are victims of rape, incest or other forms of abuse. Yet, California remains the only state that allows incarcerated victims of abuse to petition for their freedom. But now similar laws are now brewing in five states including New York, where it looks poised to pass.
"Following the path to justice for one individual," said Hillman judge Rose Marie Arce, "Potash produced a film whose every moment becomes an unearthing of a larger systematic problem. 'Crime After Crime' shows the power of narrative in the pursuit of justice."