2013 Hillman Prize for Magazine Journalism
Shane Bauer
"No Way Out: A Special Report on Solitary Confinement"
Mother Jones/ The Investigative Fund at the Nation Institute
Shane Bauer is an investigative journalist and photographer based in Oakland, California. A fluent speaker of Arabic, his work has largely focused on the Middle East and North Africa. From 2009–2011 Shane was held hostage in Iran with his now-wife Sarah Shourd and friend Josh Fattal, with whom he is currently writing a memoir. Seven months after his release from Iranian prison, he went back behind the wire to investigate solitary confinement in California. His articles have appeared in Mother Jones, The Nation, Salon.com, Los Angeles Times, San Francisco Chronicle, Christian Science Monitor, and many other publications. In 2013, Shane received the John Jay/Henry Frank Guggenheim Award for Excellence in Criminal Justice Reporting.
---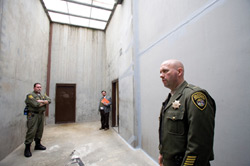 Shane Bauer, an American hiker held captive in an Iranian prison for more than two years, finally came home in September 2011. Reading voraciously to catch up with what had happened while he was locked away in isolation, he came across a news story about a California prisoner who had died while on hunger strike. Bauer, who spent four months in solitary and had gone on hunger strike himself in Iran, soon realized that the inmate—just one of 12,000 prisoners who took part in related protests—was contesting a policy almost entirely unknown to the general public: "validating," i.e., classifying thousands of inmates as "gang associates," sending them to the hole for indefinite terms that could last years, even decades.
Often the decision to put someone in isolation was made based not on specific offenses, but on the books an inmate read, the beliefs he held, or even something as innocuous as drawing an Aztec bird or using the word "hermano." Prisoners can be classified as gang "associates" for reading about Malcolm X or drawing stars on a Christmas card—whether they ever had any interaction with a gang or not.
Bauer's story is a powerful exposé of this little-known practice, told from the perspective of someone who understands the "living death" of solitary like no other journalist.
Across the country, more than 80,000 prisoners are held in solitary confinement, nearly 12,000 in California alone. Keeping them isolated costs the state an extra $12,000 per inmate per annum.
In legal circles, the results of this project have been astounding: Bauer was asked to testify as an expert witness at a state Senate hearing. At least three attorneys plan to use the piece in upcoming litigation, and in early January, in the wake of inmate protests, a lawsuit, and Bauer's exposé, the Department of Corrections began to review individual SHU cases; as of January 4, officials had notified 51 inmates that they'd be moved into general population.
Hundreds of letters have poured in from prisoners astounded to see their plight gain attention in the outside world—all because, they realize, of a journalist who had been there himself.