2013 Hillman Prize for Photojournalism
Rick Loomis
"Beyond 7 Billion"
Los Angeles Times
Rick Loomis has been a photojournalist for the Los Angeles Times since he graduated from Western Kentucky University in 1994. At WKU, Loomis received a BA in photojournalism and a minor in Latin American studies.
Over the last decade, two major themes have run though Loomis' work — the environment and world conflict. In 2007, Loomis was awarded the Pulitzer Prize for a year-long project that documented the ills of the world's oceans. And since the U.S.-led wars in Afghanistan and Iraq began, he has repeatedly reported on stories from those countries.
Loomis has been intensely involved in documenting the wars themselves but also their consequences here at home. He's lived almost two years in Afghanistan with reporting trips sometimes lasting for months at a time — either embedded with the Army, Marines or Special Forces, or telling the civilian side of the story.
An avid scuba diver since the age of 15, Loomis has gone diving in some pristine, remote corners of the world, but also has the distinction of diving to photograph vile sewage outflows and urchin barrens. In pursuit of environmentally based stories, he has camped on the Alaskan tundra, trekked through the jungles of Uganda and rappelled from sheer cliffs in the remote Oregon wilderness.
He is often tasked to cover physically challenging stories in remote, often dangerous places. Most recently, he was tapped to cover the revolutionary movements in Egypt, Bahrain, Tunisia and Libya. 
His empathetic eye draws viewers into situations they might not otherwise witness and strives to capture the humanity of ordinary people under extraordinary circumstances.
In addition to the Pulitzer, Loomis has been recognized as the National Press Photographers Association's "Photographer of the Year," and been awarded the John B. Oakes Award for Distinguished Environmental Journalism, the Society of Professional Journalists Sigma Delta Chi award, the Scripps Howard Foundation National Journalism Award for Photojournalism and others.
Loomis frequently lectures at a number of universities around the country and teaches a photojournalism workshop annually. His work has been exhibited at the Chiostro di Voltorre gallery in Italy, Fovea in New York, and the Perfect Exposure in Los Angeles, among others. He was born in North Carolina in 1969 and raised in Florida before he moved to Kentucky in 1989. He currently lives in Long Beach, CA., with his wife, Liz O. Baylen, also a photojournalist with the Los Angeles Times.
His work can be seen at www.loomisphotography.com as well as www.latimes.com.
---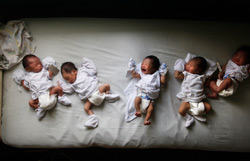 After remaining stable for most of human history, the world's population has exploded over the last two centuries. But the boom is not over. The biggest generation in world history is just entering its childbearing years. Global birth rates are dropping, but with over 3 billion people still under the age of 25, humanity's absolute numbers will continue to increase for some time. The coming wave will reshape the planet, and the impact will be greatest in the poorest, most unstable countries.
Los Angeles Times staff photographer, Rick Loomis, travelled to India, Afghanistan, Kenya, Uganda, China, and the Philippines to document the causes and consequences of our soaring population. Using both video and still cameras, Loomis brought a masterful eye to the shooting. His elegant geometrical compositions extract order from cluttered scenes to tell a compelling visual story. He produced six short documentaries and the series ran over five days in print.
A common theme emerges from Loomis' work across many continents: If global population is ever to stabilize, women must control their own fertility. An estimated 222 million women in Asia, Africa, and Latin America would like to use birth control, but do not because it is unaffordable or unavailable. If modern contraception were universally available, it could reduce unintended pregnancies by two-thirds.
Loomis takes us inside the home of Yolanda and Noel Naz, a poor Filipino couple whose dream of having just three children was dashed when the mayor of Manila banned contraceptives from public health clinics in 2000. The Nazes are now struggling to feed their 8 children in a cramped shack and Yolanda is suing the city to restore contraceptive access. Some 80% of Filipinos are Roman Catholic, but 80% also support birth control in defiance of the edicts of their church.
Loomis' camera shows us the inner workings of Manila's "Baby Factory," one of the busiest maternity hospitals in the world where new mothers sleep two to a bed; he also lifts the curtain on the thriving clandestine abortion industry in the Philippines.
In many regions, overpopulation has given rise to a generation of frustrated young men with few prospects. Extremist groups like the Taliban capitalize on their alienation. Loomis photographs young Afghan men in prison who say they never would have joined the Taliban if they'd had a chance at a decent civilian life. Ironically, the Taliban is staunchly opposed to family planning and even health care for women, but as Loomis documents, some Afghan women are defying the taboo and studying midwifery in a bid to reduce maternal and child mortality.
"Beyond 7 Billion" brings together in one project a multitude of issues that are facing humanity today in a digestible way. Population, as a discussion, has been on the so-called "back-burner" for years, overshadowed by more immediate stories such as war, famine, poverty, and environmental degradation — yet the soaring global population is both a cause and a consequence of these other problems. The series succeeds in generating thought on a serious, often overlooked, subject.