2015 Hillman Prize for Broadcast Journalism
Phil Williams, Kevin Wisniewski, Bryan Staples
"Policing for Profit"

WTVF

-

TV

, NewsChannel 5​
---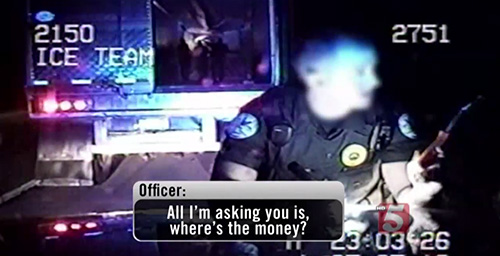 NewsChannel 5​ Investigates revealed shocking secrets about some Tennessee law enforcement agencies: that they had become more concerned with profiting from the illegal drug trade than stopping it; that they were routinely violating the civil rights of innocent Americans; and that they were seizing thousands of dollars in cash from drivers who had not been charged with any crime. 
NewsChannel 5​ found that officers were ruthlessly exploiting civil forfeiture laws that allow them to seize cash on the mere suspicion that the money is tied to drug trafficking.
Their four-year investigation included reviews of police videos and other public records, hard-hitting interviews with subjects across the country, and even air and ground surveillance.
The WTVF-TV investigative team proved that police agencies routinely target out-of-state drivers (often people of color) for traffic stops where the real goal is to seize large sums of cash that their agencies can keep. That money, in turn, is used to pay the officers' salaries and fund their operations. Records obtained from one agency revealed that interdiction agents made 10 times as many stops in the westbound lanes of Interstate 40 ("the money side") than they made in the eastbound lanes ("the drug side").
Under civil forfeiture laws, motorists must hire lawyers to wage legal battles to get their money back. If drivers don't go to court, the agencies keep the cash. The civil forfeiture system gives officers an incentive to make questionable traffic stops.
Using the station's news helicopter, their investigation captured one such questionable stop in progress. Dashcam videos, obtained under the Tennessee Public Records Act, showed multiple stops where out-of-state drivers were never given a legal reason for being pulled over and detained. The cams also revealed the questionable use of drug dogs to justify searches where drivers refused to give consent. 
WTVF-TV's investigation helped fuel a national conversation about civil forfeiture laws, and it led to reforms in Tennessee and across the country. It continues to have a dramatic impact upon a public debate now occurring at the state and national level. 
Federal drug officials issued a "21st Century Code of Conduct" that emphasized the need for highway interdiction teams to respect constitutional rights and to avoid using civil forfeiture to fund their agencies. In addition, the head of one of the agencies at the center of their investigation announced in late 2014 that his unit would no longer use civil forfeiture to take cash from people in their personal vehicles. 
Tennessee lawmakers passed legislation to give "Policing for Profit" victims quicker access to a judge to try to get their money back, and clarified state law so that there was no doubt that couriers could be prosecuted for money laundering when hauling drug money. Now, two unlikely groups — the conservative-leaning Beacon Center of Tennessee and the American Civil Liberties Union — have again joined forces to push new reform measures during the coming legislative session.
---
Phil Williams is chief investigative reporter for WTVF-TV's nationally award-winning investigative team, a position that he has held since 1998. Phil's investigations have focused on government corruption and abuse of power, leading to numerous criminal indictments and ethical reforms. As one political strategist once declared, "If Phil Williams calls, call your lawyer." Phil is a three-time winner of both the George Foster Peabody Award and the Columbia-duPont Award. He is also a recipient of the George Polk Award for Television Reporting, an IRE Medal, a national Emmy Award, as well as numerous National Headliner Awards, Sigma Delta Chi Awards and regional Emmy Awards. In addition, Phil was a finalist for the Goldsmith Prize for Investigative Reporting and a Scripps Howard Award. A former print journalist, he was a finalist for the Pulitzer Prize for Public Service. He currently serves on the national board of directors for Investigative Reporters and Editors, a grassroots non-profit organization dedicated to improving the quality of investigative journalism across the United States and around the world.
Kevin Wisniewski is executive producer of the NewsChannel 5 Investigates team and has worked at WTVF since 2006. He has received numerous national awards for his work including a 2013 Peabody Award for "Questions of Influence," a series exposing sweetheart deals, no-bid contracts and ethical lapses in Tennessee state government. In 2010, he was part of a team that received a Columbia-duPont Award for an investigation into the General Sessions court system in Nashville and again in 2012 for work exposing the practice of civil forfeiture in Tennessee. In 2007, he earned both a National Edward R. Murrow Award and a SPJ Sigma Delta Chi award for a series of stories that exposed abuses and patient deaths at Tennessee State Veterans Homes. He has also been honored with nine regional Emmy Awards and five National Headliner Awards. Kevin is a graduate of the University of Florida and has previously worked with investigative teams at WFXT in Boston and the Boston Herald.
As investigative photojournalist and producer for WTVF-TV, Bryan Staples brings the revelations of the NewsChannel 5 Investigates team to life with his camera work and editing. Since joining the team more than 15 years ago, NewsChannel 5 Investigates has exposed government waste and corruption, unscrupulous businesses, sex offenders teaching children, and abuses of power by elected officials. Those stories got results and prompted Tennessee lawmakers to craft new legislation in response to those investigations. Bryan's work has been well recognized, including two Peabody Awards, three Columbia-duPont Awards, a George Polk Award, an IRE Medal, a National Edward R. Murrow Award, two Fourth Estate Awards and as a finalist for the Goldsmith Prize for Investigative Reporting. Bryan was born in Owensboro, Kentucky, and is a graduate of Western Kentucky University. In 2001 Bryan was honored as the Western Kentucky University Broadcaster of the Year.