2018 Canadian Hillman Prize winners
Grassy Narrows mercury contamination
Jayme Poisson and David Bruser
The Toronto Star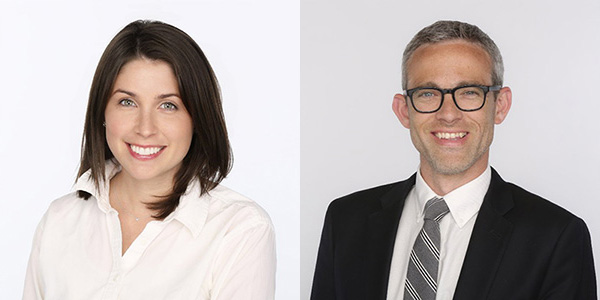 The story of mercury poisoning in Grassy Narrows is not a new one. In the 1960s and 70s, a pulp and paper mill dumped 10 tonnes of the neurotoxin into the English River that is the lifeblood of Grassy Narrows and neighbouring Whitedog First Nations in Ontario. A five-part London Free Press series on the original industrial dumping and environmental and health tragedy won the Michener Award in 1975.
In the intervening years, when sick community elders said they believed the mercury was continuing to poison them and their children, they were largely ignored. Federal and provincial officials repeatedly stated that there was no ongoing source of mercury leeching into the waterways. Despite residents' continuing complaints of neurological problems, including numbness, seizures, and cognitive damage, officials insisted that the safest course of action was to do nothing, and let the river clean itself naturally. Repeated warnings about health dangers, from a team of Japanese researchers who had studied the world's first mercury poisoning event in Minimata Bay, and who conducted their own studies in Grassy Narrows, were noted, but never acted on.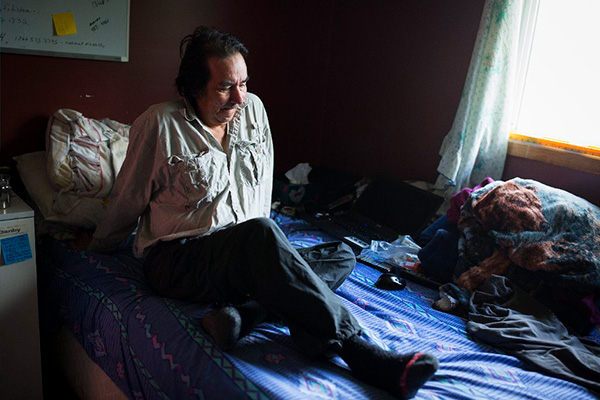 Multiple reporters have covered this story for decades and yet it wasn't until 2017 that the needle finally moved.
Jayme Poisson and David Bruser began digging in the spring of 2016 and have reported roughly thirty stories. One was based on a tip from a retired labourer who had tried to tell the province about his role in an alleged improper dump of mercury in a pit behind the paper mill in 1972 but was ignored. Later, they revealed the shocking truth that the province was told in the 1990s that mercury had been found under the site of the mill — a sign of ongoing and "gross" industrial pollution, as one scientist called it — but never told anyone in Grassy Narrows.
In January 2017, David and Jayme travelled to Grassy Narrows, and dug holes on the mill property and found dangerously high levels of mercury, up to nearly 80 times the normal level, in soil immediately behind the site of the old paper mill. Then, top scientists found "super high" levels of mercury in new river sediment near the mill, another finding that strongly suggests the mill property is an ongoing source of mercury to the water.
In 2017, they made several crucial findings that proved there was an ongoing mercury threat which finally prompted an "embarrassed" provincial government to announce a historic $85-million river clean-up and the federal government to announce it will help build a new $5 million care home for those suffering from mercury poisoning.
David and Jayme's most recent feature shows three generations of a Grassy Narrows family impacted by mercury. It is a shameful story that speaks volumes about Canada's relationship with indigenous people as well as its environmental record. This reporting also demonstrates the importance of sustained, persistent and substantive investigative journalism, in an era that makes such investments difficult to commit to, but which are more crucial to creating a just society than ever.
Jayme Poisson is an investigative reporter at the Toronto Star. She has reported on sexual assault and harassment, Toronto's scandal-plagued mayor Rob Ford and police who abuse their powers. She has been a finalist for three National Newspaper Awards, was part of a team that won a Michener award and was also part of a team that won the 2015 Canadian Hillman Prize. 
David Bruser is a reporter and editor on the Star's Investigations team. Since joining the team in 2007, he has reported on police officers who lie in court, Canadian soldiers who become criminals, bad charities, lead in toys, dangerous drugs prescribed to vulnerable Canadians and murdered and missing Indigenous women. The stories have led to charity license revocations, one of the largest product recalls in Canadian history, and changes in policy and law. 
Honourable Mention
The Price of Oil
The National Observer, Toronto Star, Global News, the Corporate Mapping Project, and four Canadian universities
Michener Fellow Patti Sonntag, Robert Cribb of The Toronto Star, Mike De Souza of National Observer, Carolyn Jarvis of Global News, Elizabeth McSheffrey of the National Observer, and P.W. Elliott of the University of Regina
Other authors include: Emma McIntosh (Staff reporter, Toronto Star), Sawyer Bogdan (student, Ryerson University School of Journalism), Morgan Bocknek (student, Ryerson University School of Journalism), Robert Mackenzie (student, Ryerson University School of Journalism), Sean Craig (reporter, Global News), Sandra Bartlett (associate producer, Global News), Trevor Grant (instructor, University of Regina), Trevor Owens (director of photography, Global News), Scott Newman (video editor, Global News), Chris Jeri (lead graphic designer, Global News)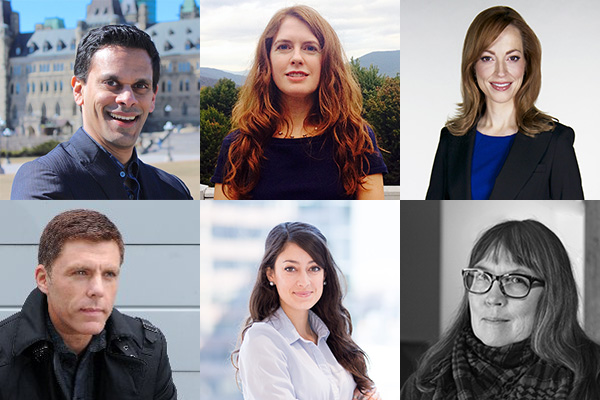 In the wake of serious injury and illness in industrial areas of Saskatchewan and Ontario, the National Observer, Toronto Star, Global News and four Canadian universities collaborated on "The Price of Oil" to expose the environmental infractions imposed on Canadians by Canada's $45 billion oil and gas industry. The series, a blueprint for a new collaborative model of journalism, exposed staggering health and safety consequences, along with a startling lack of accountability from the companies and governments responsible. More than 50 journalists, editors, students and teachers from four journalism schools, three media outlets and a think tank worked together to empower whistleblowers and victims to come forward with their stories.
In Ontario, teams spent months creating a database of more than 500 incident reports of chemical leaks and spills in Sarnia's 'Chemical Valley.' They connected the dots between their frequency and severity and found that several incidents exposed the public to dangerous chemicals, including cancer-causing toxins, but residents were never warned.
Caught in the middle of this toxic circle is the small First Nation of Aamjiwnaang, whose calls for environmental justice have long gone unanswered. In the face of extreme pressure to remain silent, and fear of losing their jobs, members spoke candidly about loved ones dying of cancer, of illness they believe is linked to pollution, and concerns about premature death because of where they live.
As a result of this reporting, the Ontario government committed to funding a study examining the health impacts of industrial pollution in the region — a study the community had requested in vain for 10 years. The series drove two weeks of debate in Ontario's legislature, marked by calls for action and declarations of environmental racism as the Aamjiwnaang suffered. Long-demanded regulations for sulphur dioxide — which hadn't been updated in 43 years — were introduced and, after an eight-year delay, the government announced it would finally regulate the cumulative effects of air pollution in Sarnia's 'Chemical Valley.'
In Saskatchewan, The Price of Oil constructed a timeline of oilpatch leaks and spills, zeroing in on a toxic and sometimes fatal gas called hydrogen sulfide (H2S). Over five years, the findings revealed a disturbing trend of regulatory infractions, botched safety audits, mysteriously unreported incidents, ignored safety protocols, and leaks resulting in serious injury or illness for both workers and unsuspecting members of the public. The team learned that in July 2015, Saskatchewan regulators who proposed cracking down on H2S emissions were fired or shuffled to new positions, and despite multiple injuries and a fatality, not a single fine has been issued to an oil company in the past decade. Over several trips into the field, armed with air-monitors, teams further discovered that H2S is still leaking from a number of operations today — unchecked and unmitigated by several companies.
This series broke a long-held silence within oil-dependent rural communities, as people began posting their own experiences on social media, many for the first time. Empowered and vindicated by the series' findings, more whistleblowers came forward, including former oilpatch worker Jeff Crawford, who nearly died of H2S exposure in 2014 and now lives with permanent disability. The Price of Oil kept digging and learned that in addition to placing Crawford in an unsafe situation against rules governing H2S, Crawford's employer never disclosed the incident to provincial regulators. As a result of this reporting, the government has issued a notice of contravention against the company.
Despite repeated refusals from industry and government officials to comment on the record, the National Observer, Toronto Star, Global News and the university journalism programs broke through a culture of silence and fear surrounding the oilpatch that has gone unchallenged for years. The work empowered whistleblowers and victims to come forward with harrowing tales of infraction and injury and provided a voice for marginalized communities — including a First Nation — living in the shadow of industrial giants.
Patti Sonntag is a managing editor in The New York Times' News Services division, directing a team of editors and writers producing dozens of news and opinion content streams for a global readership. A recipient of the Michener Fellowship in Journalism Education, she has been serving as series producer on "The Price of Oil."
Robert Cribb is an award-winning investigative reporter at the Toronto Star. He has received national reporting awards and citations for investigations into offshore tax evasion, child exploitation, human trafficking, dangerous doctors and public-health threats. He has recieved the Massey Journalism Fellowship, the Atkinson Fellowship in Public Policy Reporting and the Michener­ Deacon Fellowship. Cribb is past president of the Canadian Association of Journalists, the first international board member of Investigative Reporters and Editors, current president of Canadian journalism charity Veritas – Advancing Journalism in the Public Interest and is co­-author of Digging Deeper: A Canadian Reporter's Research Guide (Oxford University Press). He teaches investigative reporting at Ryerson University's School of Journalism and the University of Toronto.
Carolyn Jarvis has spent more than a decade reporting and chasing stories across the country for Global News. After several postings with the network, Jarvis moved to Toronto in 2011 to work with the current affairs division full time as 16X9′s Chief Correspondent.  In 2015, Jarvis' hour-long investigation into the Moncton RCMP deaths put a spotlight on a concerning lack of training and equipment among frontline members of the RCMP. The investigation elicited a nationwide response, followed by labour code charges against the RCMP. Prior to working with Global News' current affairs division, Jarvis was the west coast correspondent and weekend anchor for the network's flagship nightly newscast, Global National. Jarvis also hosted Focus: Decision Canada, a national 30-minute political program based in Ottawa, devoted to the 2011 federal election. 
Mike De Souza is National Observer's Managing Editor. He has covered politics for more than a decade, focusing in recent years on energy and environment policies in government and industry. In 2017, Mike received a citation of merit at the Michener Awards, and won a Canadian Association of Journalists award, for his investigation that exposed a conflict of interest in the federal review of the Energy East pipeline project, which was subsequently terminated. A Montreal native, Mike has worked as a broadcast and print journalist in his hometown, as well as the National Assembly in Quebec City, Parliament Hill in Ottawa and Calgary. He has worked for Reuters, Postmedia and The Montreal Gazette. He now leads National Observer's news coverage out of its Ottawa office on Parliament Hill. A specialist in filing targeted access to information requests, Mike is constantly pursuing multiple lines of questioning and investigations and he always has an eye open for his next scoop.
Elizabeth McSheffrey is a multimedia journalist from Ottawa passionate about human rights, current affairs and travel. You can find her bylines all over the world, from the Canadian Prairies to the coast of East Africa. Her work has been nominated for a series of national and international awards, including an outstanding investigative journalism award from the Canadian Association of Journalists and an AITO Young Travel Writer of the Year Award. In 2017, she took home a silver prize at the COPAs for her investigative work on the Husky Energy oil spill.
Patricia W. Elliott is an award-winning freelance investigative journalist and a Price of Oil investigator and co-author. In addition to previous work in magazines such as Saturday Night and Canadian Living, she is the author of The White Umbrella, a book chronicling the Golden Triangle heroin trade, and co-producer of Breaking Open Burma, a documentary on Myanmar's underground journalists. She currently heads the University of Regina School of Journalism and is editor-in-chief of J-Source.   
University Partners: Journalism faculty members, including Sandra Bartlett, Robert Cribb, Patricia Elliott, Trevor Grant and Patti Sonntag led 34 student journalists at Concordia University, Ryerson University, the University of British Columbia and the University of Regina on a series of national investigations. The students gathered thousands of background files, made nearly 400 interview contacts, scoured databases, assisted with 118 freedom of information requests, assisted with fact-checking, and provided video footage. Their work was instrumental in bringing the investigations to publication within a year's time.
Honourable Mention
Canada's Indigenous water crisis
Hilary Beaumont, Martha Troian
VICE News
Features editor Justin Ling; video producer Victoria Ptashnick; digital producer Mallika Viegas; managing editor Natalie Alcoba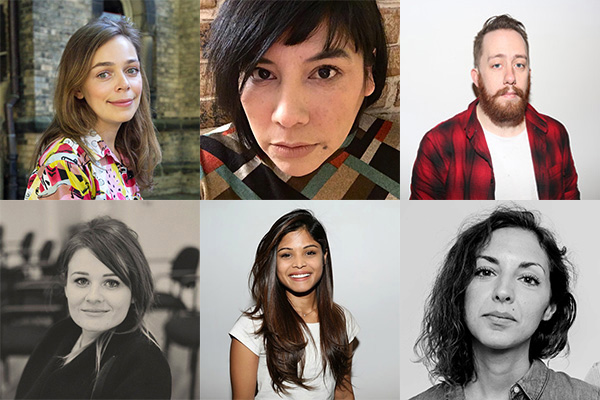 'Canada's Indigenous water crisis' is an investigative effort between Indigenous and non-Indigenous journalists to hold the Liberal government accountable to its commitment to bring clean tap water to all First Nations across Canada within five years.
The right to clean water is taken for granted by many Canadians living off-reserve, but the lack of clean water in more than 100 First Nations communities has been a problem for decades.
Justin Trudeau committed for the first time at a VICE-hosted town hall in 2015 that if he were elected Prime Minister, he would solve the crisis within five years. Since his election, VICE News has been putting that promise to the test and exposing the broken system the government is relying on to bring clean tap water to First Nations communities.
The week-long series opened under a banner illustration by Anishnaabe artist Chief Lady Bird, with an overview of the crisis, alongside a fact-check on the government's list of boil water advisories it claimed to have solved. Some of the communities contacted said they still faced major issues — including lack of government funding and leaky, poorly-designed systems — that made their clean water vulnerable.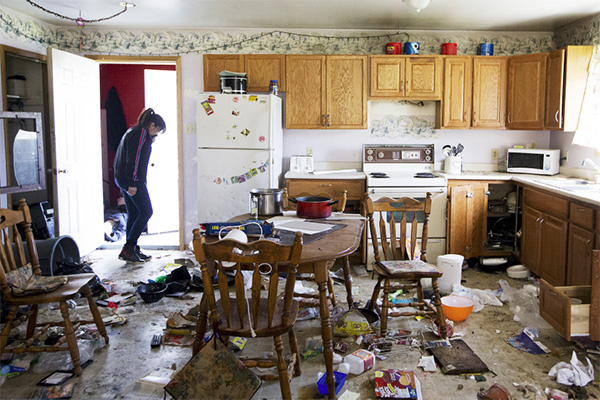 VICE published additional investigations, including a data-driven story that revealed more than 1,000 cases of industrial pollution that have contaminated the land and water of 335 First Nations in Canada; and a video with interviews with young First Nations people on remote reserves across the country who have never had clean tap water to drink. This, accompanied by "Powerless," another article in the series, wove together accounts from First Nations people directly affected by the crisis.
'D.I.Y.' revealed that while Canadians off-reserve enjoy stringent water protections, there are no legally-binding water regulations on reserve. A photo essay documented the 'forgotten' people of Lake St. Martin First Nation, who, in 2011, had their land flooded by the provincial government in order to save the city of Winnipeg. The flood waters displaced 1,400 people, who are still in limbo years later. 'Total disaster' revealed that staff inside Indigenous Affairs have little faith in the system the government is using to solve the water crisis. Leaked briefing notes and well-placed sources exposed the government's "poorly run" process of funding water systems on reserve.
Finally, at the end of the week, VICE published a solutions-oriented story that explained exactly how the government can fix the water crisis.
While the federal government initially claimed to VICE News that it had made progress on solving the crisis, as its series unfolded, the Indigenous services minister admitted to a lack of progress and eventually renewed the government's commitment to solving the issue. In the February 2018 federal government budget, $172.6 million in new funding was allocated for clean drinking water on reserves.
Hilary Beaumont is a staff reporter with VICE News. She has covered the First Nations water crisis for the last three years, including hosting two documentaries, and producing written investigations on the topic. She has a journalism degree from the University of King's College, completed the Banff Centre's first Investigative Journalism Workshop in fall 2017, and has won four national awards for her work.
Martha Troian is Anishinaabe originally from Obishikokanng (Lac Seul First Nation) in northern Ontario. She is an investigative journalist and writer who contributes to media outlets across the country. 
Justin Ling is a freelance journalist and former features editor at VICE News Canada. He has worked on everything from Canada's milk-management system to the fight against the Islamic State. But, generally, he covers governments screwing up.
Victoria Ptashnik is an award-winning producer who has produced video in the country's biggest newsrooms. She graduated from Carleton University with a journalism degree. After finishing a master's degree in Documentary Media from Ryerson University, she worked as a producer at the Toronto Star, the Globe and Mail, Huffington Post and Vice Canada. 
Mallika Viegas is a video producer at the CBC, specializing in short form docs and social videos. Before joining CBC, Mallika worked for VICE, Toronto Star, CTV, Roger's Television and Northern Life in Sudbury.
Natalie Alcoba has been Managing Editor of VICE News in Canada since its launch, in 2015, shepherding coverage on national issues such as the crisis of unsafe drinking water in Indigenous communities, the opioid epidemic and the legalization of weed. Prior to that, she held a number of positions at the National Post, reporting on crime, education, courts and Toronto City Hall during the Rob Ford mayoralty. She has also worked at the Toronto Star, the Montreal Gazette and the Hamilton Spectator, and has had stories published from Argentina, Sierra Leone, and India. Currently, she is a Southam Journalism Fellow at Massey College, based at the University of Toronto.