2019 Canadian Hillman Prize winners
Unbuckled: School Bus Safety
Harvey Cashore, Bob McKeown, Kimberly Ivany, Aileen McBride, Saman Malik, Doug Husby, Lisa Mayor
CBC's The Fifth Estate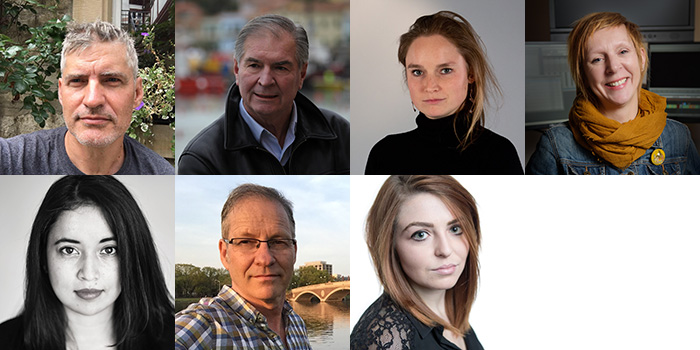 In Spring 2018, CBC's The Fifth Estate launched a major investigation to find out: were school buses really safer without seatbelts? Transport Canada, the federal regulator, had assured parents for decades that school buses did not need seatbelts, repeatedly touting their own 1984 study that showed they might even make them more dangerous.
School buses transport more than 2 million children to school each day across Canada and numerous deaths and more than ten thousand injuries have occurred in school bus accidents in the intervening years.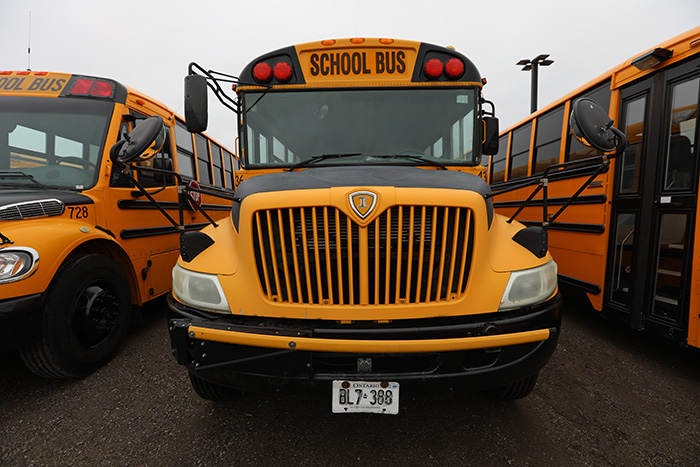 The Fifth Estate's five-month investigation exposed serious flaws in the science behind Transport Canada's 1984 study and revealed that Transport Canada had already concluded in a 2010 follow-up study — that they did not disclose to the public - that school buses without seatbelts had "failed" important safety tests in side impact and rollover crashes.
And yet, Transport Canada's study had become the "most widely cited" study in North America, paving the way for an absence of seatbelts on school buses not just in Canada but also across the United States.
Records obtained by The Fifth Estate show that Transport Canada had initially wanted to put seatbelts on school buses and had even set a date for the rule to take effect in the late 1970s. But after some "aggressive" lobbying by school bus operators and school boards, the proposed seatbelt law was withdrawn. The top concern: the "cost-benefit ratio due to the low number of accidents involving school buses," according to a 1985 Transport Canada document summarizing the plan to withdraw the seatbelt requirement on school buses.
Today, numerous U.S. federal and state regulators and safety organizations like the National Safety Council have turned their backs on the 1984 Transport Canada study, leaving the Canadian government increasingly isolated in its official anti-seatbelt stance. A growing number of U.S states — making up 40% of the population — now require three-point seatbelts on their school buses.
The Fifth Estate constructed a database of dozens of scientific studies and academic journals on the topic, meticulously amassing a 124-page chronology of events that detailed facts and statistics of those studies and their findings. 
They discovered that Transport Canada's seminal study was at odds with numerous, yet less publicized, academic studies and journals repeatedly demonstrating that seatbelts prevent injuries and save lives on school buses.
And then, in an on-camera interview, a Transport Canada engineer admitted for the first time that she believed seatbelts should be installed on school buses.  
The reaction to the story was enormous across the country, in school boards, in classrooms, and in Ottawa. For the first time, Transport Canada issued a statement on its website — acknowledging that seatbelts on school buses do prevent injuries. And the Transport Minister has formed a task force with the provinces to look at implementing seatbelts on school buses across the country.
Harvey Cashore's journalism career began in Ottawa, where he investigated and researched a biography of former Prime Minister Brian Mulroney. Since then, in his 30 years as an investigative journalist, his work has focused on exposing abuse of power and holding decision-makers to account.  Cashore's work helped reveal that a former Canadian Prime Minister received secret cash payments from an offshore Airbus grease-money account, helped expose the stolen lottery ticket scandal, revealed a bogus academic study that wrongly claimed body-checking in children's hockey would not cause more injuries, helped overturn a wrongful murder conviction and exposed a notorious offshore tax avoidance "sham" for wealthy Canadians orchestrated by one of Canada's top accounting firms. Cashore reminds anyone who will listen that it was the Liberal-dominated Finance Committee that suddenly shut down their probe into the firm's tax abuse scheme in 2017, for reasons not fully explained. He still plans to find out.
Bob McKeown has had a unique career in broadcast journalism on both sides of the Canada-U.S. border. During five decades at three networks, he's reported from 70 countries (including 15 war zones) and he's been recognized with numerous major journalism awards. Americans first heard his name in 1991 when he and his CBS News crew reached Kuwait City almost a day before American and Allied troops, as Iraqi occupiers fled at the end of Operation Desert Storm. His coverage of the liberation was acclaimed as 'the best story of the Gulf War' and 'a world scoop.' McKeown went on to spend almost a decade and a half in the U.S., including nine years as a Correspondent with 'Dateline NBC,' where he reported extensively on 9/11, tracked down war criminals, covered hurricanes and tornados, broadcast live from the wrecksite of the Titanic and was bitten by a shark — on camera. McKeown returned to Canada in 2003, rejoining The Fifth Estate, the CBC's flagship investigative program. Including his stint there before the U.S. adventures, McKeown is now in his 25th season as Host/Reporter with The Fifth Estate. A graduate of Yale University, he spent 5 years after college playing professional football, an all-star in the Canadian Football League and a Grey Cup champion with the Ottawa Rough Riders.
Kimberly Ivany landed a permanent gig with The Fifth Estate in 2016 while working on a story in Madrid - probably one of the most exciting calls she's ever received. She has experience in both local and national CBC newsrooms and reported for the World Council of Churches in South Korea in 2013. She has won two Canadian Screen Awards and was a 2016 Canadian Hillman Prize winner for her work on CBC's Missing and Murdered Indigenous Women project. Her most recent stories include Unbuckled, as well as the treatment of OPP officers suffering from PTSD. Her true passion is telling stories about people. When she's not holding the government to account or encountering whimsy in Toronto, you can find Kimberly at a dance studio or an airport. Likely the latter.
Aileen McBride is a Toronto-based editor and producer who has been working in documentary film and television for twenty years. McBride's commitment to investigative journalism and public service broadcasting brought her to the CBC in 2003. For the past 16 years she has contributed to numerous programs at the public broadcaster including The National, Marketplace, and currently The Fifth Estate. McBride has received numerous awards for her work. She has three Gemini awards including Best Picture Editing for Chasing the Cancer Answer, a Marketplace investigation into rising cancer rates in Canada. Her work on The Fifth Estate's Made in Bangladesh, which probed the Canadian connection to dangerous working conditions for garment workers, earned her a Canadian Screen Award and an International Emmy.
Saman Malik is an investigative journalist at CBC's The Fifth Estate. She began her career in Karachi, Pakistan and since then she's fact-checked for The New York Times, freelanced for VICE and produced live journalism panels for Tina Brown's Women in the World Summit. In addition to Unbuckled, her reporting has included investigating allegations of sexual harassment at one of Canada's most famous theatre companies and Bruce McArthur and 1970s unsolved serial killings. Malik holds a master's degree in documentary filmmaking from Columbia University's Graduate School of Journalism.
Doug Husby has been with the CBC for 39 years — first at CBC Winnipeg radio, next shooting current affairs for the local show 24 Hours, and then in 1984, moving to The Journal in Toronto which morphed into The National in 1993. Husby has filmed documentaries, feature interviews and specials as far afield as Russia, Afghanistan, New Zealand, South Africa, and Korea — including with Joni Mitchell, Pierre Trudeau, David Bowie, Paul McCartney, Bill Clinton, Leonard Cohen and the first foreign press interview with President Obama. For the last three years, he has been a videographer dedicated to The Fifth Estate.
Lisa Mayor is an investigative journalist at CBC's The Fifth Estate. Since joining The Fifth Estate in 2015, she has investigated and reported on the disappearance of four elderly people from rural Ontario and a woman from remote northern Newfoundland, sexual harassment and assault against female firefighters, and how governments profit from gambling addiction.
Honourable Mention
The Fix
Toronto Star
Moira Welsh, Randy Risling
We all know, but we try not to think about it. Nursing homes are sterile, lonely places, where none of us would ever want to be. Moira Welsh spent 15 years writing about Ontario nursing homes for the Toronto Star, starting with a 2003 series uncovering abuse and neglect that led to new long-term care inspections and legislation. But problems continue to persist because it's an institutional system that forces residents to live according to a strict daily schedule, and staff to be focused on tasks, not people.
In The Fix, Welsh and Risling got to tell a very different story about one Peel nursing home that took a gamble on fun, life and love. They showed that the most dangerous story they could tell is how simple it was to change.
In 2016, Welsh learned that Peel Region's long-term care leaders wanted to improve the lives of their residents with dementia by taking a chance on a British nursing-home specialist and his Butterfly program. Welsh convinced Peel's wary leaders to let her follow the 12-month program that promised a full transformation of culture, staff behaviour and the emotional happiness of residents.
Welsh and Risling were given full access to the Redstone unit. Their early reporting revealed the daily monotony and human neglect experienced by people living in long term care. Workers rushed from task to task, clocking in each one, too busy to make any emotional connection to the people in their care. As the Butterfly program unfolded, they documented the struggles that come with transformational change, but significantly, they showed that residents and staff blossomed when they were encouraged and allowed to live and work with freedom, emotional connection and purpose. The changes made a huge impression on family members as well.
Readers reacted with joy, saying the stories prove that long-term care can offer life and love. Toronto Mayor John Tory asked the city to consider similar changes for city-run nursing homes and the council voted unanimously to examine Butterfly-like programs. After reading the Star story, dozens of other homes and politicians have visited Redstone. And the inspiration reached beyond Ontario too.  A home in Atlanta, Ga., that followed Peel's lead, shared the Star story with families and U.S. organizations. In Canada, the powerful seniors lobbying association CARP is now pushing provincial governments to help homes adopt emotion-focused programs like Butterfly. In Ontario, the two long-term care associations are lobbying the provincial government to find money in its 2019 budget to help the 630 homes adopt emotion-focused programs.
All these hopeful efforts to transform long-term care were inspired by the Star's investigation into the positive. The Fix is a fresh, compelling narrative of risk, possibility, awakening, and most importantly, the importance of human connection.
Moira Welsh has been a journalist with the Toronto Star for 26 years. During that time she has covered breaking news, the environment and social justice beats and, as an investigative reporter, has long had an interest in issues related to people living in long term care and retirement homes. Moira has co-authored investigations that have won three National Newspaper Awards and a Michener Award for Public Service Journalism. She is now writing a book on innovative ways to live as people grow older. Moira lives in Toronto with her family.
Randy Risling is an award-winning videographer and photographer. Repeatedly, Randy's work has been recognized at the national and international levels for his rare ability to combine stunning cinematography with solid storytelling. Born and raised in Saskatchewan, his work with the Star has taken him everywhere from Turkey and Somalia to Jamaica and China.
Honourable Mention
Sidewalk Toronto
Amanda Roth, Zane Schwartz, Murad Hemmadi, Sean Craig
The Logic

We are only beginning to grapple with the rise of Big Tech.
In October 2017, all three levels of government joined Waterfront Toronto and Sidewalk Labs, a subsidiary of Google's parent company, Alphabet Inc., to announce plans to create a smart city on 12 acres of Toronto's eastern waterfront called the Quayside.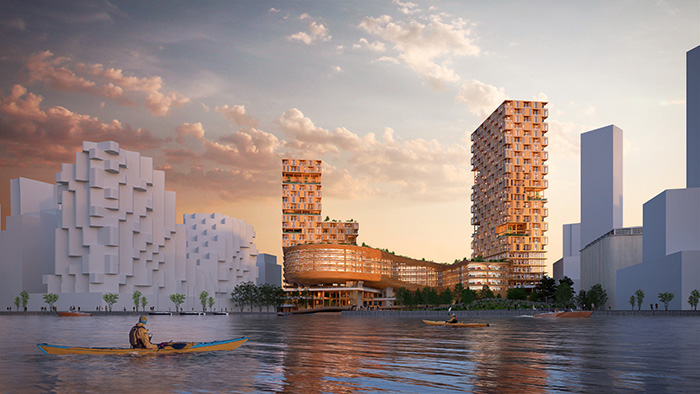 For the next eight months, the coverage of Sidewalk Toronto was celebratory and reactive. That was until The Logic, an innovation-focused online media platform, launched, in June 2018. Two days later, reporter Amanda Roth published her first story on the project, revealing that several Sidewalk Labs-affiliated companies stood to benefit from the Waterfront project and that they had already begun lobbying government officials extensively to do so. Her reporting resulted in strong blowback from the company's public relations firm, who demanded retractions.  But, The Logic was not intimidated.
Roth, Schwartz, Hemmadi and Craig went on to publish more than a dozen exclusive stories on the Sidewalk Toronto project over the next five months including: the firings of key personnel, internal concerns over the handling of data privacy, and the land value of the real estate involved. Of particular note, The Logic became the first news organization in recent history to confirm a provincial auditor-general audit in the midst of the investigation.
The Logic's stories all relied on the key tenets of outstanding reporting: the slow and delicate cultivation of confidential sources, including several brave whistleblowers; the tedious work of poring over corporate filings, real-estate holdings and access-to-information requests; the rapid response and initiative needed in breaking-news coverage; and finally, the dogged determination to get a story published when faced with intimidation, questions over credibility by crisis management firms, and hostility.
The Logic's reporting has informed the public about critical issues surrounding Big Tech in Canada—including data privacy, intellectual property and governance, along with the larger social, economic and cognitive forces at play. They compelled increased attention and scrutiny from public officials, especially the rare value-for-money audit examining the use of public funds. As Toronto grapples with the costs and benefits of prime waterfront land in the hands of private development, The Logic's exclusive and relentless reporting has brought greater accountability to the process and they continue to pressure Sidewalk Toronto for greater transparency.
Amanda Roth worked at Vice Canada as the editorial coordinator for the national newsroom before joining The Logic. She began her career at OpenCanada.org, the Canadian International Council website, and worked on communications, marketing and community outreach for the Toronto Environmental Alliance, where she was involved in initiating Toronto's only mayoral debate in 2014 on the environment.
Zane Schwartz is an investigative journalist who was on staff at the National Post and Maclean's before joining The Logic. Zane was the 2017 Michelle Lang Fellow in Journalism, where he built a searchable database of five million political donations, revealing the biggest donors in every province and territory for the first time in Canadian history. He won a Data Journalism Award from the Global Editors Network in 2018 for that project. In both 2017 and 2018 he won a Goff Penny Award, which is given to the best young newspaper journalist in Canada.
Murad Hemmadi is based in Ottawa, and covers business and innovation policy, scale-ups and the odd lentil trade story. Before joining The Logic, he covered politics and wrote a much-opened daily newsletter for Maclean's. He started his journalism career as an honourably-mentioned reporter at Canadian Business, covering the technology sector, and editing profitguide.com, a publication focused on entrepreneurship and small- and medium-sized enterprises.
Sean Craig is a contributing editor at The Logic. He was previously a business reporter at the Financial Post, where he covered the media industry and finance, and a national reporter at Global News. He began his journalism career as an editor and reporter at muckraking media startup Canadaland, and as a contributor to BuzzFeed, Vice and the Toronto Star. Before entering the industry, he worked in financial communications in London, focusing on structured finance and credit markets.