2023 Canadian Hillman Prize winners
Unchartered
Rachel Mendleson and Steve Buist
The Toronto Star and the Hamilton Spectator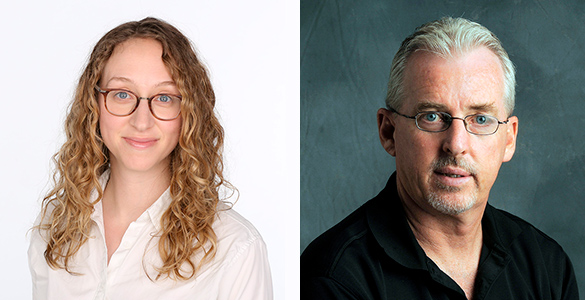 Rachel Mendleson, Toronto Star
Steve Buist, Hamilton Spectator
Toronto Star designers and editors: Nathan Pilla, Cameron Tulk, Tania Pereira, Kelsey Wilson, Jesse McLean and David Bruser, and data analyst Andrew Bailey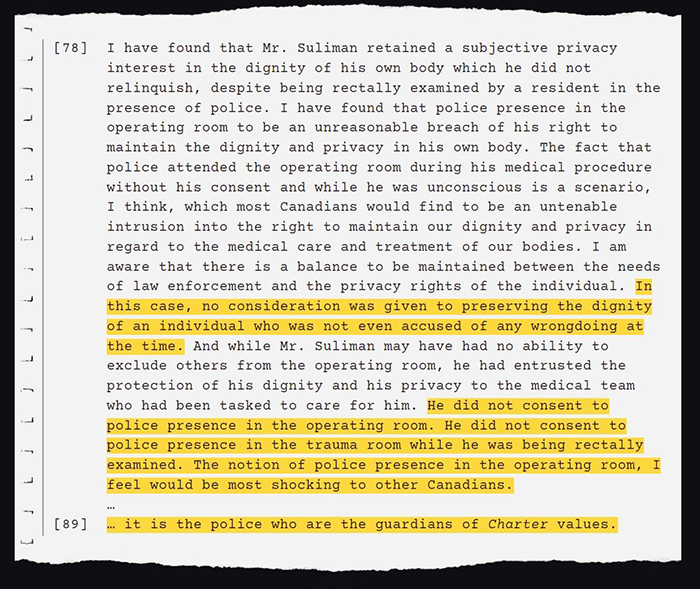 It's been over forty years since The Charter of Rights and Freedoms set out Canadians' legal rights, including regarding the police. Based on the presumption of innocence, individuals are entitled to be free from unreasonable search and seizure, arbitrary arrest and detention, and have the right to consult a lawyer. These rights are essential to our democracy.  But how well are they truly protected? Mendleson and Buist decided to find out. They set off to determine how often police violate our Charter rights, and what's being done about it.
It was a painstaking process: the journalists scoured thousands of criminal cases in online databases maintained by the Canadian Legal Information Institute and LexisNexis to isolate those where judges determined that police officers' Charter breaches were serious enough to threaten public confidence in the justice system. From unjustified vehicle stops, violent arrests, illegal strip searches to warrantless searches of people's homes, the reporters uncovered an astonishing 600 rulings in the past decade where judges excluded crucial evidence from trial, dropped charges, or threw out cases altogether due to Charter breaches.
Many guilty people have walked free, while their victims' hopes for justice were thwarted. Other, innocent suspects had their rights trampled and their lives upended, with little chance for recourse. Human rights lawyers add that systemic racism and racial profiling result in Black and Indigenous people being disproportionately targeted by these police abuses, further undermining trust in the justice system.
Yet police accountability is almost entirely lacking. In most provinces and territories, there are no formal systems in place to ensure that police forces — or the officers themselves — are notified of these court rulings. Within nine police services across Canada, judges noted that officers continued to flout the law despite prior rulings criticizing them for similar conduct. Even in egregious cases, only a handful of officers faced serious professional consequences for Charter rights violations.
As a result of "Unchartered," several police forces are now making efforts to improve transparency and accountability. Waterloo Regional Police disciplined one officer after the reporters notified the police chief of a ruling that was previously unknown to the force. Toronto police acknowledged that the service was unaware of more than 90 cases the journalists had uncovered, and the force launched an internal investigation to review the conduct of the officers involved. Following questions about rights breaches by officers within the Saskatchewan RCMP, the police service solidified a process for prosecutors to inform its criminal operations division in all cases where Charter violations are a factor in a court decision.
"Unchartered" is an unprecedented investigation into police misconduct and abuse that, until now, has operated largely out of the public eye. Left unchecked, it will continue to undermine the rule of law and Canadians' faith in their justice system.
Rachel Mendleson is an investigative reporter at the Toronto Star with a special interest in data-based reporting, justice issues and public policy. Her investigation into unreliable drug and alcohol testing at the Hospital for Sick Children's Motherisk laboratory led to the lab being shut down and prompted reviews of affected child protection cases in several provinces. Rachel has previously worked for the Huffington Post, Maclean's and Canadian Business.
Steve Buist is a recently retired investigative reporter and feature writer at the Hamilton Spectator and Toronto Star. He was responsible for producing large investigative projects, such as the highly-acclaimed Code Red project, which was named the inaugural winner of the Canadian Hillman Prize in 2011. Buist has won four National Newspaper Awards, the country's top prize for newspaper journalists, and been nominated eight other times for National Newspaper Awards. He's also been named the Canadian Association of Journalists' Investigative Journalist of the Year three times and been named Ontario's Journalist of the Year five times. In 2014, Buist was the winner of one of the world's most prestigious cancer journalism awards as he earned the Best Cancer Reporter Award from the European School of Oncology. This past June, he was awarded an honourary doctorate from McMaster University for his work in the community. 
Jesse McLean (editor); Andy Bailey (data analysis); Nathan Pilla (design and web development); Kelsey Wilson (video editing); Tania Pereira (digital producer); Cameron Tulk (graphics editor)
Honourable Mention
Recycling's Dirty Secrets/Les sales secrets du recyclage
Chantal Levigne and Gil Shochat
Société Radio-Canada Enquête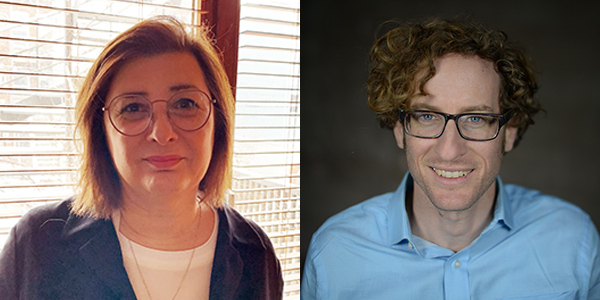 Gil Shochat, producer
Chantal Lavigne, national reporter
Jean-Pierre Gandin, cameraman
Jean-Yves Houle, editor
Benoit Michaud, researcher in Montreal
Mrigakshi Shukla, producer/fixer in India
Manoj Pal, researcher/fixer in India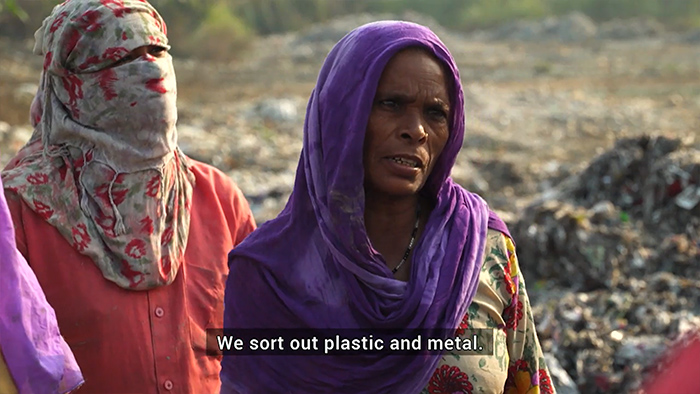 Before 2018, most of Canada's recycled waste was exported to China. That year however, Chinese authorities, tired of being the west's dumping ground, banned the import of most solid waste. With only a small fraction of Canada's plastic waste recycled here in Canada, Shochat and Lavigne began their year-long investigation into where all that hard-to-recycle plastic was now going.
To find out, they had to penetrate the opaque recyclable waste trade. They began with a tip from a Belgian environmental inspector who intercepted several containers of paper waste from four different sorting centres in Canada. The paper was headed to India for recycling, but the inspector discovered that the shipments were contaminated with almost 25% plastic, far exceeding the legal limit for export. The containers were sent back to Canada, and it was not the first time. As Lavigne and Shochat discovered, over 120 containers of recycling waste have been turned back in the last five years.  
Next, they turned their attention to Ricova, one of the largest exporters of recycled paper from Quebec and Ontario, and which manages the Montreal sorting centre behind some of the contaminated shipments. They obtained Indian import-export data and traced Ricova's shipments from Montreal to Muzaffarnagar, a north Indian city where about thirty paper mills are concentrated. What they discovered there was even more troubling.
In Muzaffarnagar, they found mounds of purported paper waste, destined for recycling or burning in nearby factories, strewn with plastic bags and packaging from Canada. With little local oversight, these plastic scraps are often burned, a process that releases dioxins and other toxic gasses into the air. Residents say this is causing elevated levels of asthma, respiratory illness, skin disease and cancer in the local population.
The journalists pressed Ricova for accountability. It denied responsibility. The city of Montreal said the problem was out of its jurisdiction. The federal environment minister admitted that the exportation of contaminated waste was a serious problem, and that it needed to stop.
And some progress has been made. Since Enquete's report aired, the "Journal de Montréal" also looked into Ricova and revealed that the company has links to organized crime. The City of Montreal terminated its contract with Ricova for the management of one of its sorting centres. That sorting centre is now run by a well-regarded non-profit organization. Exporters have reported that the federal environment department has increased its inspections at the Port of Montreal, and Ricova recently announced a significant decrease, from 35% to 2%, of contaminants in its mixed paper in one of its other sorting centres. 
Meanwhile, the Belgian inspector is still sending any contaminated bales he finds back to Canada.
Chantal Lavigne is an investigative journalist for CBC Radio-Canada's program Enquête. She began her 30-year career with Radio-Canada as a news reporter for the radio and went on to work for the weekly current affairs national magazine "Dimanche Magazine." That's where she developed an interest for environmental and justice issues as well as international reporting. When the television weekly international program "Une heure sur terre" was created in 2006, she was hired as one of their full-time reporters. She has worked at Enquête since 2013. Her investigations range from the hidden story of a Canadian Ebola vaccine that was shelved for years before it was used, to the recruitment of young Canadian jihadists by ISIS and organ waste by the medical system in Canada.
Gil Shochat is an award-winning producer-director with the CBC Radio-Canada's flagship investigative program Enquête. He began his journalism career as a researcher for investigative reporter Seymour Hersh and worked on topics including Iraq and WMDs as well as the Abu Ghraib torture scandal. In 2012, he produced an exposé on the Canadian asbestos industry which showed how, for decades, it funded questionable pro-industry science at McGill University. The piece was credited with helping prevent the reopening of an asbestos mine in Quebec. At Enquête, he produced stories on the Paradise Papers offshore tax leak, Imperial Oil's connections to climate denial, and the Monsanto Papers.
Honourable Mention
Profiting Off Kids
Andrew Russell, Carolyn Jarvis, Michael Wrobel, and Kenneth Jackson
Global News and APTN
Editors: Craig Offman and Allison Vuchnich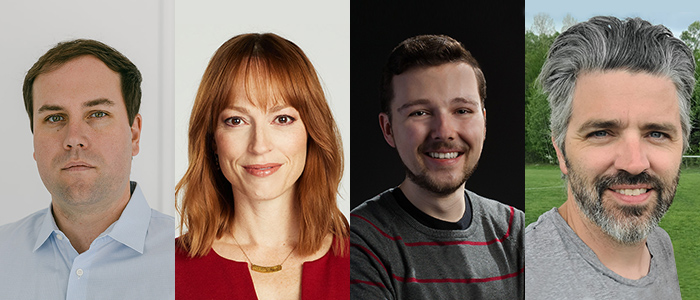 Andrew Russell, Carolyn Jarvis, Michael Wrobel, Global News
Kenneth Jackson, APTN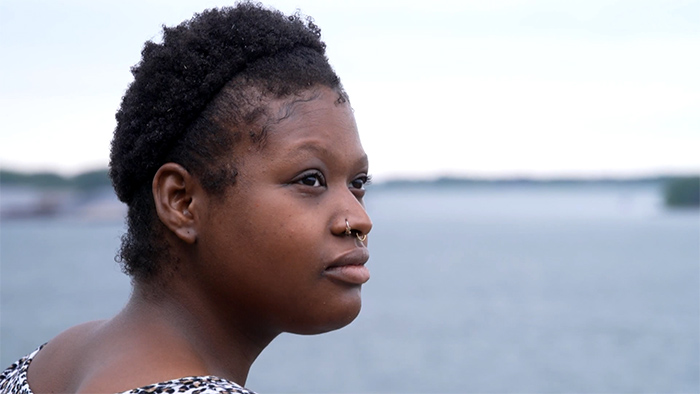 Global News and APTN's landmark 18-month investigation revealed how some of Ontario's most vulnerable children are being treated as commodities — or "paycheques," according to former workers and youth.
Ontario's child-welfare system has more than 12,000 kids — 17 years old or younger — in its care, according to the latest data from 2019. These are children and youth who've experienced abuse, have complex mental health needs, or, in some cases, are orphaned.
Of the roughly 300 licensed group homes in Ontario, nearly half are run by private "for-profit" companies. A startling investigation into the care they are receiving at over 130 for-profit homes revealed allegations of underqualified staff, overmedicated kids, violent and physical restraints, and human trafficking. In many cases, the only qualification to work in one of these care homes is to have a driver's license and a high school diploma.
To uncover what was happening inside these for-profit group homes, the reporters spoke with roughly 200 current and former workers, supervisors, youth, and child-welfare experts. Whistleblowers provided images of the housing conditions, which included videos in which the screams of a child are heard as she is restrained, a ceiling caving in and bug infestations. Reporters filed over 35 freedom of information requests, scoured lawsuits, and obtained a secret draft report which outlined how one group home company continues to operate despite serious red flags having been raised.
By dogged document digging, the investigation showed how the owners of group home chains and their families built real-estate portfolios valued in the tens of millions, and amassed luxury vehicles, boats, beautiful cottages and vacation getaways, including one in the Florida Keys.  
The reporters uncovered repeated staff reports of human trafficking at a private group home chain involving girls as young as 12 that fell on the "deaf ears" of company management, the children's aid society, police, ombudsman and even the provincial ministry.  
The reporters built a database of more than 10,000 serious occurrence reports (SORs), which are filed when a child is injured, goes missing, is physically restrained or dies. An analysis of the data found that while private operators make up only 25 per cent of beds across the province, they filed 55 per cent of all SORs at foster care and group homes, including 83 per cent of all physical restraints, 66 per cent of reports of missing youth, and 31 per cent of serious injuries.
A deeper investigation into physical restraints showed they are disturbingly common in group homes despite the province's 2017 pledge to "minimize" their use. Global News/APTN found there were over 2,000 reports of physical restraints between June 2020 and May 2021.
The reporters also built a second database of more than 40 inspection reports from private group homes which are not posted publicly. The province's investigators found instances of kids sleeping on soiled mattresses, waiting months for eyeglasses, missing vital medical appointments, lacking access to medication and proper nutrition, and living in homes in states of disrepair. In one foster home in 2019, ministry personnel found the crib of a toddler "jury-rigged" with two-by-fours to prevent the child from escaping.
Global News revealed an internal government list of "high-risk" homes that the Ontario government had not shared with children's aid societies who were placing kids into those very homes. Two people died in a fire in one of those homes. A 15-year-old died in a fire in another. 
The series prompted days of debate in the Ontario legislature. The Minister of Children, Community and Social Services called the findings "horrific" and promised action. Premier Ford vowed to toughen inspections and oversight of the sector. Opposition parties, meanwhile, called for a larger investigation into one of Ontario's largest group home operators and called for an end to for-profit care. They also called on the Ontario government to reinstate the Office of the Provincial Advocate for Children and Youth.  
New regulatory changes are scheduled to take effect in Ontario in July 2023. They will require new hires to have a degree, diploma or certificate in a relevant field or experience and skills relevant to their duties. The changes stop short of demanding a degree or diploma in child and youth care, specifically. But experts say the glacial pace at which changes are being implemented is reflective of the fact the children caught up in the child-welfare system are "almost invisible at a political level." And so far, the government has no plans to end for-profit care.
Andrew Russell is a national investigative reporter with Global News. His work has helped change legislation at multiple levels of government, launched investigations into companies, and sparked national conversations on a range of issues affecting Canadians. Russell got his start in journalism in 2013 with an internship at Global after completing degrees at the University of Toronto and Humber College's graduate journalism program. He's reported for both globalnews.ca, Global National, and the current affairs show, The New Reality, tackling stories on Canada's COVID-19 response, the long-term care industry, First Nations' lack of access to safe drinking water, financial crimes in Canadian real-estate, and the opioid crisis. His series, Inadmissible, exposed discrimination inside Canada's immigration system. He is currently based in Toronto.
Carolyn Jarvis is Global News' award-winning Chief Investigative Correspondent, possessing an exemplary track record of seeking accountability, exposing the truth and piecing together complex stories. Jarvis' work has helped changed laws, launched investigations into corporations, and sparked national conversations. Her credits include Who's Watching? which exposed shortcomings in Ontario's probation system and Canada's Toxic Secret which shone a light on a troubling trend of industrial leaks and spills in Sarnia, Ontario's "Chemical Valley" – and prompted the Ontario government to fund a health project in the region. Under Fire, her hour-long investigation into the Moncton RCMP deaths put a spotlight on a concerning lack of training and equipment among frontline members of the RCMP and elicited a nationwide response followed by labour code charges against the RCMP.  From 2008 to 2016, Jarvis was the Chief Correspondent of Global News' current affairs show, 16×9. Prior to that she was the west coast correspondent and weekend anchor for the network's flagship nightly newscast, Global National. Hailing from Richmond, B.C., Jarvis comes from musical roots. She has a Bachelor of Music in vocal performance, has sung professionally with classical ensembles – such as Alberta's Pro Coro – and was previously a board member for the Canadian Opera Company.
Michael Wrobel is a Montreal-based investigative and data journalist with Global News. He previously worked at Concordia University's Institute for Investigative Journalism. The IIJ brought together media organizations and universities to work on large-scale projects in the national interest while offering students hands-on training in investigative and data journalism techniques. He has contributed to national collaborations involving the Toronto Star, Le Devoir, Global News, APTN News, Canada's National Observer, the Saskatoon StarPhoenix, the Regina Leader-Post, The Tyee and the Associated Press. In 2019, Michael was awarded the Fédération professionnelle des journalistes du Québec's Grand Prix Judith-Jasmin and the CAJ's Data Journalism Award for "Tainted Water," a Canada-wide investigation into municipalities' water quality. The project was also a finalist for that year's Michener Award and prompted changes to provincial regulations and reinvestments into municipal infrastructure across the country.
Kenneth Jackson, APTN, is based in Ottawa, and has worked for more than two decades in the business. He got his start in community newspapers before joining the Ottawa Sun in 2007 where he worked the police beat. In 2011, Jackson joined APTN to break the Bruce Carson scandal with Jorge Barrera that sparked three federal investigations into the former senior advisor to then Prime Minister Stephen Harper. Carson was later convicted of fraud sparking a court battle to the Supreme Court of Canada. The conviction was upheld based entirely on APTN's investigation. Over the last five years, Jackson has largely focused on the child welfare system in Ontario. The work has earned multiple awards, including the 2020 Michener Award.