2011 Hillman Prize for Blog Journalism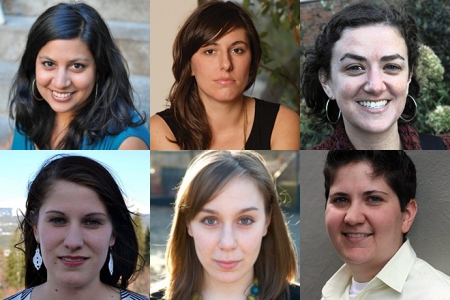 Samhita Mukhopadhyay, Jessica Valenti, Courtney E. Martin, Vanessa Valenti, Chloe Angyal & Miriam Zoila Pérez
Feministing.com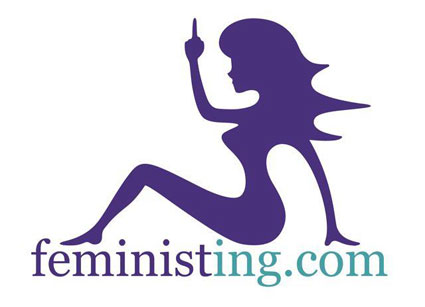 With over 4.4 million visitors to the site in 2010, Feministing is the most-read feminist publication online or off. The blog has led the charge for feminism in new media, advocated for social justice, and pushed the feminist movement and the media to recognize the intersecting realities of sexism, racism, classism, and homophobia.
Since 2004, the site's bloggers have been drawing attention to issues that are under-covered elsewhere, analyzing topics from politics to pop culture, highlighting the often-ignored work of younger feminists and social justice activists, pushing elected officials and media gatekeepers to be more accountable, and disproving the stereotype of "humorless feminists." Their Community blog and Campus blog give young activists a much-needed platform.
Samhita Mukhopadhyay is the Executive Editor of Feministing.com and has been writing and speaking on race, media, technology and gender for over 6 years. She has written for multiple media outlets, including New American Media, Wiretap, Colorlines, The Nation and The American Prospect. She has also been featured inIndia Currents Magazine, Nirali Magazine and Alternet. In 2007 she was named a Champion of Sexual Literacy by the National Sexuality Resource Center. She is currently writing a book for Seal Press about the dating and romance industry titled, "Outdated: Why Dating is Ruining Your Love Life. " Mukhopadhyay has been featured on multiple panels and keynoted conferences including South by South West Interactive, Allied Media Conference, National Conference on Media Reform, Women, Action and Media and CALCASA discussing gender, race, sexuality and the internet.
Jessica Valenti - recently named one of the Top 100 Inspiring Women in the world by The Guardian - is the author of three books and founder of the award-winning website Feministing.com, which Columbia Journalism Review calls "head and shoulders above almost any writing on women's issues in mainstream media." Her most recent book, "The Purity Myth: How America's Obsession with Virginity is Hurting Young Women", was given a 2010 Independent Publisher Award and is being made into a documentary by the Media Education Foundation. Valenti is also the editor of the anthology "Yes Means Yes: Visions of Female Sexual Power and a World Without Rape," which was named one of Publishers Weekly's Top 100 Books of 2009 and was given an Amelia Bloomer Award. Her writing has appeared in numerous national and international publications, including The Washington Post, The Nation and The Guardian. She has appeared on CNN, The Colbert Report, and the TODAY show, among others. Valenti gives dozens of speeches every year at universities and organizations in the U.S. and abroad.
Courtney E. Martin is an author, blogger, and speaker. Her most recent book "Do It Anyway: The New Generation of Activists" was published by Beacon Press last fall. She also co-edited the anthology "CLICK: Moments When We Became Feminist." Courtney has lectured on her award-winning first book," Perfect Girls, Starving Daughters: How the Quest for Perfection is Harming Young Women," at over 50 universities throughout the nation. She is also an editor at Feministing.com, and a Senior Correspondent for The American Prospect. Courtney has appeared on the TODAY Show, Good Morning America, MSNBC, and The O'Reilly Factor, and is the recipient of the Elie Wiesel Prize in Ethics, a residency from the Rockefeller Foundation's Bellagio Centre, and is a TED speaker.
Vanessa Valenti is the Managing Editor of Feministing.com, which she co-founded with Jessica Valenti in 2004. She is also a social media consultant, sharing her experience and passion for online movement-building with organizations and individuals by developing successful online strategies. For the last decade, Vanessa has been involved with grassroots initiatives, major national organizations, political campaigns and academic institutions, with the goal of evangelizing citizen journalism and illustrating how the internet has shifted the landscape for social change.
Chloe Angyal was born and raised in Sydney, Australia and moved to the United States for college. As a college junior, she was lucky enough to meet and be mentored by Courtney E. Martin, who inspired her to start writing op-ed columns, and some other members of the Feministing editorial team, who inspired her to start blogging. Her writing has been published in the Guardian, the Christian Science Monitor and Foreign Policy Magazine, and at Slate, Salon and other online outlets, and she still pinches herself every time she says, "I'm blogging at Feministing today."
Miriam Zoila Pérez is a 26-year-old Cuban-American writer, blogger and reproductive justice activist. She the founder of RadicalDoula.com and an editor at Feministing.com. Her writing has appeared in numerous publications, including Bitch Magazine, The Nation, The American Prospect and Colorlines.com. Her essays have appeared in the anthologies "Yes Means Yes: Visions of Female Sexual Power and a World without Rape" and "Click: When We Knew We Were Feminists." Pérez is Secretary of the Board of Directors of the Astraea Lesbian Foundation for Justice and lives in Brooklyn, NY.