2011 Hillman Prize for Broadcast Journalism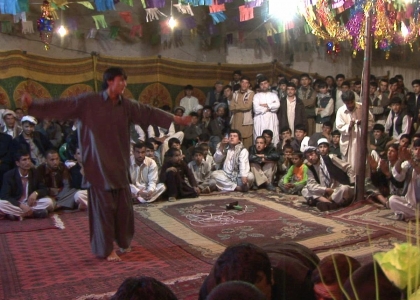 Najibullah Quraishi and Jamie Doran
Clover Films/FRONTLINE, WGBH
Writer/Producer: Jamie Doran
Editor: John Moffat
Camera and Co-Director: Mike Healy
Najibullah is Clover Films' investigator for Asia and the Arab states, working as a reporter and field producer. Najibullah's career began with Balkh Television in northern Afghanistan, where he hosted his own program "My Town, My Home" about Mazar-i-Sharif. In November 2001, he captured stunning footage of British special forces in the Battle of Qala-i-Janghi which would result in his first individual awards, the Rory Peck and Sony International Impact prizes. The footage was included in the award-winning film "Afghan Massacre: Convoy of Death" which exposed the massacre of up to 3,000 Taliban prisoners at Sheberghan. This was the first of many collaborative productions with Jamie Doran of Clover Films. Under threat and with warrants issued for their arrest, they were forced to flee Afghanistan and Najibullah has been based in the U.K. ever since.
In early 2010, as they were producing the award-winning " 'Dancing Boys of Afghanistan," about a pedophilic ring of former warlords, Najibullah was invited to film inside a Taliban/Hizbi-i-Islami/Al Qaeda camp in the Kunduz region. The result was "Afghanistan: Behind Taliban Lines," in which he gained previously uncharted access to the insurgents, witnessing dramatic attacks on NATO supply routes and capturing their day-to-day lives including complaints of boredom, the cold, and arguments with their commanders. The film has been honoured with several awards.
Inside the war-torn nation of Afghanistan, a disturbing practice is once again flourishing: the organized sexual abuse of adolescent boys. Afghan journalist, Najibullah Quraishi, returned to his native land to expose an ancient practice that has been brought back by powerful warlords, former military commanders and wealthy businessmen. Known as "bacha bazi" or "boy play," this illegal practice exploits street orphans and other poor boys whose parents are paid to give their sons over to their new "masters."
Many of the people who do this work for the government, speaking out against the practice even as they engage in it themselves. There is no punishment. Dancing Boys is a daring and poignant investigation into a little-known practice that reminds us just how far Afghanistan still is from having an accountable government of, by, and for the people.