2017 Hillman Prize for Book Journalism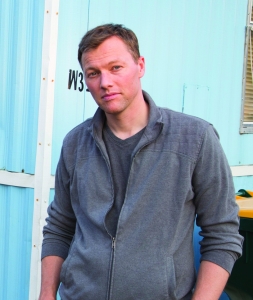 Matthew Desmond
Evicted: Poverty and Profit in the American City
Crown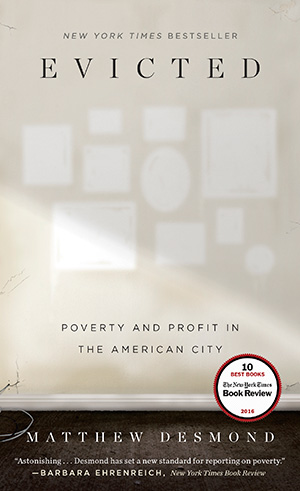 For decades, conversations about poverty have focused on jobs, public assistance, parenting, and mass incarceration. But another powerful force that has largely been ignored by scholars, journalists and society as a whole is eviction.
Desmond – a Harvard sociologist and MacArthur Fellow – embedded himself in Milwaukee for over a year, living with and among his subjects in a white, hardscrabble trailer park and then in a rooming house in the black inner city. He got just as close to landlords, observing firsthand their acts of both kindness and ruthlessness towards their tenants.
Through vivid storytelling, Desmond shows the tough circumstances his subjects faced: selling food stamps for half their value to get cash, how a broken car led to eviction, and choosing between movers putting personal possessions in bonded storage or out on the curb. He also identifies unseen costs – the psychological effects of eviction, how it disrupts relationships, children's education and communities, and how it leads to future instability.
Evictions used to be rare, Desmond points out, but today evictions employ the work of sheriff squads, moving companies, data companies, and housing court. In a time when housing costs have soared, a majority of poor families struggle to pay more than half their monthly income on rent. And without stable shelter, Desmond writes, everything else falls apart.
To complete the book, Desmond collected, organized, and synthesized a massive amount of information. His time shadowing renters and landlords resulted in 5,000 pages of transcripts and notes, thousands of photographs, and hundreds of hours of audio. Additionally, to gain a better understanding of the causes and consequences of evictions beyond his fieldwork, interviewers knocked on doors and asked more than a thousand renters about their housing conditions, evictions and rents. He analyzed data by examining court documents, public property records, school files, psychological evaluations, and police call logs. And he surveyed hundreds of property owners to calculate the profit margins of landlords. In the end, he gathered the most comprehensive detailed data on American urban poverty, housing and eviction in existence.
Not only does Desmond's book transform our understanding of extreme poverty and economic exploitation, it provides fresh and pragmatic ideas for solving this uniquely American problem.
Matthew Desmond is the John L. Loeb Associate Professor of the Social Sciences at Harvard University and co-director of the Justice and Poverty Project. A former member of the Harvard Society of Fellows, he is the author of the award-winning book, On the Fireline, coauthor of two books on race, and editor of a collection of studies on severe deprivation in America. His work has been supported by the Ford, Russell Sage, and National Science Foundations, and his writing has appeared in the New York Times, The New Yorker and Chicago Tribune. In 2015, Desmond was awarded a MacArthur "Genius" grant.