2020 Hillman Prize for Magazine Journalism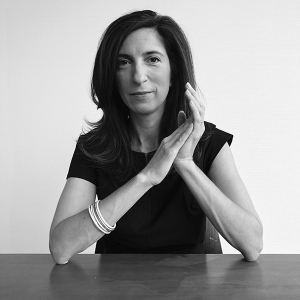 Pamela Colloff
ProPublica & New York Times Magazine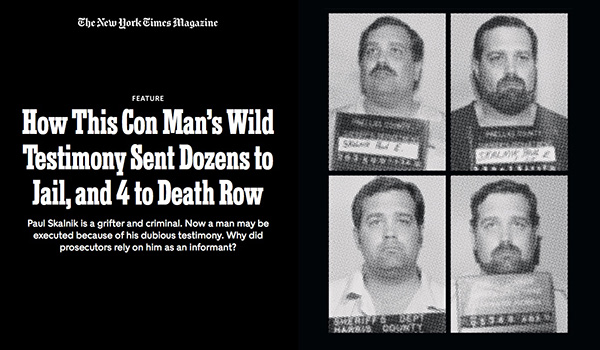 Pamela Colloff has gifted us with original, damning and lifechanging stories about wrongful convictions and our flawed criminal justice system for more than a decade — first for the Texas Monthly, and now for ProPublica and the New York Times Magazine.
Her latest is the remarkable story of Paul Skalnik, a grifter, imposter and jailhouse informant who testified or gave information in at least 37 cases in one Florida county alone — and helped to send four men to death row. So effective was Skalnik in the courtroom that Pinellas County prosecutors — who knew he made a living by fraud and deception — put him on the stand again and again.
Colloff was tipped by an attorney working on the appeal of a Florida death row inmate named James Dailey. At Dailey's 1987 trial, the most damaging testimony came from Skalnik, who was then an inmate. Skalnik was the "closer" for the prosecution, the witness who could smooth over a case's inconsistencies, nudging jurors past reasonable doubt. Remarkably, he repeatedly claimed that inmates had spontaneously, and often against all odds, confessed their crimes to him.  Prosecutors returned to him repeatedly and in return, they afforded Skalnik favorable treatment and shorter sentences, benefits that jurors never heard about. Florida prosecutors concealed the extent to which they worked with Skalnik and insisted that he never received anything in exchange for his testimony.
Skalnik passed himself off as a decorated fighter pilot, a former college football star, a high-rolling oilman, a luxury home builder, a defense attorney, an aide to the speaker of the Texas House, and a dying cancer patient. Still, prosecutors were willing protect their star witness — even looking the other way after he molested a 12-year-old girl and allowing him to go on to victimize a 16-year-old, both of whom Colloff managed to find and persuade to go on the record.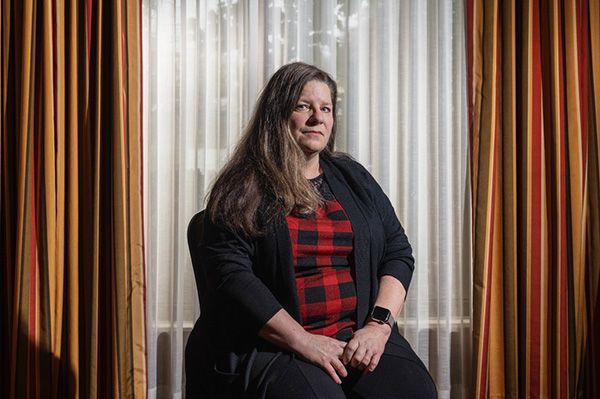 In most states, prosecutors' use of jailhouse informants is not tracked or regulated. The deals they receive are rarely made public. Skalnik's shocking story is a powerful example of why the system must change. "False Witness" is now recommended reading for all DA's and it's being used as an educational tool for state legislatures and prosecutors on limiting and regulating the use of these dubious witnesses.
"False Witness" draws on thousands of pages of police reports, arrest records, jail logs, probation and parole records, pretrial interviews and correspondence, as well as voluminous court records back to the 1970s, in both Florida and Texas, from nearly 40 criminal cases.
Colloff interviewes dozens of people who crossed paths with Skalnik, including men who served time with him; victims of his crimes; defendants he testified against; ex-wives, former stepchildren and ex-fiancées; as well as prosecutors, law enforcement officers and defense attorneys. Along the way, she filed more than 50 public records requests for documents.
"False Witness" combines incredible reporting with masterful storytelling — on a subject that is off the beaten path and yet central to understanding our criminal justice system — while exposing some of its deepest failings.
Watch the Video
Pamela Colloff is a senior reporter at ProPublica and a staff writer at The New York Times Magazine. She has been nominated for seven National Magazine Awards and won for feature writing in 2013. The following year, the Nieman Foundation for Journalism at Harvard University awarded her the Louis M. Lyons Award for Conscience and Integrity in Journalism. In 2020, Investigative Reporters and Editors recognized her story "False Witness" with an IRE Award for outstanding investigative work. She covers criminal justice, focusing on the causes of wrongful convictions.