2020 Hillman Prize for Opinion & Analysis Journalism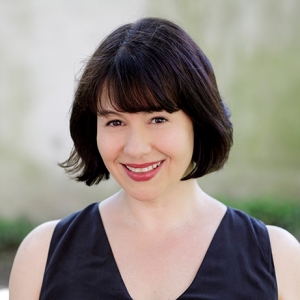 Michelle Goldberg
The New York Times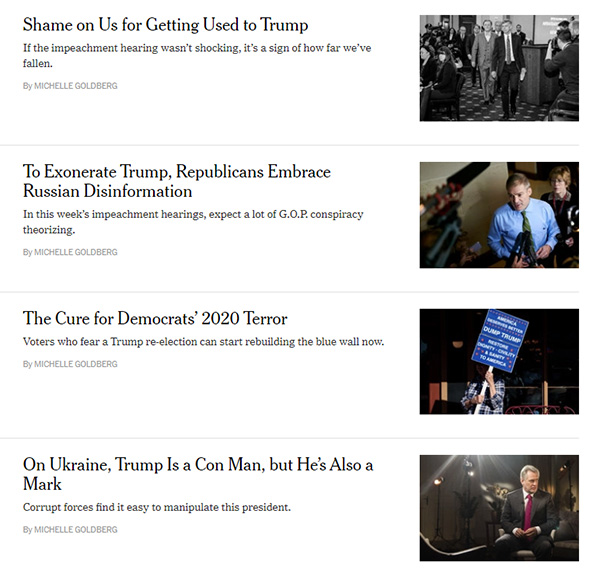 Michelle Goldberg is a voice for people who wake up every day and cannot believe what's going on in this country. In her bi-weekly columns on the New York Times' op-ed page, she sets out to make her readers feel like they're not alone in their horror at what's happening to the rule of law and our institutions. She is also a reporter and her reporting forms the building blocks of her commentary.
Michelle speaks to people who were jolted to awareness by the calamity of Trump's election and who are remaking our politics through their activism and organizing. She writes eloquently about "democracy grief" – the gloom and anger we feel when watching our treasured institutions be destroyed. She reports from places like Ukraine, where she went in fall 2019 after the Trump/Zelensky scandal broke, to talk to some of the young reformers struggling for liberal democracy against authoritarianism, who were shocked and confused that the partner they thought they had – America – was now all suddenly taking the other side. In so doing, she turned a spotlight on an underappreciated aspect of the Trump story: the damage the president has done not just to American democracy, but also to nations, like Ukraine, poised between authoritarianism and democracy, and to their fragile reform movements.
Michelle doesn't shrink from stating hard truths that other writers merely dance around. In "Trump Is a White Nationalist Who Inspires Terrorism," she notes that "during Republican presidencies, paranoid right-wing demagogy tends to recede, and with it, right-wing violence. But that pattern doesn't hold when the president himself is a paranoid right-wing demagogue."
Michelle is a powerful and respected voice on reproductive rights — she is clear-eyed about the devastating impacts of abortion restrictions, and she understands the motivations of those who seek to strip women of their bodily autonomy. In a year that saw some of the harshest attacks on abortion in decades, her writing on this topic was especially valuable. And she pulled no punches, with columns like "Post-Roe America Won't Be Like Pre-Roe America. It Will Be Worse," looking at how abortion bans in Alabama and other states portend a troubling future in which more women are criminalized for seeking abortions. Right now, with coronavirus, she writes that we've in some sense already moved into a post-Roe world as some governors have used the pandemic as a pretext to ban almost all abortion, on the grounds that they're non-essential.
One of the things Michelle hopes to look at going forward is what progressives might be able to accomplish in a post-coronavirus world - things that perhaps seemed impossible no longer seem quite so out of reach. She lays out the policies that progressives hope to enact, and the strategies that could win them the power to do that.
Michelle believes her role at the New York Times is to make sure there is a record of the outrages that we're living through. She supplies the definitive condemnations and advances the vision of a better world.
Watch the Video
Michelle Goldberg is an op-ed columnist at the New York Times, the co-host of the podcast The Argument, and a contributor at MSNBC. She is the author of three books: Kingdom Coming: The Rise of Christian Nationalism, The Means of Reproduction: Sex, Power, and the Future of the World, and The Goddess Pose: The Audacious Life of Indra Devi, the Woman Who Helped Bring Yoga to the West. Her first book was a finalist for the Helen Bernstein Award for Excellence in Journalism, and her second won the Ernesta Drinker Ballard Book Prize and the J. Anthony Lukas Work-In-Progress Award. Previously she was a columnist at Slate. Her work has appeared in The New Yorker, Newsweek, The Nation, The New Republic, The Guardian and many other publications, and she's reported from countries including India, Egypt, Iraq, Uganda, Nicaragua and Ukraine. She lives in Brooklyn with her husband and children.