2022 Hillman Prize for Broadcast Journalism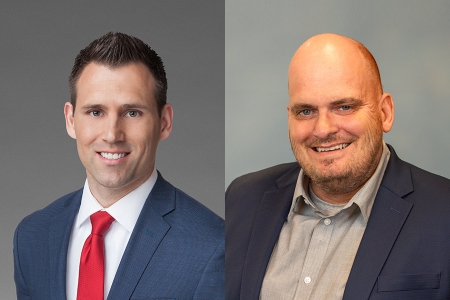 Dave Biscobing and Shawn Martin
ABC15 Arizona
Prosecutor: "What is that name of this gang?
Officer: "It is called ACAB, A-C-A-B, and it stands for All Cops are Bastards."
—
Prosecutor: Are you finding that ACAB is following the exact same type of philosophy of let's say the Bloods and the Crips?
Officer: Yes.
Prosecutor: And what about even maybe the same philosophy as the Hells Angels?
Officer: Very similar, yes.
This is an excerpt from a secret grand jury proceeding. The testimony was used to charge protesters as a criminal street gang during the national reckoning over police violence in the wake of George Floyd's murder in 2020.
Here's the problem: ACAB is not real. It was invented by prosecutors and police officers who exaggerated and lied to jurors to obtain charges against protesters.
In Politically Charged, ABC15 irrefutably proved this was just one of many lies told by the Phoenix Police Department and the Maricopa County Attorney's Office to target community activists, mass-arrest protesters, and silence dissent during the protests.
It began in May 2020—days after Floyd's murder—when ABC15 discovered that the Phoenix police had mass-arrested more than 100 demonstrators regardless of evidence and booked them all with the same copy-and-paste probable cause statement. In the months that followed, they found that Phoenix officers and county prosecutors routinely exaggerated and lied to grand juries to obtain felony charges against protesters.
Then, in late October 2020, the group of protesters (many of whom had never met before) were charged as a criminal street gang. Police and prosecutors told the jury that the group of protesters was as dangerous—and in some ways more dangerous—as the Bloods, Crips, and Hells Angels. But equally as shocking, officials testified that the group met the legal definition of a street gang for three reasons: Some wore black during the protest; they chanted "All Cops are Bastards (among other phrases like "Black Lives Matter"); and they carried umbrellas, which police claimed were deadly weapons.
ABC15 investigated further. They found that in 2019, officers and prosecutors knowingly attempted to pin false charges on a public defender and Black Lives Matter activist. In 2017, officers shared and sold challenge coins to celebrate shooting a protester in the groin. The coins' language riffs on a known fascist slogan. They discovered that the police chief knew about the coin but did nothing.
ABC15 aired more than 60 reports and produced an hour-long investigative special report.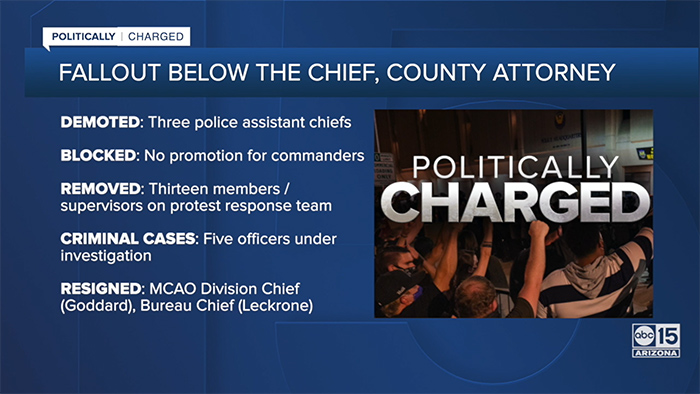 The impact and fallout from Politically Charged will reverberate for years to come:
At least 16 police officers and county prosecutors were reassigned. Some officers are under criminal investigation. Multiple outside investigations have confirmed ABC15's reporting. Maricopa County Attorney Allister Adel and other high-level county attorney's office officials resigned. The police chief was suspended. Three assistant chiefs were demoted. Multiple class-action lawsuits were filed.
Every felony protest case (39 in total) brought by Phoenix Police and the Maricopa County Attorney's Office was dismissed. The City of Phoenix approved the creation of a civilian oversight board for police misconduct. The Maricopa County Attorney's Office and Phoenix Police Department now collectively face more than $100 million in legal claims and lawsuits for their misconduct in protest cases. The Department of Justice opened a sweeping pattern-of-practice investigation into the Phoenix Police Department which is ongoing.
Politically Charged exposes one of the most disturbing abuses of power in modern American policing. Politically Charged is local investigative reporting at its very best.
Dave Biscobing is the Chief Investigative Reporter for ABC15 Arizona. He's spent his entire journalism career in Arizona, breaking stories that have had unprecedented and permanent impact. In addition to winning the Hillman Prize in 2020 for "Abuse of Force," a shocking investigation into the culture of violence in the Glendale, AZ, police department and the city government's indifference to it, Dave's reporting has been honored with every major broadcast journalism award in America: a Peabody Award, George Polk Award, two Alfred I. duPont-Columbia Awards, two IRE Awards, three national Emmy Awards, and more than three-dozen more national, regional and local awards. He is a graduate of the Walter Cronkite School of Journalism at Arizona State University. Dave's been with ABC15 since 2008 and serves as a corporate trainer for the station's parent company, E.W. Scripps. He is married and has two daughters. 
Shawn Martin is Executive Producer of Enterprise and Investigations at ABC15 Arizona. He oversees the ABC15 Investigators, one of America's most-honored local reporting teams. Under Shawn's leadership, the station has won many of highest awards in journalism, including the Peabody Award, George Polk Award, two Alfred I. duPont-Columbia Awards, and a previous Hillman Prize in 2020 for "Abuse of Force," a relentless investigation into a culture of police violence.