2022 Hillman Prize for Web Jouranlism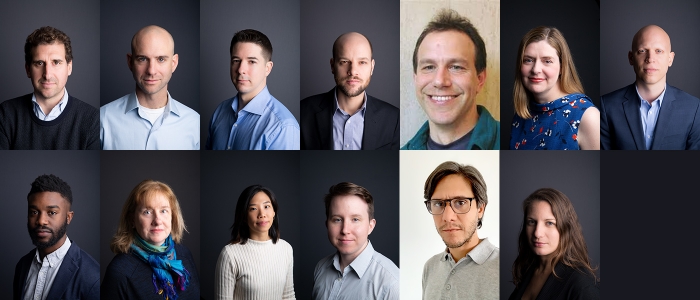 ProPublica staff
ProPublica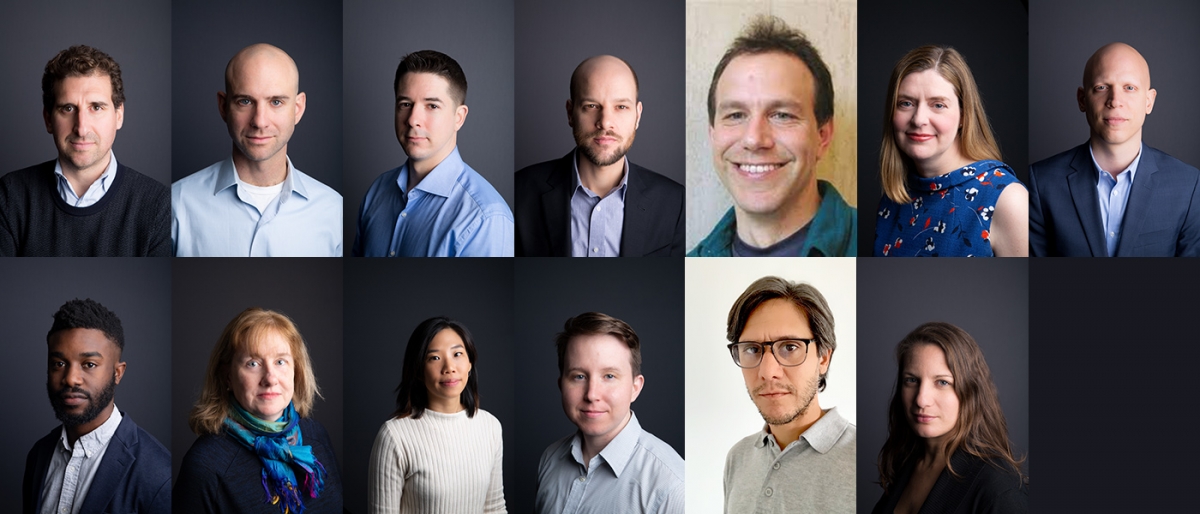 Last year, ProPublica received the biggest leak of confidential tax information in U.S. history—a vast trove of data that disclosed the income taxes paid by thousands of the nation's wealthiest citizens over more than 15 years.
They assembled a team of reporters to explore its significance and came to one shocking realization: the wealthiest Americans, including famously successful business leaders, had not paid a single dollar in income tax to the U.S Treasury while amassing fortunes worth many of billions of dollars.
The real problem? It's all legal. Our federal tax code emphasizes taxing income rather than assets like stock holdings and far-flung properties (though ordinary American homeowners pay taxes on their property—their homes). These billionaires weren't cheating on their taxes. They were just avoiding the burdens borne by nearly every other wage-earning American using completely legal strategies that are far beyond the reach of ordinary wage earners.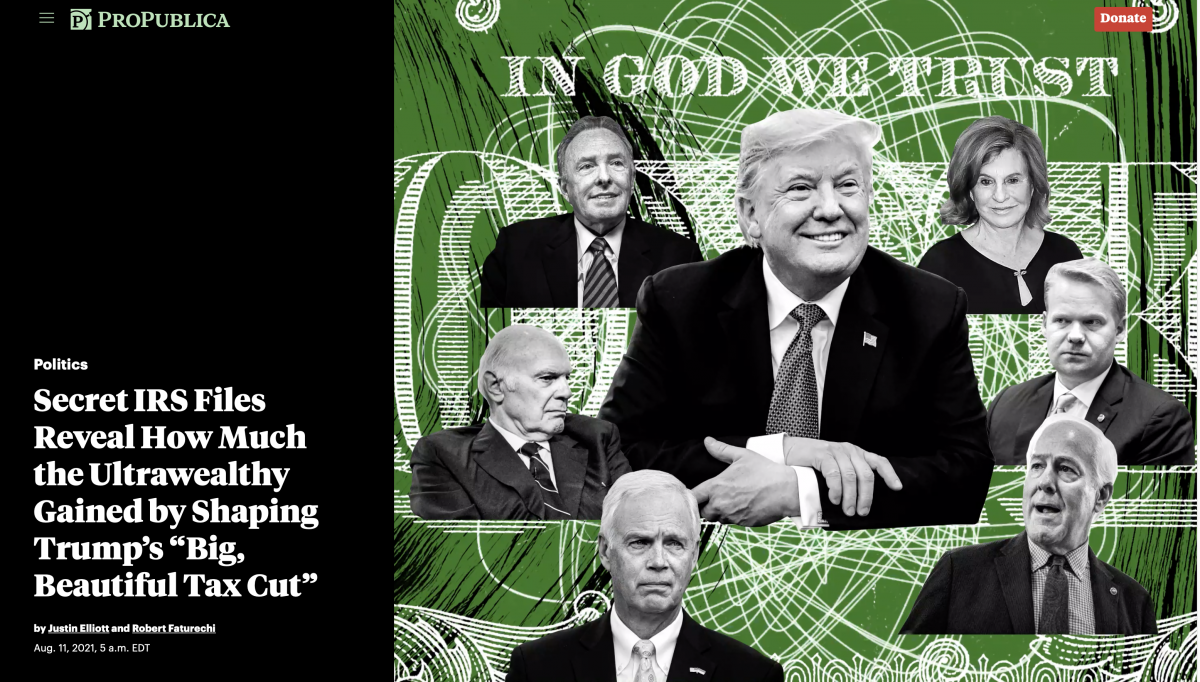 In 2007, and again in 2011, Jeff Bezos, the world's second-richest man, did not pay a penny in federal income taxes. In 2018, Tesla founder Elon Musk, now the richest person in the world, paid no federal income taxes. Michael Bloomberg managed to do the same in recent years. Billionaire investor Carl Icahn did it twice. George Soros paid no federal income tax three years in a row.
Tax experts and scholars have long understood that the ultrarich—roughly the top .001%—don't pay their fair share of taxes. But the data provided by the anonymous source(s) exposed a pattern that the ultrarich knowingly exploit. The data showed that the ultrawealthy could live lavishly without receiving salaries or other income the IRS deems taxable. The ultrarich also found ways to avoid paying taxes on the income they did report. Some enjoyed streaks of a decade or more in which their write-offs were so large, they paid no federal income taxes at all, even while raking in hundreds of millions in income. ProPublica revealed that some moguls exploit IRAs in ways lawmakers never envisaged. And they plunged deep into the process of lobbying and legislating to show how Wisconsin Sen. Ron Johnson drafted a section of the Trump tax bill that saved $1 billion in taxes for just 82 households, two of which were his biggest campaign donors.
They took readers inside an NBA arena, toggling from a concession-stand worker who made $44,810 in a year and paid a federal tax rate of 14.1% to superstar player LeBron James, who made $124 million that year and paid 35.9%. Meanwhile, the team's owner Steve Ballmer made $656 million and paid a 12% rate, the lowest of the three.
ProPublica traced the larger story—the century-long battle between lawmakers trying to create a modern state (roads, bridges, health care, day care) and the titans who have the means to shape the tax code to their advantage. They showed how the U.S. tax system has become the antithesis of a process that serves the common good, and how the conversation on Capitol Hill about whether to increase the top tax rate by a few percentage points would hardly touch the richest at all.
ProPublica's took risks by publishing the secret tax data, but they concluded that the public interest overrode privacy considerations. The series reignited a worldwide debate about wealth and inequality and helped change the national conversation about tax policy. The Build Back Better legislation closed the IRA loophole and included a wealth tax, but it did not pass. President Biden has now proposed an alternative minimum tax for billionaires.
Jesse Eisinger is a senior editor and reporter at ProPublica. He is the author of the "The Chickenshit Club: Why the Justice Department Fails to Prosecute Executives."  In April 2011, he and a colleague won the Pulitzer Prize for National Reporting for a series of stories on questionable Wall Street practices that helped make the financial crisis the worst since the Great Depression. He won the 2015 Gerald Loeb Award for commentary. He has also twice been a finalist for the Goldsmith Prize for Investigative Reporting. He serves on the advisory board of the University of California, Berkeley's Financial Fraud Institute. And he was a consultant on season three of the HBO series "Succession." He was a regular columnist for The New York Times's Dealbook section. His work has appeared in The New York Times, The Atlantic, NewYorker.com, The Washington Post, The Baffler, The American Prospect and on NPR and "This American Life." Before joining ProPublica, he was the Wall Street Editor of Conde Nast Portfolio and a columnist for the Wall Street Journal, covering markets and finance.
Jeff Ernsthausen is a data reporter at ProPublica. He previously worked on the investigative team at the Atlanta-Journal Constitution, where he investigated sexual abuse by physicians nation-wide, police misconduct in Georgia and evictions in metro Atlanta. Prior to his career in journalism, he studied history and economics and worked as a financial and economic analyst at the Federal Reserve.
Paul Kiel covers business and consumer finance for ProPublica. His focus this year is on the IRS and its ability to administer the nation's tax laws. In recent years, his work has helped spur a $135 million settlement by a subprime lender for alleged abuses against service members, legislation in Congress, a federal investigation of a high-cost lender, state rule changes and the forgiveness of $17 million in medical bills by a nonprofit hospital. Past areas of focus have included the foreclosure crisis, high-cost lending (particularly installment and payday loans), the widespread use of lawsuits and garnishments to collect consumer debts, and the consumer bankruptcy system. His work has appeared in several newspapers, including The Washington Post and The New York Times. He has also produced stories for National Public Radio and American Public Media's Marketplace, as well as appeared on This American Life. Among other honors, his work has been awarded a Philip Meyer Award by Investigative Reporters and Editors, a Scripps Howard Award, a Best in Business Award from the Society of American Business Editors and Writers, the Online News Association's Al Neuharth Innovation in Investigative Journalism Award, and a National Press Club Award. His e-book on the foreclosure crisis was featured in The Best Business Writing 2013.
Justin Elliott has been a reporter with ProPublica since 2012, where he has covered business and economics as well as money and influence in politics. He has produced stories for outlets including the New York Times and National Public Radio, and his work has spurred congressional investigations and changes to federal legislation. His work on TurboTax maker Intuit won a Gerald Loeb Award for business journalism. He was also honored with an Investigative Reporters and Editors award for a series on the American Red Cross and, with the Trump Inc. podcast team, a duPont-Columbia Award. He earned a bachelor's degree from Brown University in history and classics.
James Bandler is a reporter at ProPublica. He covers business and finance, with coverage areas that include corporate investigations, resource extraction industries and defense procurement. James has been a reporter at Fortune, The Wall Street Journal, the Boston Globe, and the Rutland Herald-Barre Times Argus newspapers. At the Wall Street Journal, Bandler was a co-author of "The Perfect Payday," a 2006 investigation that exposed the widespread practice of backdating stock options by business executives. The series, produced by a team of reporters, led to the paper's first Pulitzer Prize for Public Service, as well as criminal prosecutions, massive fines and disgorgements. It also forced dozens of companies to issue corrected financial statements and remove more than 70 senior executives, including the CEO of UnitedHealth Group. Bandler's work at the Journal also included stories on a global price-fixing ring in the chemical shipping industry, an exposé on the criminal life of Wal-Mart's vice chairman, and stories on accounting fraud at Xerox Corp. As editor-at-large at Fortune, he produced in-depth pieces on a con-artist who swindled Fortune 500 companies, the collapse of AIG, the fall of IBM Corp.'s CEO heir-apparent in an insider-trading scandal, the travails of Hewlett-Packard, and a Gerald Loeb Award-winning story on Bernie Madoff.
Patricia Callahan is a reporter covering business at ProPublica. Callahan previously worked at the Chicago Tribune, where she was on the investigative team since 2004. There, she launched "Hidden Hazards," a series that showed federal safety regulators were repeatedly failing to protect children from dangerous products. This work prompted the recall of more than 1 million baby products, spurred Congress to pass the largest overhaul of consumer product safety laws in a generation, and won the 2008 Pulitzer Prize for investigative reporting. In 2012, Callahan and colleagues showed how harmful chemicals used as flame retardants on furniture were migrating into people's bodies while providing no meaningful protection from fires. The work led to the repeal of a rule responsible for the use of these chemicals; it also won the Goldsmith prize, the Hillman Prize and was a finalist for the 2013 Pulitzer for investigative reporting. Most recently, Callahan and a colleague were 2017 Pulitzer finalists for a series exposing how Illinois officials steered low-income adults with developmental and intellectual disabilities into substandard privately run group homes, then hid harm and even deaths. Before the Tribune, Callahan worked at the Wall Street Journal, covering the food, pharmaceuticals and publishing industries. There, she revealed how newspaper publishers — including the Journal's parent company — financially abandoned children injured or killed on their newspaper delivery routes. She came to the Journal from the Denver Post, where she was part of the team that covered the Columbine High School shootings. Trish graduated from Northwestern University's Medill School of Journalism and was a Henry Luce Scholar in Bangkok.
Robert Faturechi is an investigative reporter at ProPublica. He has reported on industry lobbying campaigns to block safety standards, the Trump administration's deregulation efforts, self-dealing by political consultants and corporate donors targeting state elections officials. He broke stories on Sen. Richard Burr selling off stock before the coronavirus market crash, and former HHS Secretary Tom Price taking official actions that overlapped with his personal financial interests. In 2020, he and two colleagues won the Pulitzer Prize for National Reporting for a series of stories about avoidable deaths in the Navy and Marine Corps, and the failure of top commanders to heed warnings and implement reforms that could have saved lives. His reporting has resulted in congressional hearings, new legislation, federal indictments and widespread reforms. Before joining ProPublica, he was a reporter at The Los Angeles Times, where his work exposed inmate abuse, cronyism, secret cop cliques and wrongful jailings at the Los Angeles County Sheriff's Department. In 2013, he obtained an unprecedented cache of confidential personnel records that showed the agency knowingly hired dozens of cops with histories of serious misconduct. His stories helped lead to sweeping reforms at the nation's largest jail system, criminal convictions of sheriff's deputies and the resignation of the sheriff. Faturechi lives in Los Angeles and graduated from UCLA in 2008.
Ellis Simani is a data reporter. Previously, he was a Scripps Howard data reporting fellow at ProPublica. Before joining ProPublica, he was a Metpro fellow on the Los Angeles Times' data visualization desk. There, he covered a variety of topics ranging from visualizing environmental issues along California's coast, to investigating the shortcomings of the Census Bureau's racial categories. Prior to his work at the Los Angeles Times, Ellis interned with the Seattle Times' News Apps team, and was a participant in ProPublica's Data Institute in 2017.
Doris Burke is ProPublica's senior research reporter. Prior to joining ProPublica in 2019, she was a researcher at the New York Times working on investigative and daily stories. While at Fortune Magazine, she collaborated on award winning financial crime stories. Before moving to journalism, she was research librarian at several investment banks. She has a history degree from St. Bonaventure University and library science degree from Pratt Institute.
Agnes Chang was previously a creative story technologist at ProPublica. Before that, she spent six years at the New York Times where she launched the company's proprietary 360 video player and also led user strategy and daily operations for NYT Cooking, one of the Times' most popular products. More recently, Chang has served as an adjunct professor at Parsons School of Design and Columbia University. She is a graduate of Wellesley College and has an M.S. in Media Arts & Science from the MIT Media Lab.
Lucas Waldron is ProPublica's visual investigations producer. Previously, he was a social visuals and graphics producer. Waldron is a motion graphics journalist focused on storytelling across social media platforms. His work has previously been published by The New York Times and KQED.
Mauricio Rodríguez Pons is a visual journalist at ProPublica. He was previously a senior visual journalist and visual storytelling editor at Univision News Digital, where he storyboarded, illustrated and animated short films; filmed and edited documentaries; and produced graphics and motion graphics for a variety of projects, from hourlong documentaries to digital interactives. He has also worked as creative director at Fenix Media, as an infographer at El Universal, one of the main newspapers in Caracas, Venezuela, and as an infographic designer in Grupo Editorial Producto. His work has been honored with national Emmys, Edward R. Murrow Awards, Malofiej Awards and Webbys, in addition to being recognized by the Society for News Design, Pictures of the Year International and World Press Photo.
Nadia Sussman is a video journalist at ProPublica, creating short- and long-form visual stories for ProPublica investigations. From 2013 to 2017, Nadia was based in Brazil, where she shot and edited videos for outlets including The New York Times, BBC and The Wall Street journal. Nadia has worked throughout Latin America and the United States, covering stories including killings by police in Rio's favelas and Brazil's Zika crisis. Her work has been recognized by Pictures of the Year International, the Northern Short Course and the Sidney Hillman Foundation. Prior to working in journalism, Nadia was an investigator for death row habeas corpus appeals in California.