2023 Hillman Prize for Broadcast Journalism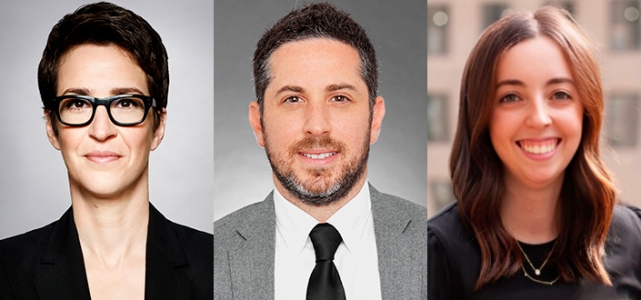 Rachel Maddow, Michael Yarvitz, and Kelsey Desiderio
MSNBC
Associate Producers, Janmaris Perez, Holly Klopchin
Technical Director, Bryson Barnes 
Sound Engineer, Tarek Fouda
Senior Executive Producers, Cory Gnazzo, Laura Conaway
Web Producer, Will Femia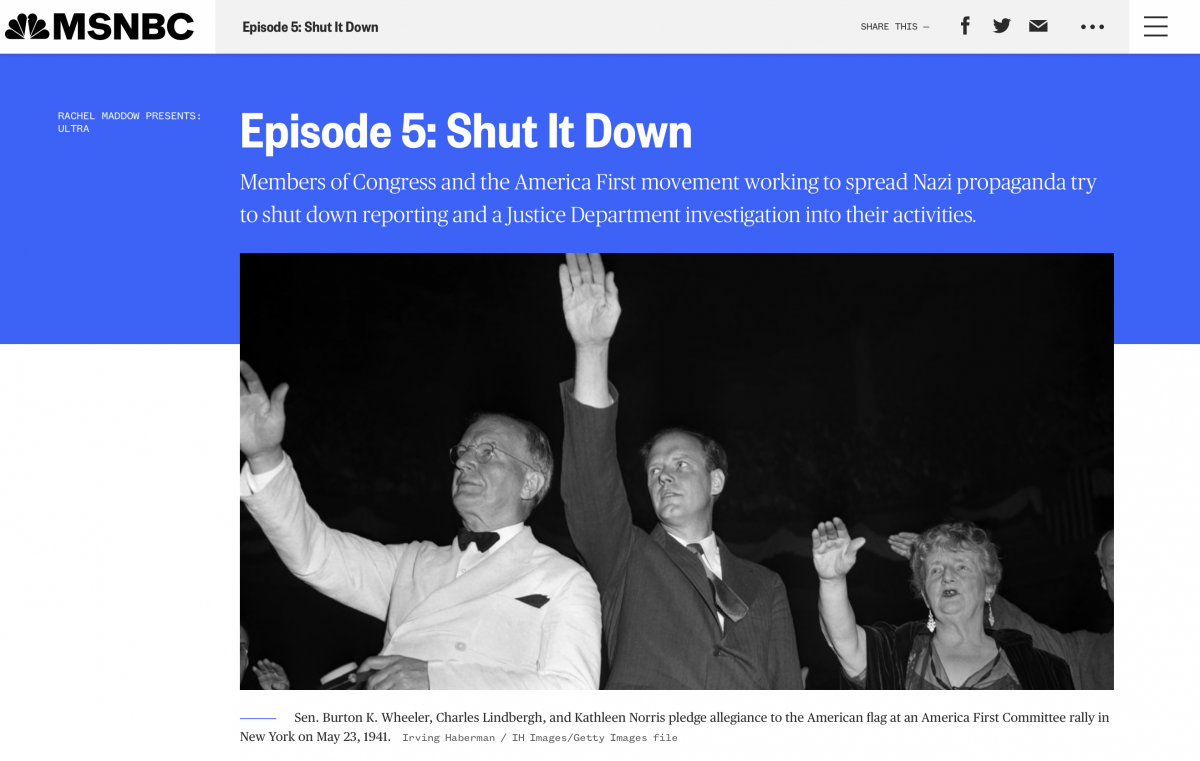 In "Ultra," Rachel Maddow and her team unearth a dramatic chapter of American history, nearly a century old, but with themes that echo loudly today. It is a forgotten story, set in the 1940s, of determined American extremists who came dangerously close to toppling American democracy in the run-up to World War II - and the serving members of Congress working alongside them. Elected officials who took an oath to defend the Constitution who, instead, became willing accessories in a plot to end it.
When sophisticated plans to spread hate and misinformation divide Americans against themselves, and weaken our institutions to soften the country up for an armed takeover, what happens? What happens when a radical movement on one end of the American political spectrum abandons democracy altogether, arms itself, and starts making plans for a violent coup? When a rising tide of authoritarianism across the world captures not just the most extreme elements in this country, but some of its most powerful political figures as well? How does a democracy defend itself from that?
As the series unfolds, listeners are taken along as federal prosecutors launch a desperate effort to peel back the layers of the threat, identify those involved and their supporters, all of it culminating in what would become the Great Sedition Trial of 1944, the single largest mass sedition trial the United States government ever prosecuted - a trial that would ultimately fail in spectacular fashion.
This is a chapter of history that has long since been forgotten, but one cannot listen to this podcast without the specter of January 6, 2021, in mind. Until that day, this was an hour where American democracy faced perhaps its most dire threat. Not just from radical elements across the country, but from serving elected officials who wielded their political influence to delegitimize the investigation into it by burying the evidence of their own wrongdoing and attacking the journalists trying to uncover the facts - all in an effort to save themselves.
"Ultra" is the remarkable story of the wily, persistent threat from the ultra-right in this country, as well as the failure of the American justice system to protect us from it. Perhaps most importantly though, it's the story of the everyday citizens who worked to investigate the threat, expose it to the public, and ultimately to stop it. "Ultra" explores the heroic and brave efforts of journalists, activists, lawyers, people of faith, and citizens of all stripes who came to democracy's aid when it needed them most.
To produce and report this 8-episode narrative documentary series, Maddow and her team undertook months of extensive research at libraries and historical archives across the country and conducted numerous interviews with historians and subject-matter experts. The team unearthed hours of audio recordings that had not been heard in nearly 80 years and which provide the vivid detail that brings this nearly century-old story to life.
"Ultra" was able to transcend the academic space where this story once exclusively lived, and expertly translate it into a narrative, captivating story for general consumption. In December 2022, it was announced that Steven Spielberg's Amblin has optioned the film rights to "Rachel Maddow Presents: Ultra" from MSNBC and Surprise Inside, Maddow's production company. The Sidney Hillman Foundation seeks to illuminate the great issues of the day and "Ultra" illuminates perhaps the most important issue of our time: the constant vigilance it takes to preserve our democracy.
Rachel Maddow is host of the Emmy Award-winning "The Rachel Maddow Show" which airs Mondays at 9pm ET on MSNBC. "The Rachel Maddow Show" features Maddow's take on the biggest stories of the day and week, political and otherwise, including interviews with news makers and reporters, in-depth analysis and stories no other shows in cable news will cover.
In October 2022, Maddow wrote, produced and hosted the podcast "Rachel Maddow Presents: Ultra," an eight-episode historical nonfiction series set in World War II-era America that profiles lawmakers who aided insurrectionists by participating in a plot to spread misinformation throughout the country, and spotlights journalists and activists who fought to stop the seditionists when the American judicial system failed to do so. 
Maddow also launched the podcast "Rachel Maddow Presents: Bag Man," in 2018, which won a DuPont Columbia Award in 2020 and was nominated for a Peabody Award for Best Radio/Podcast in 2018. "Bag Man," which Maddow also wrote, produced and hosted, details one of the most brazen political bribery scandals in American history, taking listeners back 45 years to dig into a story that got overshadowed in its day.
When "The Rachel Maddow Show" launched in September 2008, it was the most successful show launch in MSNBC history, immediately boosting ratings in its time slot. "The Rachel Maddow Show" was named one of the top shows of the decade by the Washington Post in 2009. Maddow was also named a "Breakout Star of 2008" by The Washington Post, The Los Angeles Times named her to the "Best of Television 2008" and she was named one of the "Top Ten Political Newcomers of 2008" by Politico.com.
"The Rachel Maddow Show" has won three Emmy Awards including for Outstanding News Discussion and Analysis (2011, 2017) and Outstanding Live Interview. Maddow has received in total seven Emmy nominations including for Outstanding News Discussion and Analysis (2011, 2017 and 2018, 2019), Outstanding Live Interview (2017), Outstanding Edited Interview (2021) and Outstanding Newscast (2021). Maddow has been honored by the Interfaith Alliance with the Walter Cronkite Faith and Freedom Award and received the 2012 John Steinbeck Award from the Center for Steinbeck Studies at San Jose University. She has received two Gracie Allen Awards including Outstanding Host – News/Non-fiction in 2012. "The Rachel Maddow Show" has been nominated twice by the Television Critics Association for the "Outstanding Achievement in News and Information" category and the show took home a GLAAD award in 2010 and 2017. In 2019, "The Rachel Maddow Show" won a Gracie Award in the "Interactive Media" category for "Bag Man," and a Shorty Award for Best Branded Podcast. 
Maddow was named an MSNBC political analyst in January of 2008. She first gained national prominence as a host on Air America Radio, where she worked from its inception in 2004. Prior to joining AAR she worked for WRNX in Holyoke, Massachusetts, and WRSI in Northampton, Massachusetts.
Maddow is the author of "DRIFT: The Unmooring of American Military Power," which debuted at #1 on the New York Times bestsellers list in March 2012, "Blowout: Corrupted Democracy, Rogue State Russia, and the Richest, Most Destructive Industry on Earth," which was released in October 2019 and also debuted as #1 on the New York Times bestsellers list, as well as "Bag Man: The Wild Crimes, Audacious Cover-up, and Spectacular Downfall of a Brazen Crook in the White House" which was released in 2020.
Maddow received a bachelor's degree in public policy from Stanford University. She earned her doctorate in political science at Oxford University, which she attended on a Rhodes Scholarship. She lives in New York City and Massachusetts with her partner, artist Susan Mikula.
Michael Yarvitz is an Emmy and Peabody Award-winning producer and journalist. He was the co-creator and Executive Producer, along with Rachel Maddow, of the documentary podcast series "Ultra" for MSNBC. Prior to that, Yarvitz was co-creator and Executive Producer of the award-winning podcast series "Bag Man" for MSNBC. Both podcasts are currently being adapted into feature films. A recipient of a Peabody Award in 2014, Yarvitz also co-authored a New York Times best-selling book in 2020, and has received Emmy awards for his work in 2010 and 2016, as well as an Alfred I. duPont-Columbia University Journalism award in 2020. He holds a degree in journalism from Syracuse University.
Kelsey Desiderio is a Supervising Producer at The Rachel Maddow Show at MSNBC, where she has been a member of the staff since 2014. She was a writer and producer on MSNBC's podcast "Ultra," which debuted at #1 on the Apple charts. She is a two-time Emmy Award winner and received an Emmy nomination for her reporting on reproductive rights. She is based in New York.