2023 Hillman Prize for Newspaper Journalism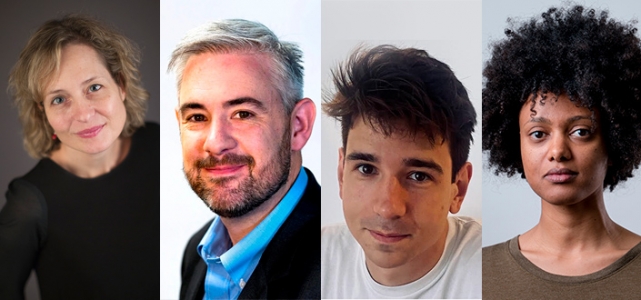 Catherine Porter, Matt Apuzzo, Constant Méheut, Selam Gebrekidan
The New York Times
For nearly two years, Catherine Porter was on a quest to find out why Haiti is perpetually mauled by crisis and suffering. The nation is defined by kidnapping, hunger, illiteracy, and disease. Gangs rule the capital. Even the president can be killed in his bedroom. How did Haiti become a byword for disaster?
To find out, she sped across the country, evading gunmen, rock-throwing crowds, kidnappers, and robbers who sprung ambushes on roads. She talked to the president about it before he was shot dead, and to dozens of historians, economists, farmers, and leaders. She and her team set out to calculate the "independence debt" or the "ransom" – the debt that generations of Haitians have been forced to pay their former French slaveholders for their freedom.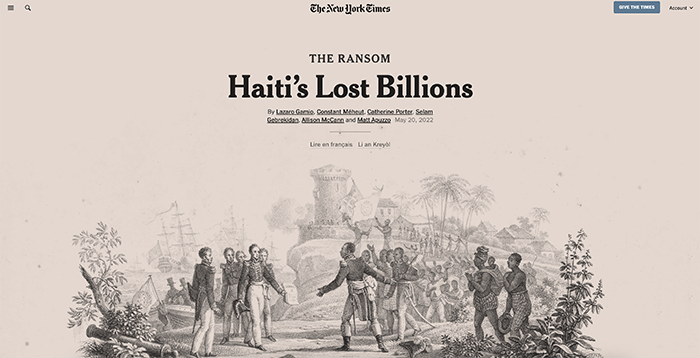 Decades after these formerly enslaved people defeated Napoleon's forces and declared themselves the first free Black nation in the Americas, they were forced to pay again — in cash.
Haiti is the only country in the world where descendants of formerly enslaved people have paid descendants of their former masters for generations. It wasn't the rich in Haiti who paid. It was the poor — mostly poor coffee farmers, through taxes on exports. To add insult to injury, the former colony took out a loan from young French banks to make the payments – a "double debt."
The reporters tabulated how much money Haitians paid to the families of their former masters and to the French banks and investors who held that first loan to Haiti, not just in official government payments on the double debt but also in interest and late fees, year after year, for decades.
They found that Haitians paid about $560 million in today's dollars. But that doesn't nearly capture the true loss. If that money had simply stayed in the Haitian economy and grown at the nation's actual pace over the last two centuries — rather than being shipped off to France, without any goods or services being provided in return — it would have added a staggering $21 billion to Haiti over time, even accounting for the country's notorious corruption and waste. For perspective, that's much larger than Haiti's entire economy in 2020.
The reporters went on a global treasure hunt to unearth records of generations of Haiti's payments. They scoured archives, libraries, and the homes of private collectors across the world, from Port-au-Prince to Montreal to Roubaix, in northern France. They even pieced together the family trees of French colonists to identify hundreds of their descendants over seven generations, including European royalty, and interviewed dozens of their living relatives.
They found that Citigroup's predecessor took a quarter of Haiti's total revenues for a decade — nearly five times the amount spent on government-run schools in that time. They also revealed how much of the money went directly to the French government, despite France's long insistence that it never took any for itself.
"This is journalism & history combined, at its finest," wrote Laurent Dubois, one of the most influential Haitian historians in the United States.
The Times published in French and English, as well as Haitian Kreyòl which the Times had never done before. Librarians in Haiti set out laminated copies of the stories for patrons. Radio hosts read them out loud to a nation where so many are illiterate. Coffee farmer collectives said they took the articles to the countryside to read them to their members.
The Times also published a 5,000-word companion piece explaining the methodology and major sources they used, including the historians they relied on most, and they posted their data for scholars to use in future study.
The Ransom represents an extraordinary investment by a major news organization. This investigation spanned centuries and continents to achieve a true accounting of a massive corporate colonial heist perpetrated against the Americas' first free Black nation. 
Catherine Porter is an international correspondent for The New York Times, based in Paris. Ms. Porter joined The Times in 2017 as Canadian bureau chief, after spending 16 years at The Toronto Star, Canada's largest circulation newspaper, where she worked as a columnist and feature writer. Ms. Porter has reported from Senegal, Guatemala, Cuba and, most notably, Haiti. She was among the journalists who arrived in Port-au-Prince shortly after the 2010 earthquake and has returned to the country more than two dozen times to report. Her book about the experience, "A Girl Named Lovely," was published in 2019 by Simon & Schuster. In 2022, Ms. Porter was part of a team that won a George Polk Award in Foreign Reporting and was a Pulitzer Prize finalist for an investigation of the assassination of Haiti's president. She has also won two National Newspaper Awards in Canada.
Constant Méheut is a reporter in the New York Times Paris bureau, where he covers France. He has reported on France's landmark terrorism trials, sexual abuse and conflicts of interest in Paris's intellectual circles, and the country's colonial legacy. He has also covered the 2022 presidential campaign and the rise of the French far right. Mr. Méheut joined the Paris bureau in 2020, after graduating from HEC Paris and MGIMO university in Moscow with a dual master's degree in business and international relations. He also holds a master's degree in political philosophy from La Sorbonne university in Paris.
Matt Apuzzo is the international investigations editor at The Times. He joined the paper in 2014 after more than a decade as a reporter with the Associated Press. He is a three-time Pulitzer Prize winner, having been part of teams that won in 2012 for revealing New York police surveillance, in 2018 for covering the Trump administration, and 2021 for reporting on the coronavirus pandemic. A graduate of Colby College, he taught journalism at Georgetown University and once successfully argued a motion from the audience in federal court.
Selam Gebrekidan is an investigative reporter for The New York Times based in London. She was a driving force behind The Times's investigative efforts during the first year of the coronavirus pandemic. For that work, she shared in The Times's Pulitzer for public service. She has reported on corruption in South Africa, showed how European farm subsidies propped up far-right oligarchs, and tracked the centuries-long trail of Haitian debt. After graduating from the Columbia University Graduate School of Journalism, she started at Reuters covering the latest oil boom in the United States. Then she moved to the data and enterprise team, where she crunched data sets for long-form investigations. She won the Daniel Pearl Prize for Investigative Reporting for "The Migration Machine," a series that explored the mechanics of international smuggling networks and told the stories of refugee women enslaved by Islamic State.