2023 Hillman Prize for Opinion Journalism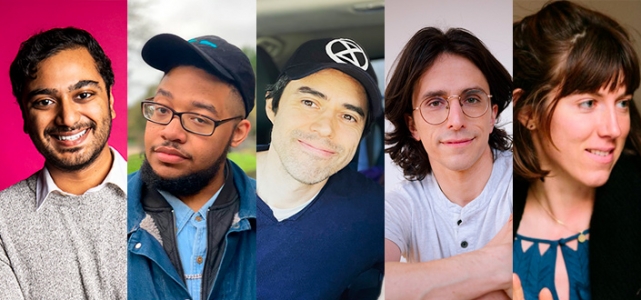 Chai Dingari, Gerald Lane, Anthony Mascorro, Sean Morrow, and Brooke Shuman
More Perfect Union
More Perfect Union is a non-profit newsroom dedicated to building power for working people and fighting corporate greed. Their project, The Class Room, creates engaging and informative video journalism that reveals how the ultra-wealthy plunder the working class using research, compelling storytelling, and extensive internet video production experience.
In 2022, The Class Room team published 24 videos, garnering a total of 15 million views. That widespread reach means The Class Room can affect real change – and they have! They've re-ignited important policy debates, altered public perception of major corporations, and even helped get corporate executives grilled on Capitol Hill.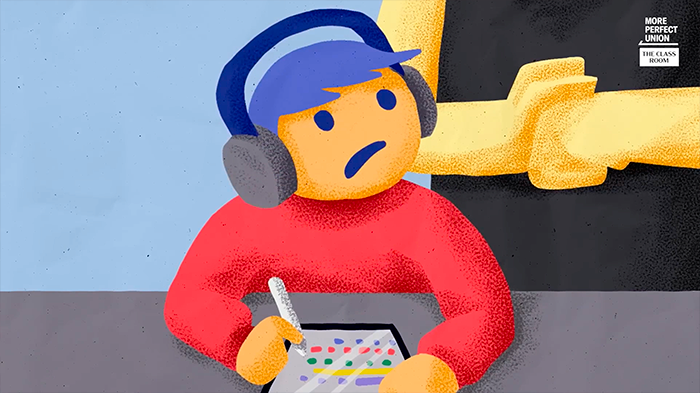 The Class Room worked with author Cory Doctorow to create a video explainer on Ticketmaster's monopoly, breaking down how they built so much power, and how the federal government — who are supposed to enforce antitrust laws — allowed it. The video took viewers through the history of antitrust legislation, the creation of the Ticketmaster behemoth, and what it means for artists, fans, and working people. The video led the conversation on Ticketmaster's monopoly, and monopolies in general. It was tied to a campaign with a wide coalition of partners and a petition that garnered over 50K signatures culminating in Ticketmaster being pilloried on the Senate floor by members of both parties. Key stakeholders could use the video in their organizing efforts and help newcomers quickly understand the stakes of this fight.
While The Class Room team mostly covers economic issues, they've also found ways to cover social issues such as critical race theory. They showed that all of the furor around critical race theory was created by those who stand to benefit from it financially: charter school executives. This was confirmed in interviews with the former right-wing lobbyists who helped execute the plan and public school teachers facing the wrath of parents riled up by fake news.
The Class Room also produces series like "How They Got Rich" where each episode examines how a billionaire, or billionaire family, built their wealth. It's based on the premise that 'every billionaire is a policy failure.' "How The Cargills Got Rich" broke down how Cargill Incorporated built an all-powerful agricultural empire over the course of 150 years, from marrying off a daughter to another agricultural company, to manipulating the price of grain commodities, to unfairly pushing out competition. The video brought renewed attention to Cargill power and greed.
Another episode, "How Elon Musk Got Rich," built a carefully researched case proving that all of Elon's wealth is built on his carefully constructed image. Every episode of the series uses archival research, open source intelligence gathering, and tight video editing to create engaging informative content.
Sometimes The Class Room takes advantage of an opportunity. In November, staff writer Sean Morrow did what he thought was a silly little prank: after Elon Musk made it possible to buy a verified Twitter account for $8, he created an account for Eli Lilly – the multi-billion dollar pharmaceutical company – verified it, and tweeted "We are excited to announce insulin is free now." Major politicians used it to discuss big pharma's insulin price-gouging, Twitter changed its verification policy, and Eli Lilly's CEO acknowledged they need to "do more to lower the cost of insulin." Morrow hosted a video explaining how he created "$8 chaos" but then transitioned into a deep history of insulin pricing, breaking down the exact policies that allow for corporations like Eli Lilly to keep massive profit margins on life-saving drugs while people ration insulin and make sacrifices just to afford the drug they need to live.
In 2022, The Class Room team also covered the billionaires stealing California's water, created an engaging guide on how to form a union, profiled the success of a Montana town with universal health care, and revealed how dangerous cryptocurrency can be to the economy.
The Class Room is combining old fashioned investigative journalism with sophisticated video production techniques and distribution methods. It is reaching young people where they are on platforms such as TikTok —  empowering them with knowledge about the world they live in while pushing the boundaries of what opinion writing can be.
Chai Dingari is an Emmy-nominated filmmaker and journalist. He directs videos for More Perfect Union, an advocacy journalism organization that champions working class issues. Before MPU, Chai reported and produced videos for New York Times Opinion and HuffPost.
Gerald Lane is the motion graphics animator for The Class Room. Gerald works with the team's writers and producers to create original imagery strengthening the pieces' important economic theses. He's previously worked with the Bernie Sanders' 2020 presidential campaign, Group Nine Media, Conde Nast, and as a freelance illustrator and art instructor.
Anthony Mascorro is a film and video editor. He has edited for Vice, Vox, the Museum of Modern Art and Full Frontal with Samantha Bee. He joined More Perfect Union in 2021 as editor on The Class Room series and is grateful to work on content aimed at economic justice. After many years in New York City he now lives in Portland, OR.
Sean Morrow is the Senior Writer for More Perfect Union's The Class Room, focusing on corporate greed and revealing the systems that build and maintain our inequitable and unsustainable economic status quo. He was the host and creator of iHeartRadio's 'Who Is: The Podcast,' and Facebook Watch's 'Apocalypse NowThis.' His guerilla satire around drug pricing has been called "the most effective troll in history."
Brooke Shuman is a video producer at More Perfect Union, covering economic justice and corporate misconduct. Her video and writing has appeared in HuffPost, Bon Appétit, The New Yorker and the Southern Foodways Alliance. She is a volunteer at Interference Archive, an open stacks archive of political movement material, where she curated exhibitions on police abolition, anti-fascism in the United States and disability/crip activism.