2014 Hillman Prize for Broadcast Journalism

Dr. Sanjay Gupta, Bud Bultman, Roni Selig, Melissa Dunst Lipman, Carl Graf, Saundra Young
"Weed: Dr. Sanjay Gupta Reports"

CNN

Sanjay Gupta, Correspondent
Dr. Sanjay Gupta is the chief medical correspondent for CNN and host of the cable network's weekend medical affairs program "Sanjay Gupta, M.D." A practicing neurosurgeon, he reports on health and medical news on various CNN programs and documentaries. He also contributes to the CBS newsmagazine "60 Minutes." Gupta has received Emmy Awards for his coverage of the devastating earthquake in Haiti and his reports on the crisis at Charity Hospital in New Orleans during Hurricane Katrina. He contributed to CNN's Peabody Award-winning coverage of Katrina and the oil disaster in the Gulf of Mexico, and the network's Alfred I. duPont-Columbia Award for coverage of the tsunami disaster in Southeast Asia.  Gupta is a faculty member at the Emory University School of Medicine and associate chief of neurosurgery at Grady Memorial Hospital in Atlanta.  
Bud Bultman, Senior Executive Producer
Bud Bultman is the director of CNN's Documentary Unit.  He has received an Edward R. Murrow award and two Emmy awards for his work with CNN. 
Roni Selig, Senior Executive Producer
Roni Selig is currently the Senior Executive Producer and Director of the Health, Wellness and Medical Unit for CNN USA. Selig oversees a team of producers and reporters including Chief Medical Correspondent, Dr. Sanjay Gupta and Senior Medical Correspondent, Elizabeth Cohen. During her watch Selig has overseen global health coverage for stories such as: the Ebola outbreak in West Africa, the Boston marathon bombings, the war in Afghanistan, humanitarian disasters including the famine in Somalia, the earthquake in Haiti, flooding in Pakistan, the Tsunami in Japan, and Hurricane Sandy. In addition to breaking news, she also oversees the unit's long form specials including: the award-winning WEED documentaries and Dr. Gupta's Emmy nominated report Toxic Towns, The Last Heart Attack, Diana Nyad's: Extreme Dream, Saving Gabby, Terror in the Dust, Big Hits-Broken Dreams, and the highly acclaimed Deadly Dose.
Melissa Dunst Lipman, Senior Producer/Writer
For more than 20 years, Melissa Dunst Lipman has produced across many genres of news and entertainment programming, from in-depth documentaries to morning television to high profile multi-camera interviews. Long-form documentary production has been a passion and focus of hers for more than a decade. For the past seven years, she has been a senior producer in CNN's Documentary Unit producing award-winning specials with many, including Dr. Sanjay Gupta, Christiane Amanpour, John King, Soledad O'Brien and Gloria Borger. The topics have been as rich and varied as the talent anchoring them: from marijuana to presidential politics, terrorist training grounds to royal weddings. Prior to her time with CNN Productions, she produced hours and long-form pieces for Paula Zahn and Connie Chung on their respective CNN shows as well as Diane Sawyer at ABC News. 
Carl Graf, Senior Producer/Editor
Carl Graf is an award-winning editor who has been with CNN for over 15 years. His  credits include "The Survivor Diaries," "Weed," "Big Hits Broken Dreams," "Planet in Peril," "Black in America," "Rescued," and "Don't Fail Me: Education in America."
Saundra Young, Senior Producer/Writer
Saundra Young is a Senior Producer in the CNN Medical Unit.  She has spent the last 25 years as a journalist in both local and network television. Ms. Young is a writer/producer who works on special projects with CNN's Chief Medical Correspondent Dr. Sanjay Gupta.  She is also the Unit's liaison for federal agencies including the U.S. Department of Health and Human Services, the Food and Drug Administration, and the National Institutes of Health. Ms. Young has won numerous awards for her work, including two Emmys.
---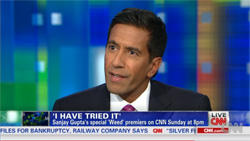 In the summer of 2013, a single word sparked a national conversation: Weed. The debate over the perils and potential benefits of medical marijuana took center stage when CNN aired its groundbreaking documentary, "Weed: Dr. Sanjay Gupta Reports" on August 11th. For more than a year, CNN's Chief Medical Correspondent, Dr. Sanjay Gupta, a practicing neurosurgeon, along with a team of producers, traveled the world taking a critical look at the science and research surrounding the use of cannabis. Obtaining numerous exclusive television interviews with experts and families, "Weed" changed the national dialogue on this subject and fostered an unprecedented intersection between world-class science, tremendously needy patients and the ethics surrounding the use of this plant as a medicine.
The Figi family of Colorado Springs allowed Gupta and his team exclusive access to their home and their lives to chronicle and verify firsthand the impact a particular strain of marijuana had on the intractable epilepsy of their 6-year-old daughter, Charlotte. That strain of marijuana is now known as Charlotte's Web. The documentary carefully and methodically revealed how marijuana could act as a medicine, and provide relief when pharmaceutical drugs and medical interventions failed her — and how Charlotte went from being a catatonic child to an interactive, playful and joyous one.
We meet Chaz Moore, a young man with a crippling diaphragm disorder pharmaceutical drugs could not treat. Yet, after one puff of marijuana, Moore's breathing and speech patterns normalize. And, in Israel, 81-year-old Moshe Rute, a Holocaust survivor who uses marijuana to deal with depression and the lingering effects of a stroke, demonstrated the potential of marijuana to treat PTSD and the crippling tremors of Parkinson's disease. CNN illustrated how medical marijuana can heal and help when prescription drugs — also often harmful — don't work.
"Weed" was accompanied by an online opinion piece by Dr. Gupta in which he bravely and candidly apologized for his previous reporting on medical marijuana and carefully made the case for its medical use today: "I apologize because I didn't look hard enough, until now," Dr. Gupta wrote. "I didn't look far enough. I didn't review papers from smaller labs in other countries doing some remarkable research, and I was too dismissive of the loud chorus of legitimate patients whose symptoms improved on cannabis. Instead, I lumped them with the high-visibility malingerers, just looking to get high. I have seen more patients like Charlotte first hand, spent time with them and come to the realization that it is irresponsible not to provide the best care we can as a medical community, care that could involve marijuana. We have been terribly and systematically misled for nearly 70 years in the United States, and I apologize for my own role in that."
Dr. Gupta's article went viral around the world within hours. According to CNN, a hundred families moved their entire lives to Colorado after the documentary aired. Unable to obtain medical marijuana in their home states, they became medical refugees.
Shortly after its airing, New Jersey Governor Chris Christie signed a bill allowing the use of medical marijuana for children. Attorney General Eric Holder loosened the regulations in Colorado and Washington State. Senate Majority Leader Harry Reid said he changed his mind on medical marijuana after watching "Weed."In addition, lawmakers in Georgia and Alabama are now looking at changing their laws as a result of the medical evidence put forth in "Weed." "I see [Gupta] as a sober-minded person. That got my attention," Georgia Republican State Senator Josh McKoon told The Atlanta Journal Constitution.  
"Weed" ignited a conversation bringing about change in how the general public, the mainstream medical establishment and lawmakers view medical marijuana.