2014 Hillman Prize for Web Journalism
Craig Welch and Steve Ringman
Craig Welch has been writing about the environment and natural resources for The Seattle Times for 14 years. He has tagged along with tribal fishermen who hunted seals in Alaska, hitched helicopter rides with scientists in the melting Arctic, prowled the Oregon woods for endangered owls, and tracked the development of Wyoming's oil fields. A journalist for nearly 25 years, he has worked for newspapers in Pennsylvania and Idaho and spent the early part of his career in Jackson Hole, Wyoming. There he wrote about wildlife in and around Grand Teton National Park and covered some of the earliest battles over reintroduction of wolves to Yellowstone National Park. The national Society of Environmental Journalists has twice named him Outstanding Beat Reporter of the Year, most recently in 2010. He was a 2007 fellow at the Nieman Foundation for Journalism at Harvard University, and his book, Shell Games, a nonfiction detective story about wildlife smugglers published in 2010 by HarperCollins, won the Rachel Carson Environment Book Award in 2011. Welch has been writing about the impacts of ocean acidification on Northwest marine life since 2009. 
Steve Ringman has been a general assignment photographer for The Seattle Times for over 20 years, tackling assignments that range from malaria-eradication efforts in Africa to aging in America.  His career started at the San Francisco Chronicle where he teamed with Randy Shilts on the newspaper's groundbreaking coverage of AIDS.  His passion is for stories involving environmental issues including climate change, fisheries and forestry that have taken him locally and around the world. Most recently he won an award from the American Association for the Advancement of Science for covering the Elwha River's dams being removed with writer Lynda Mapes. The book, Elwha, A River Reborn, was produced from that coverage. He is a native of Washington State and is married to his wife Evelyn.
---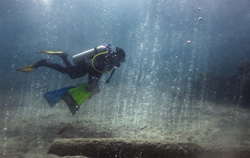 In 2013, Seattle Times reporter Craig Welch and photographer Steve Ringman traversed the world's greatest ocean — moving from a research expedition in Papua New Guinea to a crab boat on the Bering Sea to a stilt village in Indonesia — to capture and explain one of the planet's greatest environmental threats. Their five-part series, "Sea Change: The Pacific's Perilous Turn," examined ocean acidification, "the lesser-known twin of climate change."
Their research began a few years earlier, when scientists discovered that ocean acidification already was killing Northwest oysters — decades earlier than projected. Ringman and Welch realized no one else was reporting this story at the proper scale, showing just how fast this change could hit and just how important it could be.
The series' driver was deep reporting, both literally and figuratively. Welch analyzed hundreds of studies, scoured federal budgets and reports, and interviewed more than 175 people, most of them ocean scientists. He broke new ground on every front — on threats to major commercial species, including crab and the fish used in McDonald's sandwiches; on the way acidification is likely to move through the food chain; on the pace of change along the West Coast; on the promise and limits of evolution.
To report a story that takes place mostly underwater, Welch and Ringman learned to scuba dive. They hustled to get certified — Ringman in Mexico, Welch in frigid Puget Sound — and converted that training into unforgettable scenes and images. The series' eye-popping online presentation, by web designer Katrina Barlow, included interactive graphics and 12 videos.
"Sea Change" publicizes an enormous but little-known threat to the planet and the global economy. The series uses words, images, and innovative web features to convey complex scientific ideas in a format that is intellectually engaging, morally compelling, and aesthetically arresting. The series is a shining example of what journalism can achieve in the digital age.